Twitter Reacts To Bushwick Bill's Death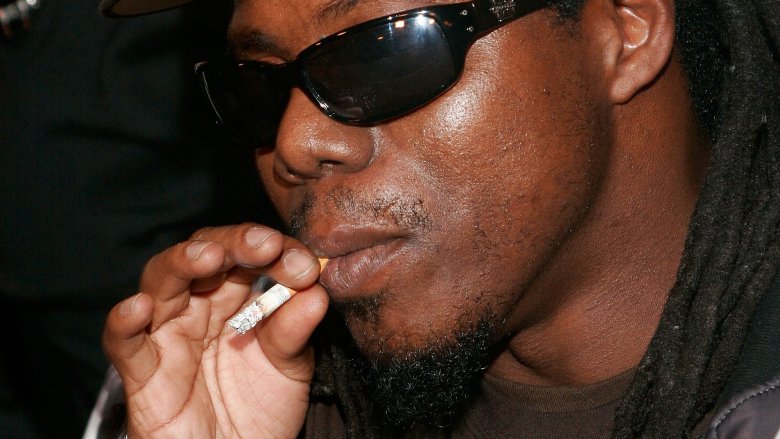 Matthew Simmons/Getty Images
After conflicting reports of Geto Boys Bushwick Bill's death, Rolling Stone confirmed that the legendary Houston rapper passed away on June 9, 2019 due to a battle with pancreatic cancer. "Bushwick Bill passed away peacefully this evening at 9:35 p.m. He was surrounded by his immediate family," his publicist Dawn P. told the music outlet. "There were incorrect previous reports that he had passed away this morning. We are looking into doing a public memorial at a later date. His family appreciates all of the prayers and support and are asking for privacy at this time."
Born Richard Shaw, the Jamaica-born rapper was born with dwarfism. In 1991, he was shot in the eye during an altercation with his girlfriend, which resulted in him losing his right eye and being declared dead for three hours. According to The Undefeated, a photo of Bill's gruesome injury — possibly taken without his legitimate consent — became the controversial album cover for We Can't Be Stopped. Bushwick Bill's verses on hip-hop classics like "Mind Playing Tricks On Me," and "Damn It Feels Good to Be a Gangsta," earned him millions of fans around the world who paid tribute to the fallen rap titan on Twitter.
"RIP to the mighty Bushwick Bill. The Geto Boys were by far one of my biggest influences when I first started listening to and writing rap music. Rap-A-Lot Records was such a huge inspiration to every artist who didn't do mainstream music in that time period. You will be missed," one user wrote. "bushwick bill got shot in the eye in 1991, was pronounced dead, woke up in the morgue, pissed on the cop who was standing beside him, and proceeded to live and inspire for another 28 years like a true soldier smdh cancer is a dirty f******g b***h," another tweeted. "Bushwick Bill of the Geto Boys has passed away from pancreatic cancer. He rose to fame back at a time when rappers actually had to have talent to get a contract. This "little guy" towered over his peers. Respect 'n Peace," a fan tweeted. 
All we can say is RIP to a legend, and tell you if you aren't familiar with Geto Boys or Bushwick Bill, you are and don't realize yet (thanks, Office Space). Here are a few more reactions from fans and other rap legends alike on the untimely death of Bushwick Bill:
R.I.P...... BUSHWICK BILL... YOU WILL BE MISSED.... pic.twitter.com/IMnuPJC7wL

— BIZ MARKIE (@BizMarkie) June 10, 2019
R.I.P. the Legend Bushwick Bill 🙏🏿 prayers up for his family pic.twitter.com/807KVtwzmY

— juicy j (@therealjuicyj) June 9, 2019
"They don't really have to like me. What they need to do is love themselves, because I love me and like me & I'm happy with me."

Rest In Peace to the great #BushwickBill. 🙏🏽

🎥: @nardwuar pic.twitter.com/y0FX5si8E9

— 935 KDAY (@935KDAY) June 10, 2019
RIP Bushwick Bill, aka Dr. Wolfgang Von Bushwickin, the barbarian mother funky stay high dollar billster, who gave the Geto Boys that extra hint of flavor. A tragic life but a long legacy. Halloween will always fall on a weekend. Pour out a little Everclear... pic.twitter.com/T58kCqvzMy

— Otto Von Biz Markie (@Passionweiss) June 10, 2019
April 7. The last time I saw him. He was, is and will always be a legend. God bless his soul and his family. There will never be another. RIP Bushwick Bill. Geto Boys. https://t.co/KUfgxHSAQa

— Bun B (@BunBTrillOG) June 9, 2019
Wings Up to BUSHWICK BILL!!! First rap song I ever learned the words to was "My Mind Is Playing Tricks On Me". | "Last year Halloween Fell on Weekend. Me n Ghetto Boys was trick or treating....robbing little kids for bags..." | Rest Easy man. Thank you for sparking my interest ✊🏾

— MONTANAof300 (@MONTANAof300) June 10, 2019
This morning, many well known, reputable news outlets reported that hiphop legend Bushwick Bill, who is fighting cancer, had passed away. Then Bushwick Bill himself said "nah" online. What does that say about the way we consume news in 2019?

— Talib Kweli Greene (@TalibKweli) June 9, 2019
Damn!!!!

Buschwick Bill passed #BUSHWICKBILL pic.twitter.com/Vf8Smoa83c

— MichaelRapaport (@MichaelRapaport) June 9, 2019
The family of Bushwick Bill has now confirmed that the Geto Boy has passed away. Rest In Peace 🙏🏻 pic.twitter.com/vXzAN1VSu0

— Cypress Hill ™ (@cypresshill) June 10, 2019
Bushwick Bill is the only man to ever shoot an album cover shortly after being shot in the eye, far as I know. My teenage friends and I listened to "We Can't Be Stopped" as much as any kid listens to anything these days. RIP to a legend. https://t.co/y582ZGaDzB

— Gary Parrish (@GaryParrishCBS) June 10, 2019
#RIP Bushwick Bill. Geto Boys 4 Life!!!! https://t.co/LzHMbvPro3

— Charlamagne Tha God (@cthagod) June 9, 2019