Twitter Reacts To Gloria Vanderbilt's Death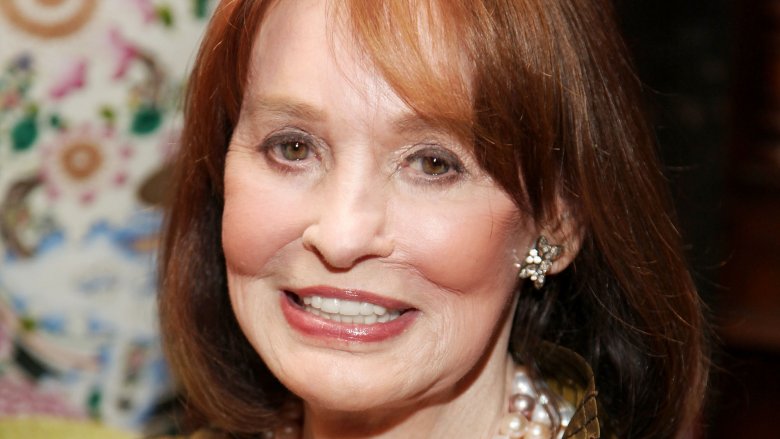 Astrid Stawiarz/Getty Images
Heiress and fashion icon Gloria Vanderbilt died of stomach cancer on June 17, 2019 surrounded by friends and family. She was 95. The mother of CNN's Anderson Cooper, the former socialite dabbled in acting before taking the fashion industry by storm in the 70s and 80s with her signature Vanderbilt designer jeans.
As expected, many took to Twitter to express their condolences over the passing of the American icon. "Heartbroken by the passing of Gloria Vanderbilt. She led a full life. Did amazing things. She & her son, @andersoncooper, adored each-other. They went through great grief together. She never stopped looking up at the sky in search of rainbows after a storm. So, so sorry AC," CNN contributor Ana Navarro-Cardenas tweeted.
"Thinking of my splendid @CNN colleague @andersoncooper on the loss of his beloved mother, Gloria Vanderbilt. She led a long and remarkable life, filled with triumph and tragedy, as chronicled in the moving book she and Anderson published in '16, The Rainbow Comes and Goes. RIP," CNN Senior Political Commentator David Axelrod wrote.
"Fashion designer, author, and socialite, Gloria Vanderbilt passed away this morning. She was 95 years-old. Our thoughts are with her son, Anderson Cooper, and her entire family," daytime talk show host Wendy Williams tweeted.
"RIP, Gloria Vanderbilt. @andersoncooper, condolences to you and your family," the Washington Post's Jonathan Capehart tweeted.
In a touching and heartbreaking tribute, Anderson Cooper broke the news of his mother's passing live on CNN. "Gloria Vanderbilt was an extraordinary woman, who loved life, and lived it on her own terms," the Cooper 360 host said in a statement. "She was a painter, a writer and designer but also a remarkable mother, wife, and friend. She was 95 years old, but ask anyone close to her, and they'd tell you: She was the youngest person they knew — the coolest and most modern."
"If you were around in early 1980s it was pretty hard to miss the jeans she helped create, but that was her public face — the one she learned to hide behind as a child," he added. "Her private self, her real self — that was more fascinating and more lovely than anything she showed the public. I always thought of her as a visitor from another world, a traveler stranded here who'd come from a distant star that burned out long ago. I always felt it my job to protect her."
Cooper also played a recorded video of he and his mother laughing together in the hospital. "I never knew that we had the same exact giggle. I recorded it, and it makes me giggle every time I watch it," he said. "What an extraordinary life. What an extraordinary mom. What an incredible woman."
Other celebrities and others mourned the passing of Gloria Vanderbilt. Here are a few of those reactions:
This is so beautiful. A glimpse into the life of an incredible woman. Rest In Peace, Gloria Vanderbilt. pic.twitter.com/Y6NXYMdaNU

— Alyssa Milano (@Alyssa_Milano) June 17, 2019

Anderson Cooper just gave a touching obituary of his mother Gloria Vanderbilt.

I'm deeply saddened to hear of her passing but it came from the right person.

— Red T Raccoon (@RedTRaccoon) June 17, 2019
My family lived up the river from Gloria Vanderbilt in CT in the 60's for awhile. We used to sneak onto her beautiful land with fairy tale gazebo. I told @andersoncooper about this on his show & he gave me this painting that his Mom did of that home. I treasure it. pic.twitter.com/OC1pz4aXeB

— Dana Delany (@DanaDelany) June 17, 2019
This was a beautiful tribute to Gloria Vanderbilt. It made me cry. Thank you for sharing your mom's story with us, @andersoncooper. My thoughts and prayers are with you. 🙏🏾 https://t.co/dmEr59vPEf

— Keith Boykin (@keithboykin) June 17, 2019
I have no idea why, but when we were assigned to write a book report about a famous woman in history, I chose Gloria Vanderbilt. Must've been around 1985 or so. RIP to an American icon. pic.twitter.com/iJRt1MrEH4

— Kevin Baron (@DefenseBaron) June 17, 2019
Well that was something. Anderson Cooper delivers the obit on his mother Gloria Vanderbilt who died today at 95. He choked up during the final minutes of a lovely homage from a son to a mother he adored. 😢

— Tom Harrington (@cbctom) June 17, 2019
Actress, author, fashion icon and businesswoman – and Anderson Cooper's mom – Gloria Vanderbilt has passed away at age 95.

"What an extraordinary life. What an extraordinary mom. What an incredible woman," says Anderson. pic.twitter.com/t0FydxvHqn

— Eric Alper 🎧 (@ThatEricAlper) June 17, 2019
Collage of my family—parents, grandmother, husband Ray Smith—by Gloria Vanderbilt pic.twitter.com/ygpfbGQ7HE

— Joyce Carol Oates (@JoyceCarolOates) June 17, 2019
Watch @AndersonCooper's obituary for his mother Gloria Vanderbilt. "What an extraordinary life. What an extraordinary mom. And what an incredible woman." pic.twitter.com/YXz66LOr7W

— Brian Stelter (@brianstelter) June 17, 2019