Here's Why Tom Hardy Fired Back At Interviewer Over Sexuality Question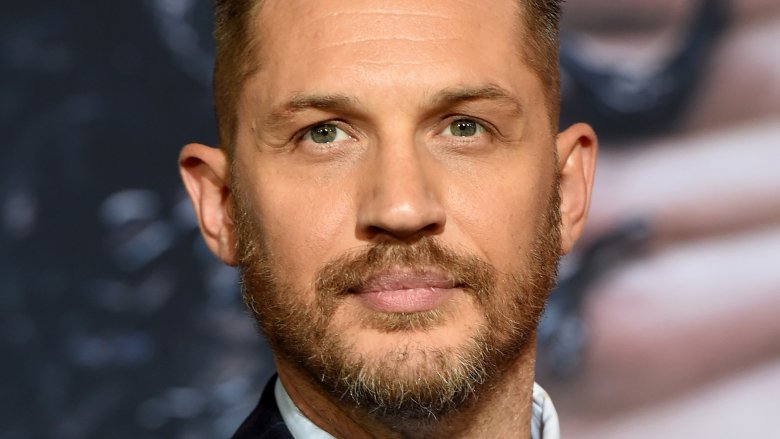 Kevin Winter/Getty Images
Apart from a handful of headlines, actor Tom Hardy has kept fairly quiet ever since Venom premiered in October 2018. The Marvel flick unfortunately struggled among critics — despite grossing over $855 million at the international box office — and received just a 29 percent rating on Rotten Tomatoes. But with CinemaScore scoring the movie much higher among audiences, a 2020 sequel is already in the works, according to Variety, which means Hardy will no doubt be a mainstay in the media once again in the upcoming antihero flick's promotional rush.
Considering we have a year and a bit's time till we can all collectively tune into Venom 2, let's take a look back at the time Hardy found himself dominating the press less for his on-screen work and more for firing back at an interviewer ... albeit for pretty good reason.
The infamous exchange in question occurred at the premiere of 2015's Legend at the Toronto International Film Festival. Fans may remember that Hardy played double duty in the crime drama, starring as the real-life openly gay twin gangsters Ronnie and Reggie Kray, who were also allegedly incestuous, according to the Mirror. Needless to say, a seemingly innocuous press conference soon had us all grabbing for the proverbial popcorn.
"In the film, your character Ronnie is very open about his sexuality, but given interviews you've done in the past, your own sexuality seems a bit more ambiguous," a Daily Xtra reporter said to the actor, before asking, "Do you find it hard for celebrities to talk to media about their sexuality?"
A confused Hardy replied, "What on earth are you on about? ... I don't find it difficult for celebrities to talk about their sexuality. Um, are you asking me about my sexuality?" Said reporter confirmed the positive, leading the movie star to quickly end the conversation with a blunt, "...Why?"
We can't necessarily say that we blame Hardy for his incredulous reaction — there's certainly a time and place to ask famous faces such personal questions, but a run-of-the-mill press junket for a film probably isn't it. But that's not to say the Inception actor had been totally unwilling to discuss his sexuality in the past. Just five years earlier, Hardy opened up about previously sharing relationships with men. 
"As a boy? Of course I have. I'm an actor for f**k's sake. I'm an artist," he told Attitude, an LGBTQ+ magazine in Britain, back in 2010 (via Gawker). Hardy candidly added in part, "I've played with everything and everyone. But I'm not into men sexually ... I'm done experimenting." It should be noted that the actor went on to deny having sexual relations with men during an interview with Marie Claire UK just a year later, saying, "I don't regret anything I've ever said. It's just a shame things are misconstrued and I don't get the opportunity to explain."
That said, this particular Attitude interview later resurfaced in the Daily Mail in 2015. Considering Hardy was a much more well-known figure in Tinseltown by then, his past remarks went viral, which is exactly what led to that Daily Xtra reporter publicly inquiring about his sexuality in the first place. 
While some felt Hardy had the "perfect response" to the question at the notorious Legend press conference, a Time op-ed sided with the interviewer. As for the media frenzy surrounding the incident, Hardy later defended himself to The Daily Beast. "I'm under no obligation to share anything to do with my family, my children, my sexuality — that's nobody's business but my own," he said, adding, "It's important destigmatizing sexuality and gender inequality in the workplace, but to put a man on the spot in a room full of people designed purely for a salacious reaction? To be quite frank, it's rude."
It may have been a while since Tom Hardy's dominated the media on quite this level, but that isn't necessarily a bad thing. This is especially true since he's been keeping plenty busy ever since Venom's debut last fall while continuing to crop up in headlines every now and then.
In late May 2019, Sir Elton John revealed to The Guardian that Hardy and none other than Justin Timberlake had both been replaced by Taron Egerton in the lead role of his biopic Rocketman. Around the time the movie star was spotted taking boxing classes in London the following month, iNews reported that Hardy may be gearing up to reunite with his Peaky Blinders team and star as a World War II Special Air Service soldier in an upcoming TV series. With a big role on the small screen potentially lined up, the word's still out on whether or not he might reprise the role of Venom in Spider-Man: Far From Home later this summer.
Hardy also made his first official public appearance in months alongside pal Prince Harry at the Sentebale Audi concert in London in June 2019, according to Just Jared. The British royal himself had co-founded the organization in 2006 in order "to support the mental health and wellbeing of children and young people affected by HIV and AIDS in Lesotho, Botswana and Malawi," per the Duke and Duchess of Sussex's Instagram account. Hardy, who's a longtime ambassador to Prince Charles' trust, later made waves in the press for using his celebrity platform to speak out against elephant poaching on social media.
Keeping fit, killing it in his career, and paying it forward in the world? 2015 may have given us one of the most uncomfortable interviews with a (future) Marvel actor, but you keep doing you, Tom.