Twitter Reacts To The 2019 BET Awards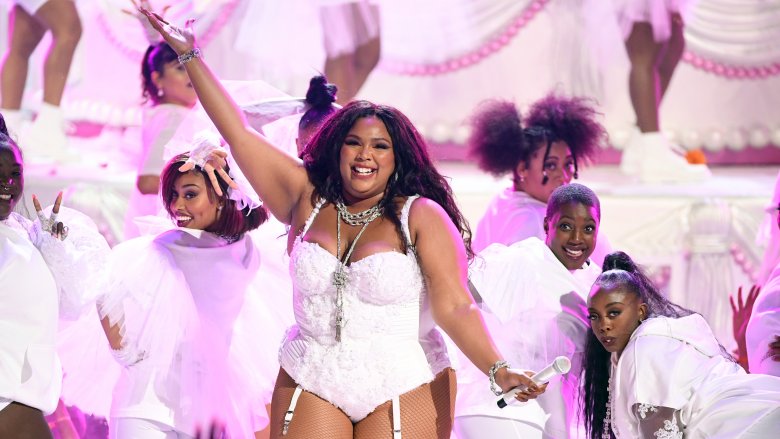 Kevin Winter/Getty Images
Hosted by the hilarious Regina Hall, the 2019 BET Awards aired live from the Microsoft Theater in Los Angeles. Filled with memorable moments and performances, the broadcast started trending on Twitter in a hurry. 
The show kicked off with the most-nominated artist of the night, Cardi B, who performed "Clout" and "Press" with her husband, Migos' Offset. "Watching Offset poplock and do choreography on stage was like watching Captain Marvel unleash her full power on the universe. He's unstoppable now," Charlamagne Tha God tweeted. "Offset killed his performance with Cardi B. Nice to see a rapper do more than walk up and down the stage. Give the people a show!!" music producer Dready added.
Did you know Snoop Dogg won the Dr. Bobby Jones Best Gospel/Inspirational Award? We repeat: Snoop Dogg won an award for gospel. "Snoop Dogg just won an award for a gospel album. Well. The man's got range!" The Undefeated tweeted. "Never would I have ever imagined that Snoop Dogg would one be nominated for a gospel award and also win," The Ellen Show's Kalen Allen wrote.
Entering the stage on a wedding cake, Lizzo performed her smash hit "Truth Hurts" to the lively crowd. "Lizzo twerking while being passed her flute then playing it then twerking while playing it without missing a beat HAS to be the best thing I've seen so far even Rihanna knows it," a user wrote, including a video of Rihanna dancing along. "Yall gonna stop disrespecting Lizzo...I saw some of yall tweets. Yall can't even play an instrument, let alone bust out a twerk. Chill out," another user tweeted. The performance was fantastic, but another user had a warning for the audience at home. "Black people need to really get hip to lizzo before white gays take her and never come back," he quipped.
Media mogul Tyler Perry received the Ultimate Icon Award, and he gave the best and most powerful speech of the night, hands down. "When I built my studio, I built it in a neighborhood that is one of the poorest black neighborhoods in Atlanta, so that young black kids could see that a black man did that, and they can do it, too," Perry said. "The studio was once a Confederate army base ... which meant that there was Confederate soldiers on that base, plotting and planning on how to keep 3.9 million Negroes enslaved. Now that land is owned by one Negro."
The Made actor got a standing ovation from the audience and the Twitter audience at home. "Tyler Perry is not trying to be an icon. He is trying to inspire the Black child. He created opportunities for other black actors and created employment for other Black people because he was just trying to help them cross to the other side," one user wrote. "Tyler Perry started from the bottom, made it to the top, and really put people on! Didn't forget ANYTHING, and he shows it. An example of Ownership, Leadership, and Giving Back," another user tweeted.
Rihanna presented the Lifetime Achievement Award to "the undeniable Queen of Hip-Hop and R&B, Mary J Blige." After a heartfelt acceptance speech, the legendary singer treated the crowd to a medley of her biggest hits. The crowd went wild. 
"You have never heard someone say Mary J. Blige is wack, you never heard someone say Mary J. Blige is just alright and if you do it's legal in all 50 states to slap the sh*t out them. Trust me it's what GOD would you want to do," Charlamagne Tha God tweeted.
"mary j. blige made 7 year old me feel like i lost my husband and wasn't going to recover. it's funny, but also a testament to just how powerful her music was and is. very few singers can make you FEEL like mary j. blige. you can and you will stan," The Late Show's Nadira tweeted.
While Lil Nas X didn't get any love for his rap-country hit "Old Town Road" on country radio or awards shows, it was nothing but love at the 2019 BET Awards when he took the stage with Billy Ray Cyrus to perform his infectious crossover smash.
"Bill ray Cyrus is black now. Idgaf. YOU KNOWWWWWWW," one user wrote. "The #BETAwards shows a difference in cultures! Lil Nas X was removed after being nominated for a CMT Award with Billy Ray but Billy Ray was welcomed with open arms to perform at the BET Awards!" another user tweeted.
As usual, Twitter did it's thing during the 2019 BET Awards. Here are few hilarious takes of the night:
New meme alert😈😂 #BETAwards pic.twitter.com/c3JQ2hWDTB

— Mercy Williams (@glowin_melanin) June 24, 2019
When he know he did wrong and trying win you back 😂😂😂 #BETAwards pic.twitter.com/7zRJ685RZt

— Ms.Diamondbaby (@rub_myrolls) June 24, 2019
Sir...if you don't find your seat. Immediately. 😂😂😂 #BETAwards pic.twitter.com/OM8cuB294m

— Billy Porter's Golden Wings (@TeeMBrown) June 24, 2019
Who cousin is this ??? Come get him 😂😂😂😂 #BETAwards #Blacktwitter pic.twitter.com/1HdzkaJRR6

— Yatta Montrell Osigwe , MPA (@ImYattaMontrell) June 24, 2019
#BETAwards

Regina Hall: "Everybody put ur hands together for Dj Khaled !!!"

Me : pic.twitter.com/fSn1zuSlFV

— 👑 (@TheKingOGx) June 24, 2019
BET: So who are we getting to sing for your tribute?

Mary: Me

BET:

Mary:#BETAwards pic.twitter.com/MWoxEeHSd8

— Janice LaSonya (@Thim_slick88) June 24, 2019
Offset been practing for the BET Awards 🤧🤧#BETAwards pic.twitter.com/1WvPeF75uJ

— reagan. (@reaganjoii) June 24, 2019
CMT awards execs watching Lil Nas X and Billy Ray performance like #BETAwards pic.twitter.com/5nJxPlpWUU

— shive marcus (@shivemarcus) June 24, 2019
Old Town Road is now my ringtone and I just thought y'all should know.

— K A C E Y M U S G R A V E S (@KaceyMusgraves) June 24, 2019
I didn't get my picture with Rihanna u guys leave me alone pic.twitter.com/IFW3fmpWu7

— TACOBELLA (@Rico_nastyy) June 24, 2019
BET line ups be like: Rick Ross, Joel Olsteen, Jodeci, Kirk Franklin, Charlie Wilson, Beyoncé Hologram cause she's on tour on Mercury, Chris Brown, J holiday and a yin yang twins reunion.

— Maségo (@UncleSego) June 24, 2019
Y'all, it's basically midnight and the #BETAwards are still on pic.twitter.com/AL70hoif9p

— philip lewis (@Phil_Lewis_) June 24, 2019
Snoop dogg at home watching the awards after finding out he won the award #betawards pic.twitter.com/Xs4mWNcDme

— ⚡️🌊Trill Darius⚡️🌊 (@KingPowell19973) June 24, 2019
Mary J. Blige should never have to sing #ImGoingDown live ever. The audiences vocal chords should be in formation singing every word for her. #BETAwards

— Charlamagne Tha God (@cthagod) June 24, 2019
When your fans refuse to let you sing your own song... @maryjblige 😂😂😂😂😂😂😂 #MaryJBlige #BETAwards2019 pic.twitter.com/AbOY6vQKYT

— Dave JordanReporter (@DJNYC1) June 24, 2019