Twitter Reacts To Ross Perot's Death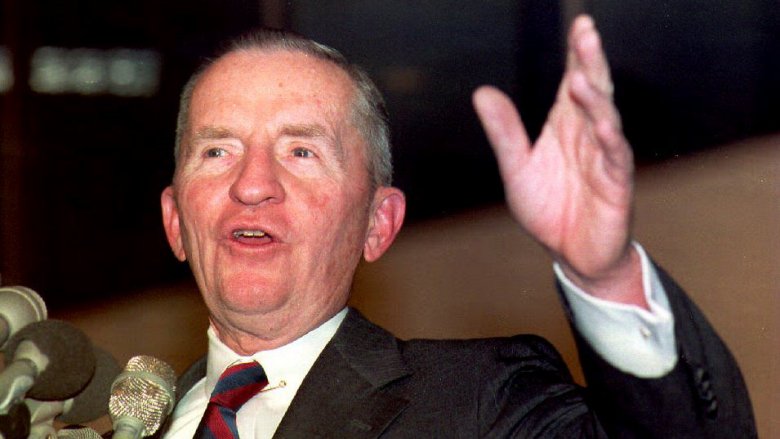 Robert Giroux/Getty Images
Ross Perot, the Texas tech billionaire who made two unsuccessful runs for the U.S. presidency as a third-party candidate, died at the age of 89 after a battle with leukemia the Dallas News reports. "With deep sadness, I am letting you know that Mr. Perot passed away early Tuesday at his home, surrounded by his family," the Perot family spokesman James Fuller told ABC News. "Mr. Perot was a true patriot and a dedicated humanitarian. He will be missed greatly," Fuller said. 
Best known for his thick Texas accent and aversion to wasteful government spending, Perot spent $63.5 million of his own money (per USA Today) to buy numerous 30-minute primetime television spots to make his case to the America people with his trademark graphs, pie charts, and catchphrase: "It's just that simple." His folksy pitch gobbled up a staggering 19% of the vote in 1992 — a number unlikely ever be reached again by a third-party presidential candidate. 
Although many blame Perot for costing George H.W. Bush that election, George W. Bush released a statement of condolences to his fellow Texan's family. "Texas and America have lost a strong patriot. Ross Perot epitomized the entrepreneurial spirit and the American creed. He gave selflessly of his time and resources to help others in our community, across our country, and around the world. He loved the U.S. military and supported our service members and veterans. Most importantly, he loved his dear wife, children, and grandchildren. Laura and I send our heartfelt condolences to the entire Perot family as they celebrate a full life," the former president said (via ABC News).
Texas Governor Greg Abbott also weighed in on Perot's passing (via The Seattle Times): "Ross Perot exemplified what it means to be a Texan and an American. Born into extreme poverty, he rose up to become one [of] our nation's most successful entrepreneurs and an exemplar of the American dream. More importantly, however, Ross Perot was a devoted husband, family man, and servant of God. His charitable work and his support of the United States Military and its veterans will forever be remembered. I ask that all Texans join Cecilia and me in remembering one of the Lone Star State's greatest sons and keep him and his family in their prayers."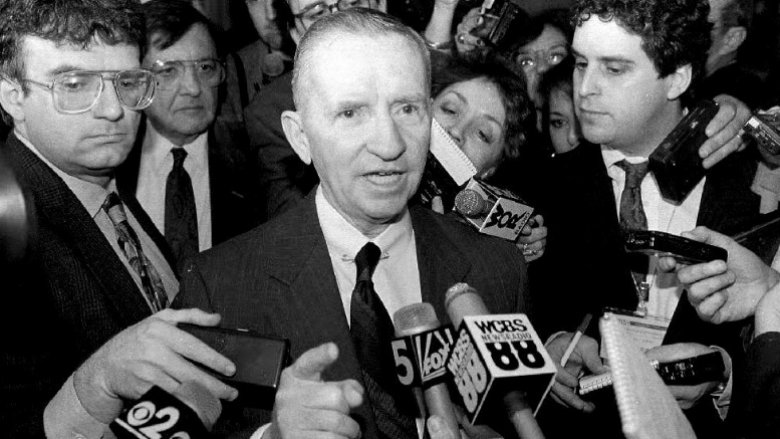 Getty Images
Twitter also responded in kind, praising Perot's business acumen, political legacy, and his entrance into mainstream pop culture.
"Our hearts are heavy as we bid farewell to Ross Perot. In his 89 years on earth, he lived the American dream to the fullest. Ross is a Texas legend. He will be remembered as an outstanding entrepreneur, philanthropist, and dedicated husband and father," Texas Senator Ted Cruz tweeted.
"Just learned of death of H. Ross Perot at age 89. He was a brilliant businessman, a true American patriot, and a generous philanthropist. From humble start in Texarkana, USA he lived and proved the American Dream. Condolences to his wonderful family," former Governor Mike Huckabee tweeted.
"Fair Winds and Following Seas to Ross Perot, a 1953 graduate of the US Naval Academy and lifelong veteran advocate who quietly improved countless lives by sponsoring USO shows, providing financial support to families of POWs and offering scholarships to children of the fallen," podcast "Zero Blog Thirty" tweeted.
"RIP to Ross Perot, who 27 years ago proved once and for all that being good at making money does not necessarily mean you're good at anything else, and we never made that mistake again," NPR's Peter Segal tweeted.
"Ross Perot was a visionary and epitomized entrepreneurship in the tech world. He will be greatly missed and remembered with admiration," T-Mobile CEO John Legere wrote.
"Between Ross Perot and Iacocca, it's been a big week for guys dying who I would've legitimately sworn had already died," NBC Sports' Craig Calcaterra tweeted.
"I remember when Ross Perot was roundly mocked for his half-hour informercials, his opposition to NAFTA ("that giant sucking sound") as a job destroyer for American manufacturing, and his general loopiness as a non-politician Presidential candidate. And now look where we are," one user added.
"We learned a lot from the first program from your comments. First, you wanted better charts that you could see the fine print on and you'll have those tonight...A young lady from Louisiana sent me this voodoo stick and I will use it as my pointer tonite"

- Ross Perot 10/16/1992 pic.twitter.com/JNKnNWTUdI

— Howard Mortman (@HowardMortman) July 9, 2019
Ross Perot taught us an important lesson in 1992 when getting the vote of nearly 1/5 of all American voters (19%) netted him zero Electoral Votes.

Fortunately we all realized that's a weird system so we fixed it and never had any more problems on account of it.

— Mass for Shut-ins (podcast) (@gin_and_tacos) July 9, 2019
Elizabeth and I are saddened to hear of Ross Perot's passing. He was a friend and a man who deeply cared about our nation's men and women in uniform. We send our heartfelt condolences to his beloved family.

— Senator Bob Dole (@SenatorDole) July 9, 2019
Ross Perot deserves a footnote in tech lore. He was the first major investor in NeXT, which became Steve Jobs's entree back to Apple. Perot told Jobs's biographer that they were "soul mates." Also this anecdote: pic.twitter.com/EAYKVR7czy

— Mark Milian (@markmilian) July 9, 2019
As a kid of the 90s, when I see the name Ross Perot, I immediately think of Dana Carvey pic.twitter.com/K6L4qbOWEe

— Robert Maguire (@RobertMaguire_) July 9, 2019
RIP Ross Perot, one of 90's Simpsons best punching bags pic.twitter.com/zRJmMbV2wL

— Ireland Simpsons Fans (@iresimpsonsfans) July 9, 2019
Look if you're gonna get Dana Carvey trending cuz of Ross Perot's death and his SNL impression, then you might as well get Katrina Johnson trending as well for her All That impression pic.twitter.com/YY6hLes38w

— CATCH THE SHOW / UNDERGROUND MONSTER (@CatcherofShows) July 9, 2019
Ross Perot had 147 C-SPAN appearances, spanning 27 years. Find them all here: https://t.co/WEgQKsJS56 RIP. pic.twitter.com/1jkOOInmXH

— CSPAN (@cspan) July 9, 2019
Today, we are all mourning the passing of Ross Perot. During my time in the Senate, I had the honor of working closely with him in securing much needed medical care for our veterans returning from Desert Storm. America owes him a deep debt of gratitude and he will be missed. pic.twitter.com/wZ1zrPmGL0

— Ambassador Hutchison (@USAmbNATO) July 9, 2019
Ross Perot dies at 89. I doubt any Independent candidate has made as much impression as he did in 1992. He even led Gallup polls ahead of Bush I and Bill Clinton.

— JJ. Omojuwa (@Omojuwa) July 9, 2019