Twitter Reacts To Rip Torn's Death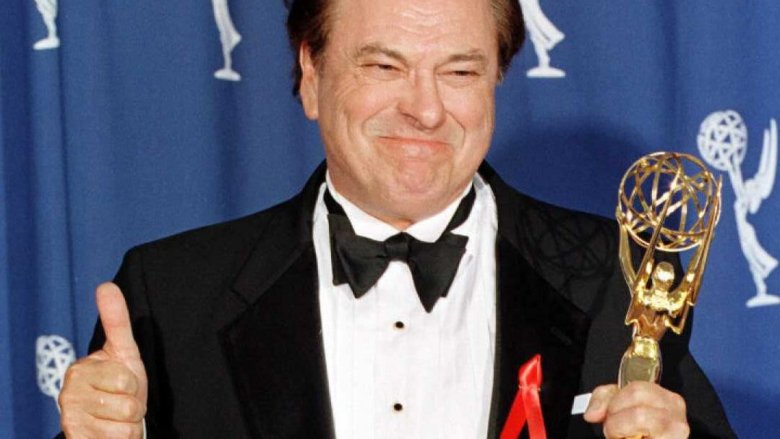 Kim Kulish/Getty Images
Rip Torn, the versatile actor with over 200 credits to his name, died peacefully in his home on July 9, 2019, his publicist told CNN. He was 88. At the time of this writing, no cause of death has been given. After making his film debut in Elia Kazan's 1956 film Baby Doll (per The Wrap), Torn enjoyed a diverse and illustrious career in such films as The Man Who Fell To Earth with David Bowie, Men In Black with Will Smith, Freddy Got Fingered, Dodgeball: A True Underdog Story, and Albert Brooks' Defending Your Life.
However, Torn's brilliant turn as talk show producer Artie in HBO's The Larry Sanders Show, became his most famous role. During the show's six-year run between 1992-98 (via The Hollywood Reporter), Torn earned six straight Emmy nominations for Best Supporting Actor In A Comedy Series, and a win in 1996.
Garry Shandling, creator and star of The Larry Sanders Show, discussed the casting of Torn with The New York Times in 2010. "With Rip, he came in the first time, and his agent said he wouldn't read," Shandling said. "Weeks later, it was just him and me in a room with no one else, and I said to Rip, 'Could we read half of this together?' And he said, 'I don't want to read.' I said, 'That's totally fine,' and I pushed it to the side of the table. We talked for less than another minute, and he reached over and took the page, and he starts the scene. It's like trying to describe a good date to a friend the next day. I had to say to HBO and everybody else, 'Honestly, this is the best sex I have had.'"
Off-screen, Torn had a wild life marked with erratic behavior that would sound made up if it wasn't true. Per Newsweek, he notoriously struck author Norman Mailer with a hammer while making the 1970 film Maidstone, which lead to an actual fight between the two that made it into the final film. During a 1994 appearance on The Tonight Show with Jay Leno (via the Los Angeles Times), actor Dennis Hopper accused Torn of pulling a knife on him during pre-production on Easy Rider, leading Torn to be replaced by Jack Nicholson. Torn sued for defamation and won more than $900,00 in punitive and compensatory damages. In 2010, Torn was arrested for breaking into a bank in Lakeville, Connecticut that Torn mistook for his house.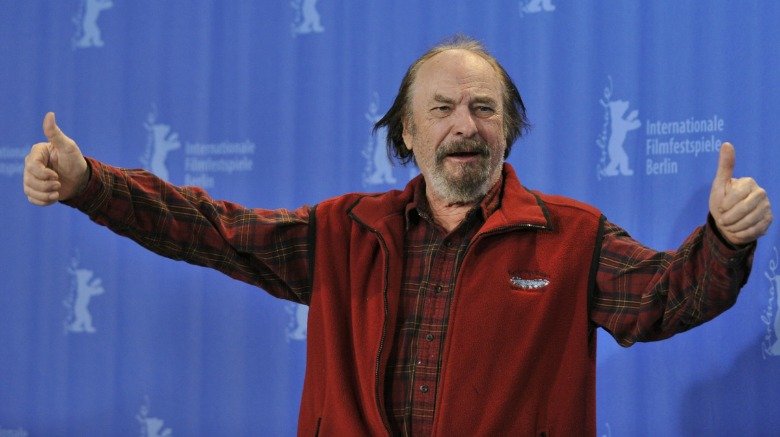 Getty Images
As news of Torn's death became public, the actor's friends, former colleagues and admirers paid tribute on Twitter:
"R.I.P Rip Torn. He was so great in Defending Your Life. I'll miss you Rip, you were a true original," actor Albert Brooks tweeted.
"Just heard the sad news that the great Rip Torn has passed away. Rip was a class act. He was an incredible actor. One of the greats. A true legend. I am proud to have worked with him and to have known him. Rest in peace Rip," comedian and Freddy Got Fingered star, Tom Green tweeted.
"Rip Torn was one of those people who just became electric on camera. Anyone who hasn't seen THE LARRY SANDERS SHOW should correct that immediately. It's on HBOGo. His performance helped "legitimize" TV at a time when it was still (falsely) considered a lesser medium for actors," actor Griffin Newman tweeted.
"I met Rip Torn once, in 1990, on a movie location in NC. "You write science fiction?" he said, teeth in a scary grin. "I was in BEASTMASTER." Then he shook my hand and I ceased to exist for him. That was the start of Mr Wednesday in American Gods. RIP Rip," author Neil Gaiman tweeted.
"Rip Torn was Sissy Spacek's cousin, Geraldine Page's husband, got into a knife fight with Dennis Hopper, was arrested for robbing a bank and took the Larry Sanders job because he owed his family "a lot of money." This @THR obituary is....quite something," Matthew Belloni, The Hollywood Reporter's Editorial Director tweeted with a link to Torn's obituary.
"As a young filmmaker I was blown away by Rip Torn's performance in PAYDAY. We became friends working together on THE BEASTMASTER. I'll always look back fondly on meeting up at his little crash pad for lunches in Malibu- and the great Hollywood stories he'd tell. RIP dear friend," filmmaker Don Coscarelli tweeted.
"Oh no, RIP Rip Torn, the only man whose surname – as a friend once pointed out – represents the consequence of having performed the action indicated by his first name. So great, and so unsettling, in so many films, particularly The Man Who Fell To Earth!," Ashley Clark, senior programmer for BAM Film wrote.
Rip Torn was incredible. His work on The Larry Sanders Show was hysterical but nothing is better than the way he says "Big Bear" in Defending Your Life. I still laugh just thinking about it.

— Seth Rogen (@Sethrogen) July 10, 2019
Rip Torn's role as Bob Diamond in @AlbertBrooks's DEFENDING YOUR LIFE is one of the ALL TIME GREATEST PERFORMANCES EVER.
I may have been late to Torn's work but after film that I was a fan forever. Thank you for just one or so many iconic roles. #RIPRip pic.twitter.com/wgSCz30Ff9

— Joe Lynch (@TheJoeLynch) July 10, 2019
Rip Torn, I spent time on a couple of sets with him. I knew his wife Ann Wedgeworth she played my mom twice in different projects.She was just wonderful.Our younger generation of actors may not know of Rip or Ann but they should. Rip as unique an actor as any1 could ever hope 2b. pic.twitter.com/zBgMf9kea5

— Vincent D'Onofrio (@vincentdonofrio) July 10, 2019
Rip Torn always made me laugh. Artie and Bob Diamond were two utterly unforgettable characters.

— Seth MacFarlane (@SethMacFarlane) July 10, 2019
Looking back on decades of Rip Torn's work and can't think of a single performance that could have been bettered by another actor. One of a kind. RIP.

— Michael McKean (@MJMcKean) July 10, 2019
So many good memories of Rip Torn. Larry Sanders. Men in Black. Defending Your Life. Attacking Norman Mailer with a claw hammer. Breaking into that bank with the gun and the acid. Suing Dennis Hopper when he claimed you pulled a knife on him and winning. American icon.

— Kaleb Horton (@kalebhorton) July 10, 2019
Rip Torn tried to integrate theater, protested the Vietnam War and attacked Norman Mailer with a hammer. He was woke before that was a thing.

— The Give Smart Guy (@BobbyBigWheel) July 10, 2019
"Never think you're better than anyone else, but don't let anyone treat you like you're worse than they are." Rest in peace, Rip Torn, an unapologetic maverick and gifted actor whose singular presence on screens big and small was always welcome. pic.twitter.com/BnQEwzuFgz

— Tribeca (@Tribeca) July 10, 2019
Rip Torn beat Norman Mailer with a hammer, basically a flawless life based on that alone

— BUM CHILLUPS (@edsbs) July 10, 2019
Look down over us with your mighty wrench Mr. Patches O'Houlihan. A legend #RipTorn pic.twitter.com/ypmWaLR3Ae

— Dan LaMorte (@DanLaMorte) July 10, 2019