The Untold Truth Of Megan Rapinoe's Girlfriend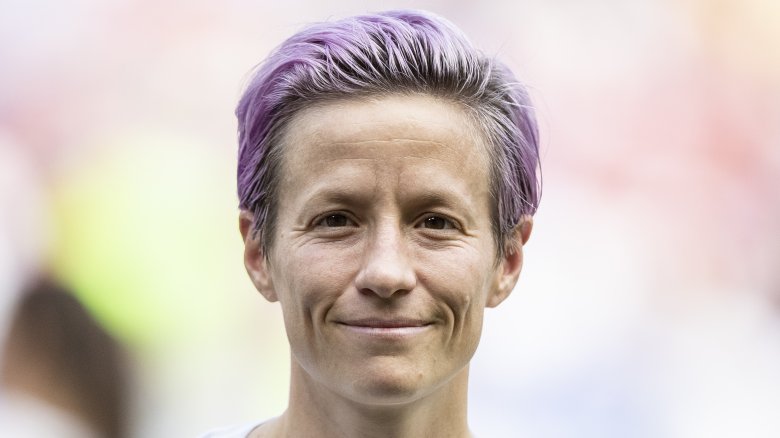 Maja Hitij/Getty Images
Move over David and Victoria Beckham. There's a new celebrity "it" couple in town! That would be soccer star Megan Rapinoe and her girlfriend, basketball great Suzanne "Sue Bird."
Bird has been in the spotlight since her college days, when she snagged two NCAA titles with the University of Connecticut (UCONN. She's gone on to flex her outstanding ball-handling skills all over the world, from Moscow to Beijing. In the 2002 WNBA draft, the Seattle Storm chose Bird as its No. 1 pick, and as of 2018, she has snagged three championships as the league's most talented point guard. Bird's life away from the court became a topic of discussion when she not only announced that she's gay, but that she was in a relationship with Rapinoe, one of Reign FC's superstars. She and Rapinoe have an amazing love story that could definitely be described as relationship goals, but there's more to Bird than just being a World Cup champion's partner. 
From how she finally came out to her family to the truth about her real last name, this is the untold truth of Sue Bird. 
Bottling her emotions led to a breakdown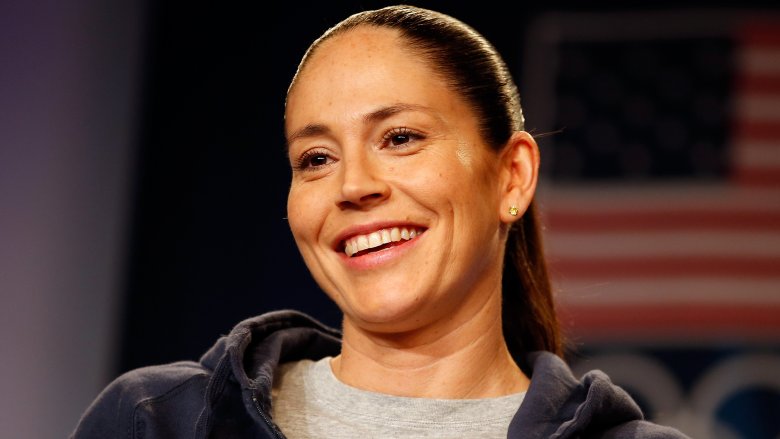 Todd Warshaw/Getty Images
Sue Bird was raised on the North Shore of Long Island. According to the Washington Jewish Museum, her dad is a doctor and an "Italian-born Russian Jew," and her mom is a Protestant-Christian who works as a nurse. Bird told the website she was raised practicing "doses" of both religions. "I did Christmas stuff just as much as I did Hanukkah stuff. I didn't go to church, I didn't go to temple, I wasn't Baptized, I didn't have a bat mitzvah or anything like that," she said. Her parents divorced when she was in high school, and while Bird was in college, her mom met a man who became a fixture in their lives. 
According to ESPN, Bird has a reputation for possessing a cool facade, but when her mom's partner passed right in 2012, right before Bird began competing at the Olympic Games in London, the star's composure began to crack. at first, "Nobody was any the wiser," Bird said, but all those bottled-up emotions came to a head during halftime of Bird's first post-Olympic outing with the Seattle Storm. "The team told everyone I was sick. But the truth was, I had to go home," she said. "It was as if all the emotion — everything that I had put to the side for that month — just hit me in one moment. My battery was on empty." She decided to sit out the 2013 WNBA season to mentally and physically recover.
Sue Bird had big dreams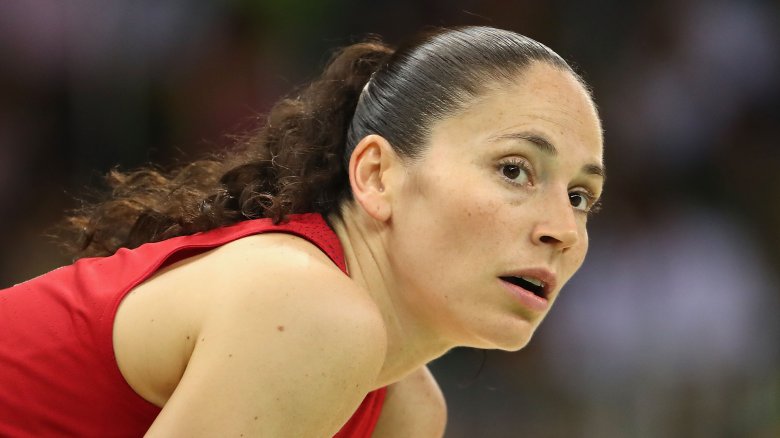 Christian Petersen/Getty Images
While some kids know what they want to be from a very young age, Sue Bird's hoop dreams came into focus a little later in life. Because she had so many aspirations as a child, she told the Washington Jewish Museum that in her fifth-grade yearbook, it says she wants to be a "lawyer, doctor, professional soccer player." That's a lot of lofty goals! 
Her basketball dreams came into focus at an interesting time, she said, "because the WNBA started in 1997 and women's basketball was getting hyped in '95." A teenage Bird was all about it, and making the sport her profession became a distinct possibility when she started getting recruited as a high school student. That said, Bird didn't put all her eggs in one basket. In her household, "academics was always a big thing," she said. "If I didn't become an athlete, I took school seriously enough that I would have figured something out."
Bird has always been a fierce competitor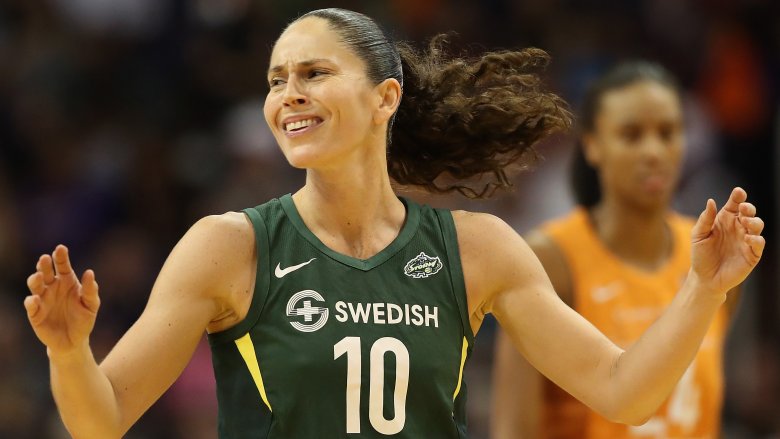 Christian Petersen/Getty Images
Like her girlfriend, soccer legend Megan Rapinoe, basketball pro-Sue Bird has a fierce reputation. According to ESPN, it's her "knack for hitting clutch shots — the daggers — which gained her the nickname Sue "Die, b****es!" Bird, or "DB" for short, from admiring fans on internet message boards." Those who know her best will confirm that this level of intensity has defined Bird since she was a kid.
Her close childhood friend, Brad Barnett, and his family have known since "they were 4 or 5 years old" — long before she was a world-renowned legend in her sport. At the age of 7, she joined a track team coached by Barnett's father. Bird somehow found a way to compete against "much older girls" but was "furious" when she placed second, reported ESPN. Barnett remembers that moment: "My dad always tells the story: 'She was staring down the girl who won like she wanted to go over and bite her,'" he recalled. "...He said then she was going to be something special. That's how competitive she was even that young."
Coming out to her family, friends, and the world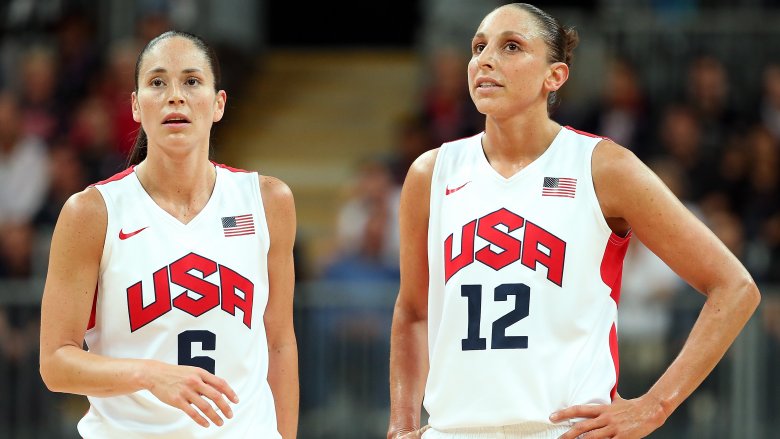 Christian Petersen/Getty Images
It wasn't until she was a co-ed at the University of Connecticut that Sue Bird realized she was gay, reported ESPN. Later, while playing overseas in Russia, she had a conversation about sexuality with her good friend, Phoenix Mercury's Diana Taurasi (pictured, right). Bird said being gay was a "nonissue" to those closest to her, and if someone had taken issue with her identity, Bird says she was prepared to tell them, "Fine, goodbye."
Bird didn't come out to her family until 2003 when she was playing professional ball with the Seattle Storm. The pro baller said she didn't hold back on telling her family because of any sort of internal struggle or outside pressure. "It was just that the journey took me to my 23rd year of life to be able to figure it out," she told The Seattle Times. "It was a combination of being more comfortable, being a little older and more mature, and then finally just not caring."
After receiving unwavering support from her family and friends, Bird eventually came out to the rest of the world and revealed her relationship status with soccer pro-Megan Rapinoe. "I'm gay. Megan's my girlfriend," she told ESPN in 2017. "... These aren't secrets to people who know me." 
Megan Rapinoe almost blew it with a corny joke
While attending the United States Olympic & Paralympic Committee Media Day ahead of the 2016 Rio Olympics, Sue Bird had her first encounter with Megan Rapinoe, and it wasn't pretty. Bird had on a full face of makeup and was wearing her basketball uniform to take her media photos. Rapinoe approached her, and jokingly said: "Hey what's up? Getting ready for a game?" Bird was not impressed by Rapinoe's corny joke, per an interview published on USWNT Classics.
According to Rapinoe, the women met up again months later at the Rio Olympics. They hung out as a group and attended the same party. Rapinoe later slid into Bird's DMs to praise her and her Seattle Storm teammates for wearing black T-shirts in support of the Black Lives Matter movement. When USA Today reported that Bird had sprained her knee during a quarterfinals matchup against Japan, Rapinoe checked in on her again ... via DM, of course. They eventually took the convo offline and began texting back and forth. "It was kinda like, 'OK, we both live in Seattle, we should be friends. Why aren't we friends?'" Rapinoe told The Seattle Times.
Well, they eventually became more than friends, embarking on a relationship in the fall of 2016. Rapinoe reportedly moved into her girlfriend's condo in 2018, so yeah, they're that serious.
She's injury-prone but resilient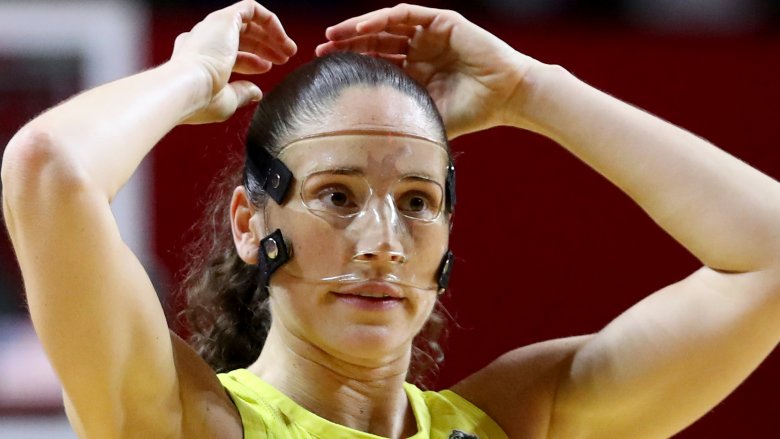 Rob Carr/Getty Images
Being a fierce competitor for most of her life means Sue Bird has had her fair share of bumps and bruises. One of her first major injuries occurred when she suffered a season-ending injury during her freshman year on the UCONN women's basketball team. "They said that she didn't look devastated, she was interacting with her teammates, living her life about the same as if she hadn't been injured," her dad, Herschel Bird, told ESPN. "They were worried about that. They thought she was taking it too well." Herschel added that Sue also broke her nose "four or five times" and had "10 surgeries." He added, "I keep waiting for her to get 'old,' but I don't see it."
Sue's seemingly blasé attitude about her multiple injuries was evident in her self-penned September 2017 article for The Players Tribune. In the piece, she says that she's recovering from yet another broken nose, this time courtesy of Seattle Storm teammate "Breanna Stewart's elbow." Sue wrote, "So I broke my f***ing nose. Not the first time, not the last time — well, O.K., hopefully the last time." 
Unfortunately, Sue underwent knee surgery in May 2019, reported USA Today, but we suspect this rock star is already working hard to get back to fighting form on the basketball court. 
Sue Bird's diet is very strict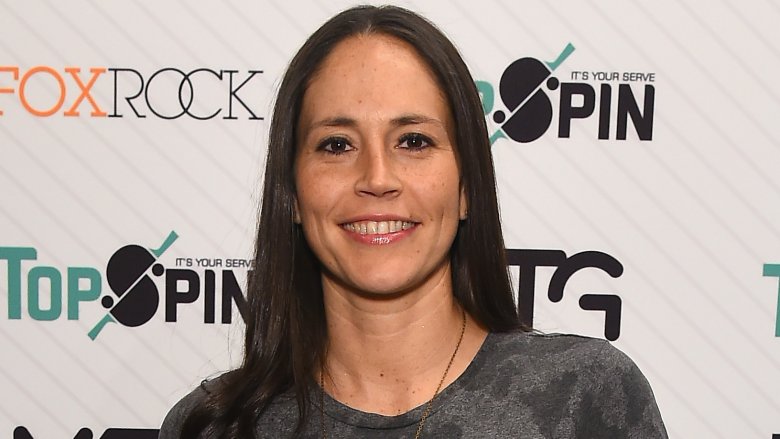 ​Ben Gabbe/Getty Images​
Sue Bird is big on living a healthy lifestyle. According to The Seattle Times, "Bird follows a diet high in vegetables and low in sugar and dairy, and regulates when she eats her carbs." 
Her girlfriend, Megan Rapinoe, wasn't always as health conscious. The soccer star's twin sister, Rachael Rapinoe, told the newspaper, "Meg has never really loved working out, and she's never really been that regimented about her eating." Well, all that apparently changed when Bird entered Megan's life and helped her make some positive changes. According to Rachael, "Sue completely revamped [Megan's] eating and nutrition, which — in my opinion — has 100 percent boosted her game." So, it looks like we can (partially) thank Bird for helping the U.S. Women's National Team snag the 2019 World Cup!
She's a rock to everyone in her life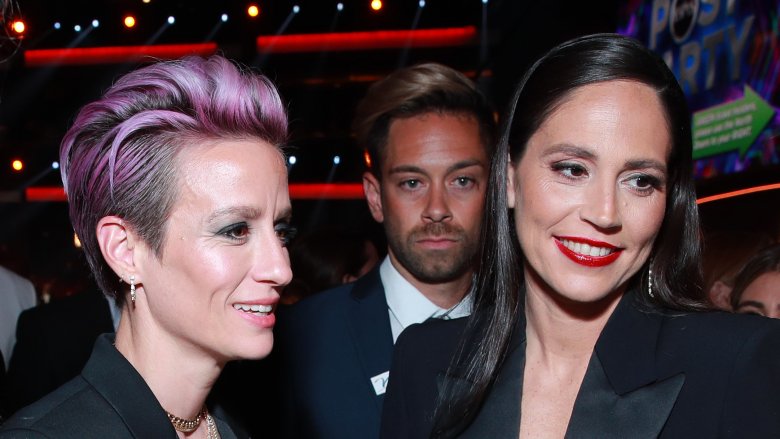 Rich Fury/Getty Images
Sue Bird has managed to not only become a role model to all of the budding female athletes that look up to her, but she's also widely respected by her teammates, her competitors, and her girlfriend, Megan Rapinoe. Bird shoulders plenty of pressure as the Seattle Storm's point guard, but she seems to handle the pressure with ease. The team's CEO and general manager, Alisha Valavanis, told ESPN that Bird is the epitome of a franchise player and "part of its soul." 
Rapinoe says those same leadership qualities extend to their personal relationship. "I joke she is my No. 1 go-to-for-advice person," she told ESPN. "She's just so level-headed." It sounds like we could all use a Sue Bird in our lives!
Who the heck is Sue Boorda?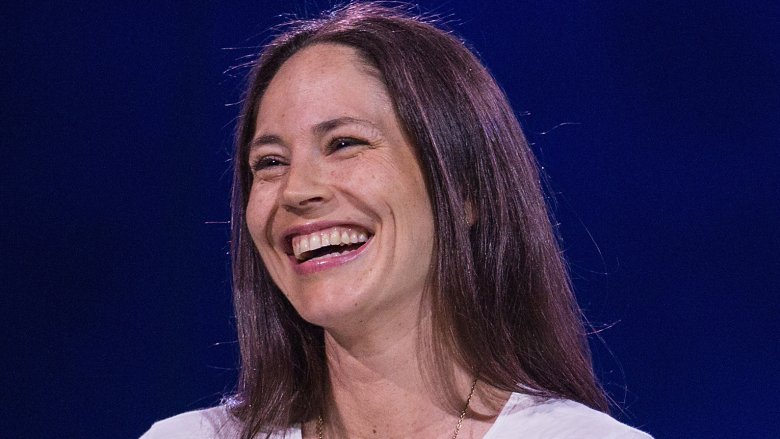 Mat Hayward/Getty Images
Sue Bird. What a unique name, right? Well, it actually isn't her real name! Wait, what? 
Bird told the Washington Jewish Museum that when her Russian-born paternal great-grandfather immigrated to the United States through Ellis Island, the family was asked, "What's your name?" The immigration officials reportedly heard the name Bird instead of their actual surname of Boorda. "And that's how 'Bird' came about. That's why my name is what it is," she said. Bird reportedly still has her great-grandfather's boat ticket and documents from Ellis Island. 
Sue Boorda has a nice ring to it, but we simply adore the name Sue Bird, even though it raises questions about whether or not she's related to NBA great Larry Bird (she's not, by the way). One thing is clear: You can call this woman a champion through and through.