The Real Reason Emma Watson Refuses To Do A Nude Scene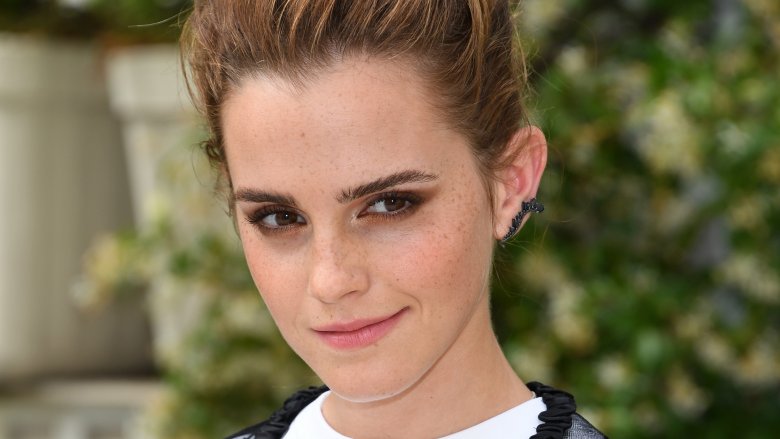 Pascal Le Segretain/Getty Images
The history of Hollywood is littered with cautionary tales of young actors who burned out after a bright start in the industry, but Emma Watson has managed to find life beyond Hermione Granger, but separating herself from the brainy Muggle-born witch hasn't always been easy. The English actress made her debut as Granger at age 11 and portrayed the character for a full decade, appearing in all eight Harry Potter movies. Audiences watched her turn into a young woman on the big screen, and according to Watson, she's often held to a different standard as a result.
"It's one of the things that I struggle with, because the three of us — Dan [Radcliffe], Rupert [Grint], and I — were kids when we got cast in this fairy-tale series, and what happened to us was kind of a fantasy story in itself, outside of the movies," she said (via Interview magazine). "So the story of my life has been of public interest, which is why I've been so passionate about having a private identity." 
Actresses that find themselves in Watson's position sometimes use nudity as a way of showing the world that they're not kids anymore. For example, Twilight star Kristen Stewart put the tween franchise firmly behind her when she went topless in 2012's On the Road. How come Watson has turned her nose up at the idea?
When she sat down with The Sunday Times Magazine just before the release of the penultimate Harry Potter installment, The Deathly Hallows – Part 1, Watson insisted that she wouldn't be pressured into breaking bad. "I'm not going to get my kit off or snort cocaine in a film, just to leave Hermione behind," she said (via the New York Daily News). "I don't want everyone to forget me as Hermione. I'm really proud of her." 
The bilingual actress made her feelings on nudity perfectly clear during the interview, though her opinion on the topic appeared to soften somewhat after 2011's The Deathly Hallows – Part 2. Speaking to The Sun ahead of the final Harry Potter film's London premiere, a new-look Watson revealed that she was feeling "less girlish" with every passing day. "Three months ago I cut my hair and at that moment I felt I became a woman," she said (via The Telegraph). "...I'm more grown up and confident now. I'm ready to take more risks." It was perhaps these comments that led to Watson's name being linked with the role of Anastasia Steele, the doe-eyed female protagonist of the Fifty Shades of Gray series.
Studios began butting heads over E.L. James' raunchy novels in 2012 (Deadline called it "the wildest book-to-movie auction in recent and distant memory"), with Universal ultimately coming out on top. A rumor that Watson was in contention for the lead role, sending the internet into meltdown mode. This was a world away from Harry Potter. Acting in Fifty Shades of Gray would require simulating sex "for seven hours straight" on some days, as eventual star Dakota Johnson revealed (via Interview magazine).
The idea of this former Harry Potter starlet taking on such a risqué role caused quite a stir in the media. Dozens of outlets ran with the story, and it spread so rapidly that many of Watson's friends and family even started to believe it. "I told them just because there are 60 articles on the internet doesn't mean it's any less true than if there are three or four," Watson told Entertainment Weekly. "I haven't read the book, I haven't read a script, nothing." Would Watson have considered taking on the role had she been offered it? Judging by what supposedly went down on the set of This Is The End, most definitely not.
Watson made an axe-wielding appearance in Seth Rogen and Evan Goldberg's critically-acclaimed apocalypse comedy, though her role in the movie was reportedly meant to be even bigger. Rogen plays a version of himself in the movie, as does Watson and a number of other Hollywood stars, including Channing Tatum. The Magic Mike star appears in nothing but a thong in his wild cameo, which Watson was supposedly meant to be a part of — the actress is said to have walked straight off the set when she saw what the scene involved. "Things were starting to get raunchy," according to an extra who claimed to be working on the movie as one of Danny McBride's cannibals (via Pop). "Emma steps on set and looks at the scene and all of us in it and kind of has a freak out moment. Before we started to film she stormed off set with her publicist."
The extra's version of events is unverified, but actor James Franco all-but-confirmed the rumor while speaking with actress Mila Kunis for Interview magazine. He didn't outright name Watson, but he did say this" "I'll admit that the scene we were doing was pretty crazy. There's not any nudity, but it is pretty outrageous. She, by the way, didn't have to do anything crazy in the scene. But what was going on around her was, I guess, too extreme for her." 
If being in close proximity to raunchy behavior is enough to make Watson walk off a movie set, that means the chances of her doing something raunchy herself must be zero, right? Not necessarily. The English rose once told Hello! magazine (via ScreenCrush) that she would consider appearing nude on screen if — and only if — that decision was made purely for artistic reasons. "I've been saying since I was 16 that if it's the right role and important for character development and the story, then of course I'll do it," she's quoted as saying. So that's the real reason Emma Watson has refused to do a nude scene — she simply hasn't been offered one that meets her stringent guidelines yet.
Watson has already proven that she's willing to show a little flesh if it's done tastefully. The actress posed for an uncharacteristically revealing photo shoot with Vanity Fair in 2017, which didn't go down very well with some of her feminist fans. Watson (who was appointed UN Women Goodwill Ambassador in July 2014, not long after graduating from Brown University) was criticized for showing parts of her breasts in one particular photo, though she dismissed her critics with an impassioned retort. "Feminism is not a stick with which to beat other women," she told the BBC. "I really don't know what my tits have to do with it. It's very confusing."