Is Kim Kardashian A College Graduate?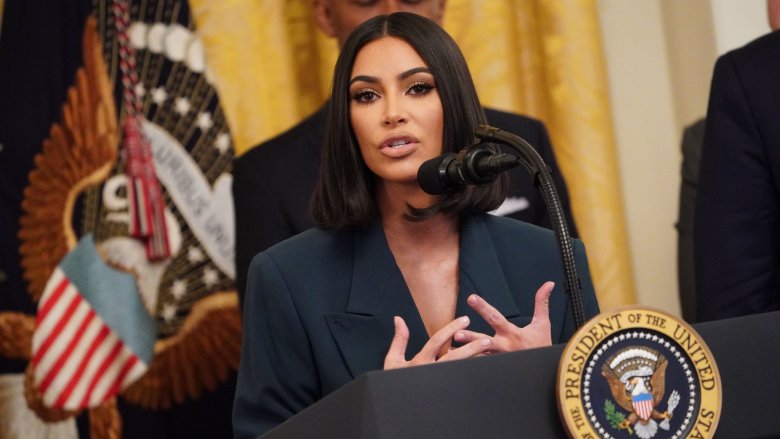 Mandel Ngan/Getty Images
After a decade-plus of Keeping Up With The Kardashians, we know nearly everything about the Kardashian clan, but not much about their level of education. You'd think turning their famous last name into a global brand would require at least one degree between them. So it begs the question: is Kim Kardashian a college graduate?
According to Life & Style, Kim Kardashian enrolled at Pierce College but dropped out when the prospect of becoming a reality TV star sounded better than writing term papers. However, the tabloid staple had dreams that included more than just cutting E! promos. "If things slow down and I had time, I really want to go to law school — just something I can do in my older age," she told Wonderland in 2016.
Flash forward three years later, and her dream is alive in well. In an April 2019 interview with Vogue, Kim Kardashian revealed that she is studying to become a lawyer. Inspired by her role in the release of non-violent drug offender Alice Marie Johnson, Kardashian claims she wants "to fight for people who have paid their dues to society." She added, "I just felt like the system could be so different, and I wanted to fight to fix it, and if I knew more, I could do more."
We know what you're thinking. How can Kim Kardashian earn a law degree without a college education? According to The Washington Post, California, Vermont, Virginia, and Washington don't require a law degree as a prerequisite for taking the bar exam. All you need is a four-year apprenticeship at a law firm. Hey, it worked for Abraham Lincoln.
In a lengthy Instagram post, Kim Kardashian detailed her process of becoming a lawyer. "Last year, I registered with the California State Bar to study law. For the next 4 years, a minimum of 18 hours a week is required, I will take written and multiple choice tests monthly," she wrote. "As my first year is almost coming to an end, I am preparing for the baby bar, a mini version of the bar, which is required when studying law this way. I've seen some comments from people who are saying it's my privilege or my money that got me here, but that's not the case. One person actually said I should 'stay in my lane.' I want people to understand that there is nothing that should limit your pursuit of your dreams, and the accomplishment of new goals. You can create your own lanes, just as I am. The state bar doesn't care who you are."