Who Is Christina Milian's Boyfriend And How Did They Meet?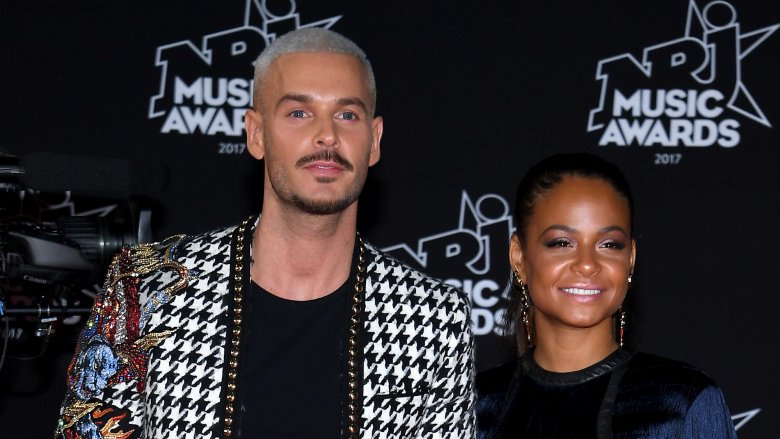 Pascal Le Segretain/Getty Images
Singer Christina Milian hasn't dominated the airwaves this decade as she once did, but her personal life is topping the charts. In 2017 she began dating French singer Matt Pokora, and their relationship first entered the tabloids when the paparazzi spotted the couple getting "hot and heavy on a yacht" in the French Riviera (via Extra). While it's not clear how the two met, they both worked on The Voice (she was the social media correspondent, he was a coach).
Born Matthieu Totta to professional footballer André Tota, Pokora appeared on the widely popular singing competition show Popstars, which led to his rise to fame with the boy band Linkup (via All Music). After going solo in 2004, Pokora found even greater success in Europe by "modeling himself on American R&B and pop stars such as Michael Jackson and Usher." In 2018, the singer's sixth solo album R.E.D. (Rythmes Extrêmement Dangereux) was a massive commercial success and "gave him his second consecutive number one album in France."
Despite his growing fame and popularity in his home country, Pokora relocated to Los Angeles to be closer to Christina Milian. In a 2019 interview with Hollywood Life, Milan gushed over her man who put her first. "I'm really happy with the type of person I'm with. He's honest, and we have a really great relationship," she said. "This is different than anything I've ever experienced and I'm really happy that the universe brought us together." Neither the universe nor hit records in France are going to stand in the way of true love.
On July 28, 2019, the couple announced they are expecting their first child together. "Cooking up a new release for 2020! What a collaboration!" Milan tweeted, along with a picture of the sonogram. ""The next generation is on the way!," Pokora tweeted in his native French. "Legacy on the way!" This isn't Milian's first child — she previously had a daughter with her ex, the producer Terius Youngdell Nash, better known as The-Dream. He famously dumped her while she was pregnant, and their daughter, Violet, was born just six days after their split. 
Hopefully things go much, much better for Christina Milian this time around...