What Is Melania Trump's First Lady Salary?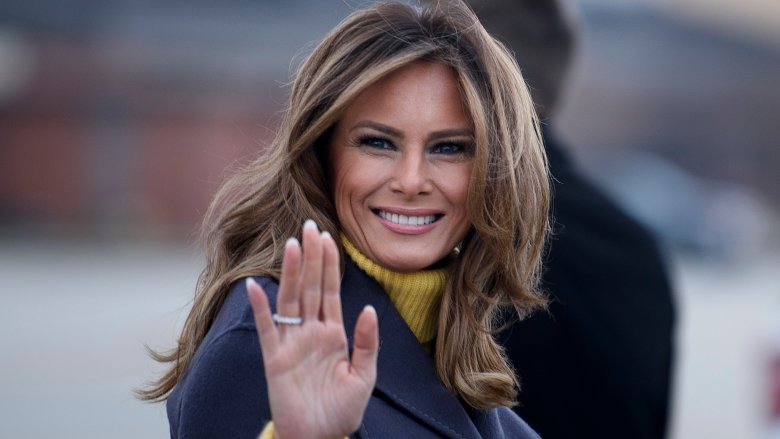 Brendan Smialowski/Getty Images
According to Business Insider, "Title 3 of the US Code" says the President "shall earn" $400,000 a year, but in a 2015 campaign video posted to Twitter, Donald Trump said he would forego the compensation that comes with the job. "I won't take even one dollar. I'm totally giving up my salary if I become president," he said. 
As First Lady, Melania Trump doesn't earn a salary either, but being the wife of the most powerful man on Earth comes with perks. Per Forbes, Melania has 12 full-time staffers (12 fewer than her predecessor, Michelle Obama). However, Melania Trump doesn't need a salary to maintain her lavish lifestyle, since she walked into The White House tied with Jackie Kennedy as the wealthiest First Lady in American history.
Melania Trump earned her estimated net worth of $50 million from modeling, appearing on television and in movies, and her now-discontinued QVC jewelry line that sold out in 45 minutes (via Celebrity Net Worth). 
With her working days now behind her, Melania is putting her stamp on the role of First Lady. In May 2018, she announced "Be Best," a program initiative designed to fight the opioid crisis and promote online safety. "As a mother and as first lady, it concerns me that in today's fast-paced and ever-connected world, children can be less prepared to express or manage their emotions and oftentimes turn to forms of destructive or addictive behavior such as bullying, drug addiction or even suicide," she explained during the launch announcement in the Rose Garden (via CNN).
While she's not fighting cyberbullying, Melania is busy making her presence known on 1600 Pennsylvania Avenue."I love Washington. I love to live there. And I made the White House home — for our son and my husband — and we love to live in the White House," Melania told ABC News in 2018. "We are very honored to serve our great nation."