Brandon Jenner Reveals Girlfriend's Pregnancy Weeks After Divorce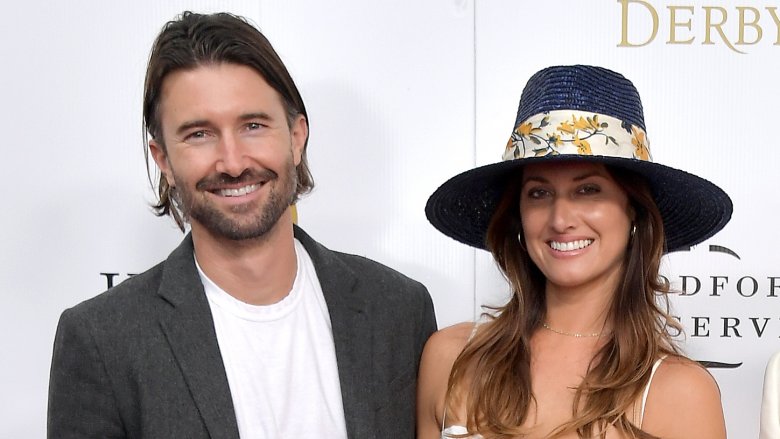 Michael Loccisano/Getty Images
Caitlyn Jenner is about to be a grandmother again. Brandon Jenner — the eldest son of the Olympic gold medalist and actress Linda Thompson — confirmed to People that he and his girlfriend Cayley Stoker are expecting twins. "We are at 12 weeks now, so near the end of the first trimester," he told the publication. "We're madly in love and we are very excited about this!"
Brandon and Cayley sparked dating rumors back in March 2019, and it appears things have moved pretty fast since. "Cayley is beloved by the Malibu community," an insider told Life & Style at the time. "[She's] a sweet local beach girl that grew up in the 'Bu and everyone loves." Score one for Malibu.
It wouldn't be Jenner news without a little drama, right? Brandon's pregnancy announcement came weeks after his divorce from Leah Felder, the other half of the indie-pop group, Brandon & Leah. According to TMZ, Leah filed for divorce on Sept. 25, 2018 after six years of marriage. "Even though we have chosen to separate as a couple, we still love one another very, very much and remain a major part of each other's lives — as best friends, family and loving parents to our daughter," the couple said in a joint statement. Their statement claimed there was "no lying or cheating or fighting" that prompted their decision to divorce, but rather "an expansion of our individual evolution." The divorce was reportedly finalized on July 15, 2019.
However, it seems Cayley has been welcomed into the Jenner clan despite the freshness of Brandon's divorce. In an Instagram post on July 21, 2019, Brandon and the new mom-to-be were all smiles alongside Jenner's mother and New Jersey Senator Cory Booker "at a small gathering" in Santa Monica to hear the 2020 Democratic candidate for President speak.
Although Brandon shares a daughter — 3-year-old Eva James — with his ex Leah, he made sure to tell his first child about the arrival of her new siblings the right way. "We told her together," Brandon Jenner told People. "Leah, Cayley and I sat down with her and told her what was happening, and she was very excited and happy. She's super excited to be a big sister."
And despite the divorce and potential personal issues that may arise when another family is started right away, Brandon and Leah — pictured above — appear to harbor no ill will toward each other. "Leah and I split up in a really beautiful way, and I think we handled it in the best way possible," he explained. He claimed the divorce "was a process," but "Leah and I have moved on." He added: "I am starting a family with Cayley, and I'm so happy about it."
We're excited that Brandon is happy about it, but carrying twins during her first pregnancy might multiply Cayley's worries and discomforts that go along with a normal pregnancy. However, according to What To Expect, complications that used to arise from carrying twins (premature labor, low-birth weight, and C-sections) are statistically lower now "thanks to modern medicine." Shout out to modern medicine, y'all.
Cayley can also expect extra care to ensure a healthy pregnancy and uncomplicated delivery. Since she's carrying multiple bundles of joy, the medical site says Cayley's doctor will work closely with her to immediately identify and reduce the risks of all things associated with bringing more than one baby to term, such as "hypertension, anemia, placenta abruption and preterm labor."
Cayley should also be prepared to give birth early. Per What To Expect, 60 percent of twin births are premature deliveries. But that statistic shouldn't be cause for alarm. With the extra monitoring throughout the pregnancy and the neonatal intensive care unit (NICU) if they weigh fewer than five pounds when they're born, her twins will receive the best care to ensure they're happy and healthy.
Raising twins should be a lot of fun as well, and soon enough, a lot easier. The site explains: "When they're a bit older, chances are your same-age siblings will turn into built-in best friends who are able to play together and comfort each other."
So are Brandon Jenner and Cayley Stoker having two boys? Two girls? One of each? Well, we don't know, because the couple doesn't know. "We have decided not to find out," Cayley told People. "We don't want to know. We're going to be surprised."