What Diet Is Tom Brady On?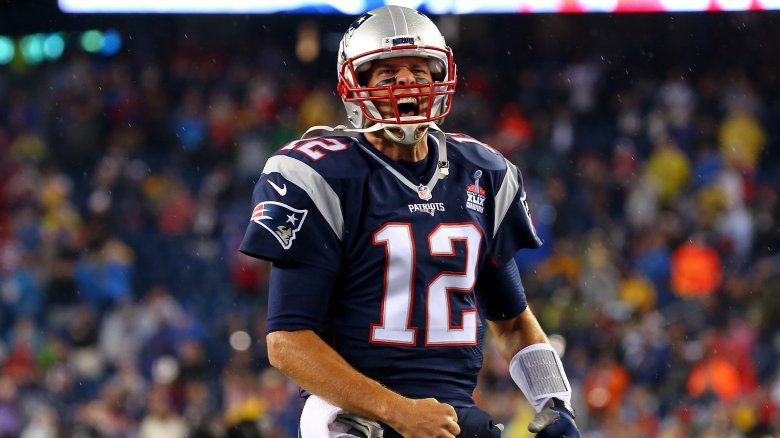 Jim Rogash/Getty Images
On the day he turned 42, New England Patriots quarterback Tom Brady signed a "two-year, $70 million contract extension" to remain with the team that he's led to six Super Bowl victories (via NFL). As one of the oldest players in the NFL, the living legend shows no signs of slowing down. So how does he do it? In addition to his computer-like brain, Brady credits much of his lasting success to his diet, the controversial TB12 Method. 
In a 2016 interview with Boston.com, Brady's chef, Allen Campbell, explained what foods the icon, and his family — including wife, Gisele Bundchen — avoid. "No white sugar. No white flour. No MSG. I'll use raw olive oil, but I never cook with olive oil. I only cook with coconut oil. Fats like canola oil turn into trans fats," he explained. "I never use iodized salt."
He stated that "80 percent" of their diet consists of vegetables, but even some of those don't make the cut because they aren't anti-inflammatory. So, "no tomatoes, peppers, mushrooms, or eggplants," Allen says. What else doesn't make the list? Coffee, caffeine, fungus, or dairy. If Brady indulges in a fruit, it's "bananas in a smoothie." Whoa, bananas? Slow down there, wild man!
According to Men's Health, Brady starts his day with a "20-ounce glass of water infused with electrolytes," then drinks "12 to 25 glasses of water a day." Does he even have room for food? Sort of. For breakfast, Brady munches on "avocado and eggs" and "salads with nuts and fish" or lunch. For dinner, the four-time Super Bowl MVP chows down on "roasted vegetables and chicken."
But despite his sentient robot act on the field, Brady is a bit more human when it comes to food. "If I'm craving bacon, I have a piece. Same with pizza. You should never restrict what you really want. We're humans, here for one life," he told the publication. "What's changed as I've gotten older is now if I want pizza, I want the best pizza. I don't eat a slice that tastes like s*** and then wonder, 'Why am I eating s*** pizza?'"
Wise words, Tom. Wise words. Have a banana smoothie to celebrate your genius.