What Dacre Montgomery Was Doing Before Playing Billy On Stranger Things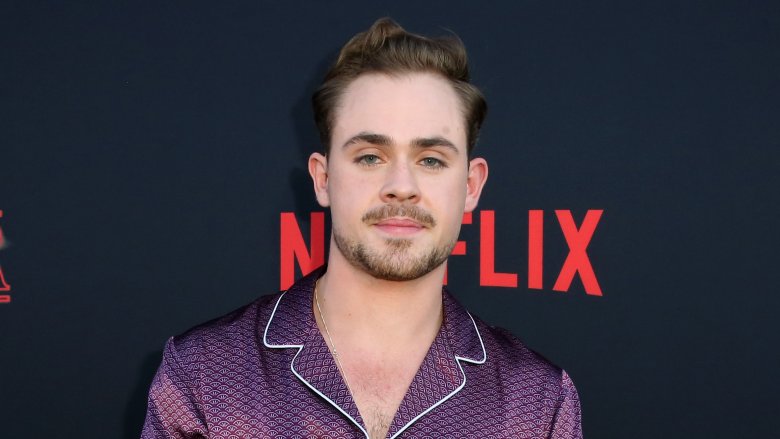 Rachel Murray/Getty Images
Netflix's mega-hit Stranger Things is steeped in '80s movie nostalgia, and no '80s throwback would be complete without a blond sociopath. Enter Dacre Montgomery's Billy Hargrove. The physical embodiment of seething rage in a jean-jacket, Montgomery fully embraced the role of the menacing and abusive bully in season 2 of the sci-fi series, which led the way to an even weightier bad guy role in season 3.
But where did the Australian hunk get his start? According to his IMDb page, his first credit roles came in 2011 with the television pilot, Family Tree, and the short film Bertrand The Terrible. He went four years without an acting job before starring in two shorts in 2015, Make Them Suffer: Old Souls and Tryptophan.
Things began looking up for Montgomery in 2016 when he made his feature film debut in the horror film Better Watch Out, a home invasion movie that pits a babysitter and her 12-year-old charge against sinister intruders. Little did Montgomery know that his breakout role would arrive next.
In 2017, Montgomery donned an iconic suit to play Jason, the red ranger in the big budget reboot of Power Rangers. A divisive film among critics — as the 50% Rotten Tomatoes score suggests — it earned a respectable $142 million globally and earned the distinction of being the first blockbuster superhero film to feature LGBT and autistic characters.
Montgomery then rode that wave of success all the way to Hawkins, Indiana. For his transformation as "Flayed Billy" in season 3 of Stranger Things, Montgomery told The New York Times about his process to get into character. "I did a lot of research on bipolar disorder and split personalities, and how one personality controls the other personalities," he explained. "The whole season I felt like my eyes were bleeding because I was trying to push out this emotion to play as a counter to my physicality. I wanted to treat it more like a real-world experience."
Whether you love, the character, hate the character, or love to hate the character, Montgomery feels that Billy Hargrove found redemption in the end. During a Reddit AMA (via EW), a user asked the actor if Billy's final act of bravery made up for two seasons of evil. "I think it was redemptive and I do view him as a hero," he replied.