Twitter Reacts To Chris Cuomo Threatening Man Who Called Him 'Fredo'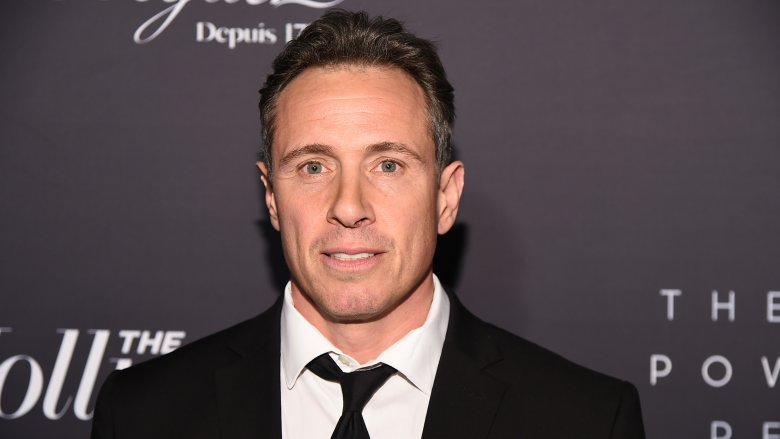 Theo Wargo/Getty Images
On Aug. 12, 2019, CNN host Chris Cuomo was caught on video (NSFW language) in a heated exchange with a man who called him "Fredo."
"Punk-a** b******s from the right call me Fredo," Cuomo said in the clip. "My name is Chris Cuomo. I'm an anchor on CNN. Fredo is from 'The Godfather.' He was a weak brother. And they're using it as an Italian aspersion." He continued, "It's like the n-word for us." 
Cuomo, the younger brother of New York Governor Andrew Cuomo and son of former New York Governor Mario Cuomo, did not take the perceived slight kindly and told the man that he would "f******g ruin [his] s*** [and] f*****g throw [him] down these stairs like a f*****g punk."  
Based on the clip, we'll go out on a limb and say Cuomo is more of a Sonny than a Fredo. But needless to say, the video quickly became the top trending topic on Twitter with many offering their Category 5 takes.
"I assume @cnn not available for comment. Imagine their coverage of this if they were a real news organization?,"Donald Trump, Jr. tweeted, to which CNN spokesman Matt Dornic replied, "Chris Cuomo defended himself when he was verbally attacked with the use of an ethnic slur in an orchestrated setup. We completely support him."
It's awesome that Cuomo's network CNN has his back, but the Cuomo Prime Time host had support from an unexpected source – Fox News' Sean Hannity. "I say good for @ChrisCuomo He's out with his 9 year old daughter, and his wife, and this guy is being a jackass in front of his family. [In my honest opinion] Chris Cuomo has zero to apologize for. He deserves the apology," the Hannity host tweeted.
Neera Tanden, CEO of the liberal think tank Center for American Progress, took the verbal attack on Chris Cuomo seriously. She compared the man calling Cuomo "Fredo" to Bernie Sanders supporters throwing dollar bills at Hillary Clinton's motorcade in 2017 to protest the corrupting force of money in politics. "People who tell you it's ok to call an Italian man Fredo are the same people who said it was ok to throw money at a woman leader and call her a whore. And they never think about the energy they take rationalizing the denigration of others," she tweeted.
Meanwhile, Natalie Shure of TruTV's Adam Ruins Everything tweeted, "Seems like 'Fredo' needled Cuomo less for the Italian slur factor and more for the implication that he's a lame oaf brother being carried along by a powerful family." 
However, despite the partisan divide you would expect in an incident like this, many of the reactions simply took Cuomo to task for labeling "Fredo" an ethnic slur.
'"if you're comparing the badness of two words and you won't even say one of them — that's the worse word,'" Alex McDaniel, deputy editor at SB Nation tweeted, quoting material from comedian John Mulaney's stand-up special New in Town from 2012.
"Did @ChrisCuomo just say that 'Fredo' is to Italians what the N word is to black people? [The] N word is a dehumanizing word used against blacks who endured years of oppression. Fredo is a term from The Godfather, referring to the dumb brother. Equivocating the two is pure racism," Trump advisor Katrina Pierson tweeted.
"Calling an Italian man Fredo perpetuates cruel, unfair stereotypes, and if you ever do it my cousins and I will show up to your house in track suits and smash your car windows," CJ Ciaramella, criminal justice reporter for Reason, joked.
Political commentator Wayne Dupree tweeted: "Chris Cuomo claimed calling him FREDO was like calling blacks the n-word 1. FREDO came from a Hollywood movie. 2. Slave masters didn't called Italians 'fredo' 3. Shows you what Cuomo thinks of black people FREDO was associated with being 'slow, and couldn't be trusted.'" 
"Gonna pace around my apt the rest of the night thinking about how someone can claim Fredo is 'like the n-word' for Italians....very normal s***. Almost too normal," journalist Jordan Uhl tweeted.
Said Vanity Fair's Michael Knowles: "'Fredo' is not the 'n-word for Italians.' It's a movie reference invoked specifically to make fun of Chris Cuomo."
"i love that we're gonna spend all day debating whether 'Fredo' is an ethnic slur against Italians. it's good to me, actually," Splinter News managing editor Katherine Krueger tweeted.
Any mention of CNN wouldn't be complete without a tweet from Donald Trump, of course. Once the video went viral, the Commander-In-Chief turned to his favorite past time: tweeting.
"I thought Chris was Fredo also. The truth hurts. Totally lost it! Low ratings @CNN," the 45th President tweeted. He even managed to bring in the gun control debate in tweets about Cuomo. "Would Chris Cuomo be given a Red Flag for his recent rant? Filthy language and a total loss of control. He shouldn't be allowed to have any weapon. He's nuts!" he wrote.
Chris Cuomo also weighed in on Twitter about the incident, thanking his supporters while writing about the "lesson" he learned. "Appreciate all the support but – truth is I should be better than the guys baiting me. This happens all the time these days. Often in front of my family. But there is a lesson: no need to add to the ugliness; I should be better than what I oppose," he tweeted.
Chris Cuomo ready to risk it all – literally prepared to die – over an inconsequential slight from a clear bad faith actor is all of us on this website everyday

— Wesley (@WesleyLowery) August 13, 2019
As a rule no one should ever get in trouble for what they did AFTER being purposely provoked by right-wing. Focus should be on the initital transgessors. Trying to blame @ChrisCuomo for how he reacted to slur misses the point. Criticizing Cuomo rewards bad guys for their actions.

— Cenk Uygur (@cenkuygur) August 13, 2019
Although I disagree that calling #ChrisCuomo "Fredo" = calling a black person the n-word, I get his point and support his response to this rightwing loser who ambushed him. Some people think having a cell phone & You Tube channel makes them journalists. 11 yr olds have both, so..

— Tim Wise (@timjacobwise) August 13, 2019
Chris Cuomo must have been enraged while riding his Yoshi back to his mansion

— Chad V, Poor Not White (@PrettyBadLefty) August 13, 2019
Chris Cuomo definitely did himself a favor by publicly telling everyone the one word that turns him into Marty McFly facing off against Biff

— Mike Drucker (@MikeDrucker) August 13, 2019
i gotta be honest i am hotly anticipating Chris Cuomo's way too serious and somber cold open today

— jack allison (@jackallisonLOL) August 13, 2019
I thought #Fredo was trending because it was John Cazale's birthday yesterday, but alas.

Anyway, here is a shout out to John Cazale–a fine actor who would have been 84. pic.twitter.com/cPFtcluunw

— Lauren Modery (@Hipstercrite) August 13, 2019