Hayden Panettiere To Leave LA To Escape Her Boyfriend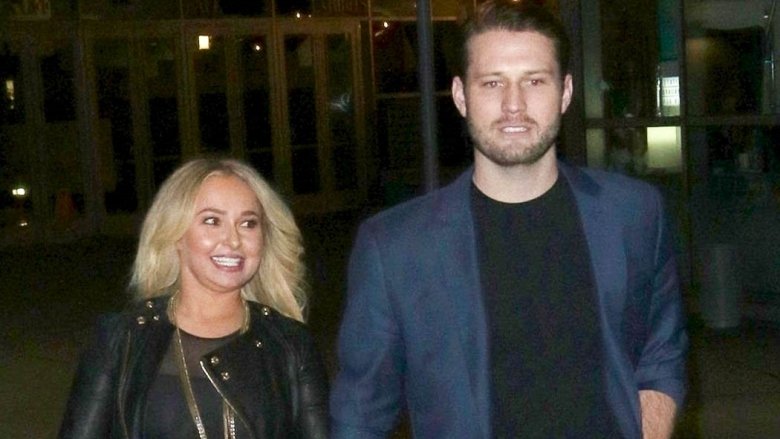 BACKGRID
Nashville star Hayden Panettiere began dating real estate agent Brian Hickerson in the summer of 2018 after he "saved" her from swarming paparazzi. Almost immediately, the pair started making headlines for all the wrong reasons. Now, the newest reports say, Panettiere plans to relocate across the country just to get away from him. 
The problems seemed to start for Panettiere and Hickerson back in November of 2018. According to a report in Us Weekly from that month, police in Greenville, South Carolina, responded to a domestic assault call at the home of Hickerson's father. One of the responding officers claimed to have witnessed Hickerson chasing his father through the kitchen of the residence "in an agitated state." His father was reportedly carrying "an unidentified object" and had "what appeared to be blood on his face."
Before entering the residence, officers were greeted at the door by Hayden Panettiere herself, who officers described as "frantic" and struggling to "unlock the door." The official police report stated that both Panettiere and Hickerson "were both intoxicated and admitted to having been drinking alcohol" and "were adamant that they were fine and did not need [police] assistance."
The report also claimed Hickerson was "visibly agitated," and upset that this incident might spur some unwanted or negative publicity around Panettiere. Officers left the scene after Hickerson's father told them his injuries, including severe bruises on his face, were caused by an errant fall.
Ten days after that incident, which was still just months after the pair were first linked, friends and family of the former Heroes star allegedly aired their concerns. According to Us Weekly, one unnamed source said those close to Panettiere believed that the relationship was "not a healthy situation." That same month, Hickerson told Access the exact opposite. 
"Just to be clear, Hayden's friends and family are not worried about her at all. Hayden is happy and healthy and so is our relationship," he told Access. "That is all I will comment on so please respect my privacy."
Unfortunately, it seems as though the alleged fears suffered by Panettiere's friends and family weren't unfounded after all. On May 3, 2019, Hickerson was arrested for domestic violence in Hollywood after an argument between the pair "turned physical" (via TMZ).  He was charged for felony domestic violence and released on $50,000 bond. According to Radar Online, Hickerson allegedly struck her three separate times in the face over the course of two days. Panettiere's alleged injuries included a bloody nose, multiple bruises all of her body, and bite wound.
A source told People at the time that even though Hayden Panettiere "knows Brian has a bad temper and can be controlling," she is apparently extremely attracted to him nonetheless. "Brian's reputation as a party boy is no secret in Hollywood," the source explained. "Those close to Hayden are more worried than ever about this and his temper. But Hayden is taken with him. She thinks he is what she needs in her life now."
And repeated calls from family and friends urging to Panettiere break it off with Hickerson have allegedly fallen on deaf ears. A source told People that her inner circle is literally "begging her" to leave Hickerson, and are baffled why she hasn't been able to end this relationship. "Her friends and family have been worried about her for quite a while, and things seem to have gotten worse," the source continued. "She needs to do some soul-searching... It's a sad situation."
A lawyer told the publication that couple hasn't been in contact recently, but the source explains Hayden Panettiere needs to take the next step and work to pull her life together, both professionally and personally. "It's hard to imagine things getting any worse, but they could," the source added.
However, Panettiere's personal life will continue to remain in the spotlight, because in July 2019, Brian Hickerson hired high-profile lawyer Shawn Holley to represent him, Radar Online reported. The famous lawyer has represented the likes of O.J. Simpson, Lindsay Lohan, and Kim Kardashian over the years, so we can expect that this case will be tabloid fodder as it continues to unfold.
Luckily, according to a source speaking to Radar Online in August, 2019, Panettiere is removing herself from Hickerson with plans to relocate across the country to New York City. "After all the drama and public attention in L.A., she wants to leave all the bad memories behind," the source explained. "Hayden loves New York. She is comfortable there, and grew up around there." However, the source says that "there seems to be a possibility they are still working things out." Whatever the decision, the source claims the damage is done. "Wherever he goes, he brings a tide of chaos," the source continued. "There has been a level of toxicity he has brought to the family."