Lizzo Sings 'Truth Hurts' And 'Good As Hell' Mash-Up At The 2019 MTV VMAs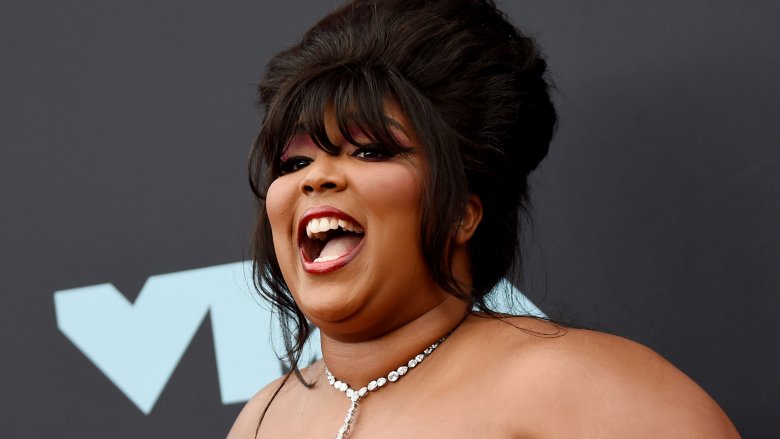 Dimitrios Kambouris/Getty Images
2019 is undeniably the Year of Lizzo. She's even on Obama's summer playlist. And just to remind the audience during the 2019 MTV VMAs that she's still "100 percent that b****," the singer and flutist — wearing a yellow leotard under a trench coat — took the stage with her backup dancers and a giant inflatable butt (yes, a giant inflatable butt) to perform her infectious hits "Truth Hurts" and "Good as Hell."
Lizzo's message of self-love and her two self-esteem-boosting anthems have earned her millions of fans worldwide — and that message couldn't have been much clearer than when she stopped mid-performance at the VMAs to preach serious truth.
"Let me talk to y'all for a second," she said. "I'm tired of the bull****. It's so hard to love yourself in a world that doesn't love you back." Lizzo added, "Feel good as hell because you deserve to feel good as hell." 
To top it off, her dancers threw their wigs into the air as the Minnesota-born star sustained her final note. Talk about going out with a bang. 
At this year's MTV Video Music Awards, Lizzo was up for a number of Moon Man statues: Best New Artist, PUSH Artist of the Year, Song of Summer ("Truth Hurts"), and Best Power Anthem with 2019's Video Vanguard Award recipient Missy Elliot.
Clearly, Lizzo is here for good, and we can surely expect more songs about empowerment from her in the future. And it's all due to her being honest with herself first. As she told Rolling Stone in March, "I'm jumping straight into a scenario [now] on certain songs where I'm literally sitting in a car with someone crying and I'm like, 'Pull this car over, I need to get this off my chest. Or when I'm literally sending a text to a f***boy [saying] 'Take yo' a** home. Stop texting me.' There's literal specifics here. You're in the scene of a movie: my movie, my life."