Normani Serves '90s Realness In 'Motivation' Performance At 2019 MTV VMAs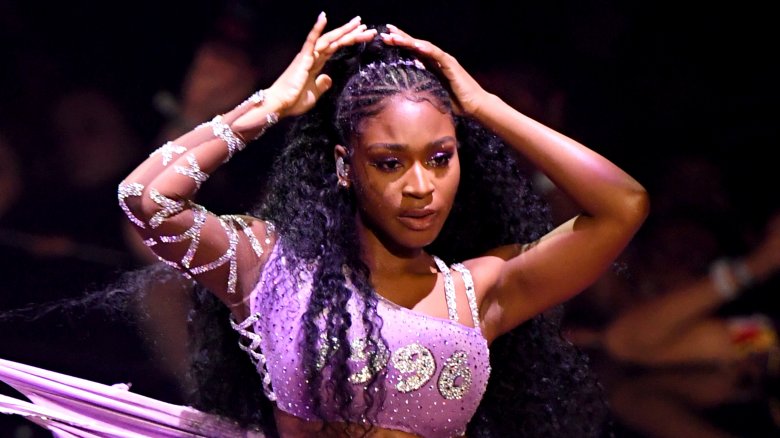 Mike Coppola/Getty Images
The '90s called — they want their everything back. 
Normani, former member of girl group Fifth Harmony and rising independent pop icon, embodied everything cool about the now-romanticized decade during her performance of "Motivation" at the 2019 MTV Video Music Awards. 
Wearing her hair half-back in tight braids adorned with tiny clips, a lavender skort (so '90s) and matching cropped jacket, and sporty shoes, Normani came down to the Prudential Center stage from inside a basketball hoop. Her back-up dancers, decked out in lavender sets as well, were perched on pieces of fencing — and when the audience got a taste of Normani's pyrotechnics in store, the dancers hopped down and joined her in spirited choreography during the song's first verse. 
After the second chorus, a crackle of thunder sounded out — signaling one of Normani's dancers to pull her jacket and skirt off to reveal a bedazzled top with "1996" written across the chest and extra-short shorts that were beneath her "Motivation" mini-sarong. Normani then executed a solo dance break — complete with backbends, death-drops, twerking, and the splits — before ending the performance with another blast of fireworks and a badass power pose. 
Normani's "Motivation" has swept the world this summer, a time in which Rolling Stone's Brittany Spanos says "you can actually hear a pop superstar be born." That star is, of course, Normani, who has been likened to "Destiny's Child, J. Lo, Ciara, and Britney Spears" thanks to this infectious pop hit sure to set her on a path to even greater success. 
Fifth Harmony may have put her in the spotlight, but Normani has more than proven she knows how to shine all on her own. Don't believe us? Maybe you just need some motivation.