Bebe Rexha Gets Candid About Ageism In The Music Industry At MTV VMAs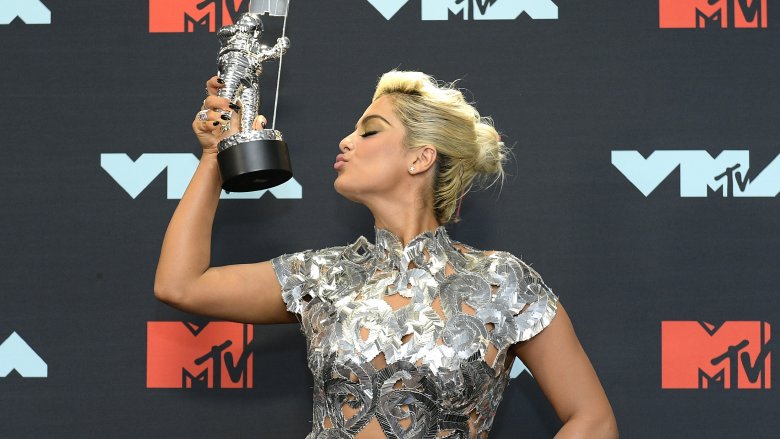 Roy Rochlin/Getty Images
Bebe Rexha, who won the Best Dance award for her "Call You Mine" collaboration with The Chainsmokers, showed up at the 2019 MTV VMAs and called out ageism in the music industry. And, much like the audience, she had a fangirl moment over Taylor Swift.
This story started a few weeks before the broadcast, when Rexha took to Instagram and shredded a "male music executive" who told the blonde beauty that she was "too old" to post sexy photos. 
"I'm a songwriter and I post sexy pics on my Instagram and that's not what female songwriters are suppose[d] to do, especially for my age. I'm 29. I'm fed up with being put in a box. I make my own rules," she wrote. "I'm tired of women getting labeled as 'hags' when they get old and guys get labeled as sexy with age. Anyways, I'm turning 30 on August 30 and you know what, I'm not running away from it."
Her post about self-empowerment quickly caught to the attention of Swift, who commented, "DRAG THEM. 29 YEAR OLDS UNITE." That's a very powerful co-sign of any message. 
Naturally, Rexha's post was a hot topic of conversation on the VMAs red carpet before the show started.
"I posted about an executive in the music business saying I was too old to be sexy because I'm 29, turning 30 — which I think is complete BS and Taylor commented on it and has been such a big supporter," she explained. "I didn't expect that and I freaked out because, like, it's Taylor Swift! It's really cool to have another female to support me. It's really hard to find [that] in the music business."
If you're still somehow unsure if Rexha can effortlessly pull off sexy at 29, the "I'm A Mess" singer revealed she picked her stunning outfit just two hours before the VMAs started. "I had nothing to wear!" she told ET's Keltie Knight. "[Fashion designer Christian Siriano] showed up two hours ago and he literally made this. Like, he made it and I love it and I'm excited!"