What Do All Of Kendall Jenner's Tattoos Mean?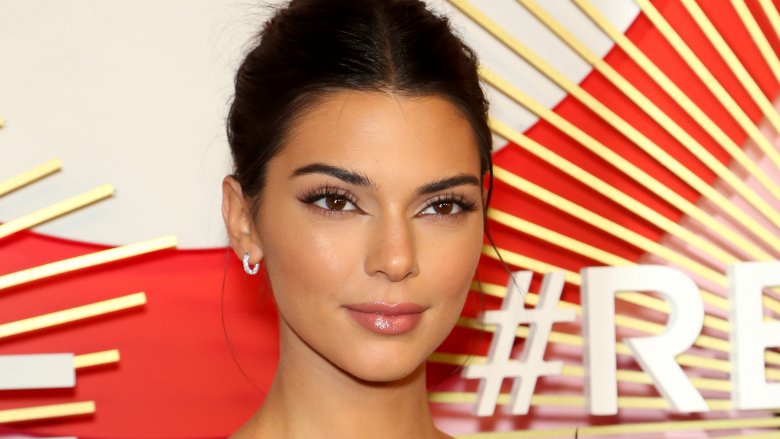 Gabe Ginsberg/Getty Images
Kendall Jenner has three tattoos, but you have to look pretty hard to see them. Her first two, according to Glamour, are "two white hearts" on her two middle fingers that she got in 2015 as a "BFF tattoo" with Hailey Baldwin.
On her now-defunct website, Kendall explained her reasoning for the tiny ink. "The one on my right hand is a full heart to represent an angel and my left is a broken heart — kind of like the devil side," she wrote. "Hailey [Baldwin] and I have matching ones on the left side but hers is red. I definitely want more eventually, I just don't know what I would get right now. I don't have anything in mind. You'll just have to wait and see!"
On Sept. 30, 2016, the Victoria's Secret model got her third tattoo by celebrity tattoo artist JonBoy — the word "meow" inside her bottom lip. If you're searching for a deeper meaning in the word "meow," sorry. "There's no real meaning behind it," she wrote on her app (via Glamour). "I just wanted to be able to say that I have a tattoo 'on my face!'" Hey, sometimes you just want a tattoo on your face. 
During a 2018 appearance on Ellen, Kendall Jenner still didn't share the meaning behind her third tattoo, but she did reveal the reason. As Jamie Foxx once said, "Blame it on the alcohol."
"I was drunk! I was not thinking clearly," she explained (via People). "It was literally the first thing that came to my mind. I don't know, just my drunk thoughts."
Ellen then pressed the 2017 highest-paid model on why she would go through the trouble of getting tattoos if nobody can see them. "I just wanted to know what it felt like," Jenner said. "All my friends have them. I was like, 'I just want to know what it feels like.'" Mission accomplished, Kendall Jenner.