Things You Didn't Know About Ruby Rose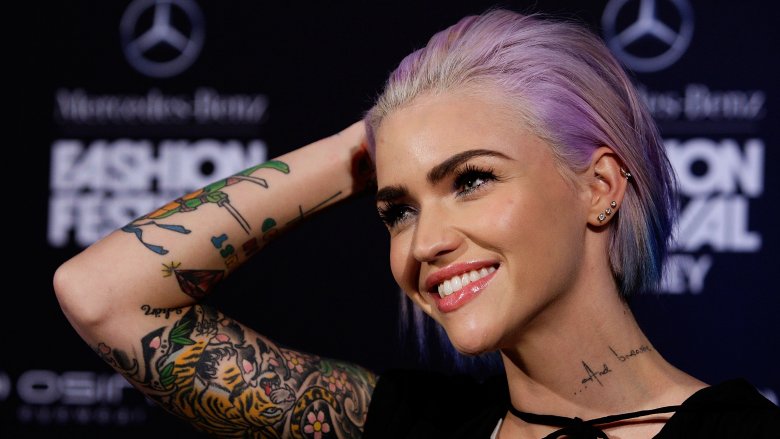 Getty Images
Ruby Rose completed her transition from modeling to acting in 2008, but it would be a number of years before the world came to know her name. Born Ruby Rose Langenheim, the Australian made her debut in the raunchy low-budget flick Suite for Fleur, impressing director Ron Brown with her "brave stance" on sexuality. It was this stance that would ultimately make her a perfect addition to Orange is the New Black, the hit Netflix series that made her a star in the States and beyond.
Suddenly, folks were recognizing her out in public. One fan almost caused a freeway pile-up after spotting the actress in the car next to them. Rose recalled the encounter, telling People: "I was like, 'No, no, you have to look at the road,' and they put their brakes on, but they did it too late and it was just enough to bump the car in front of them," she said. "No one was injured, thank God."
The exposure has been "unparalleled" to anything she's experienced in the past, and Rose counts herself "lucky" to be in the position she's in, but taking the fast track to the A-list means giving up your privacy in a hurry. Stories about her now consume countless column inches the world over, but there are still parts of Rose's life that remain buried from public view. Here are some things you might not know about her.
She was an MTV VJ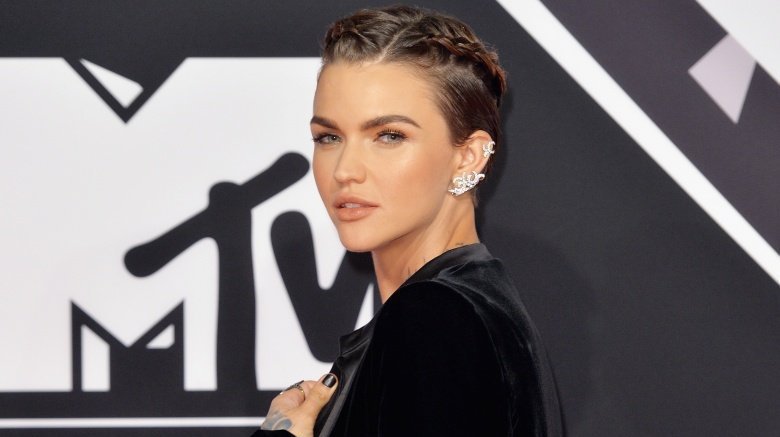 Rose made a name for herself on the small screen in 2007 when she became a VJ for MTV's Australian channel. To land the gig, she competed against 2,000 applicants and completed a series of wacky challenges orchestrated by Jackass star Bam Margera. 
"My favourite was drinking 100 shots of beer in 100 minutes, and then vomiting on national television," she said. "So that really made Mum proud. And having to kiss strangers, like complete randoms down a busy Sydney street — another thing that my grandma will be impressed with when she watches it."
She has way more tattoos than you realize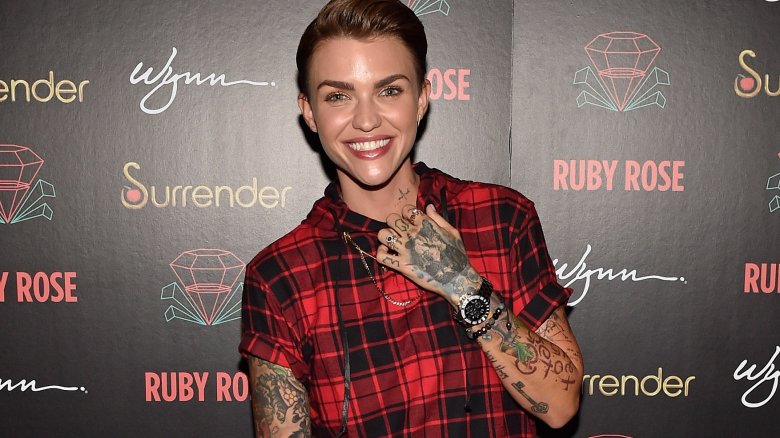 Getty Images
Rose's tattoos have brought her a lot of attention over the years, but that's not surprising considering the sheer amount of ink on her body. She told Conan O'Brien in 2015 that she had "maybe 60," but that figure has ballooned over the years. When she spoke to Marie Claire Malaysia for her August 2018 cover story (via People), Rose revealed that she had as many as 109 tats the last time she checked. "If you count them individually, then that's an astronomical amount. But because they are joined together, it becomes a sleeve, or it becomes a back piece," she said. "They all have personal meanings or stories — they are there to create a memory." 
The Aussie actress told People her tattoos are like a visual journal that she started at age 16. "I can trace a timeline of my life from where I've been — the ups and the downs, the trials and tribulations and all that I've overcome to get to where I am today — by looking at this map on my body," she said. "And if I didn't have that, I would forget a lot of things, and I'm glad I don't and can't forget."
She had a rough upbringing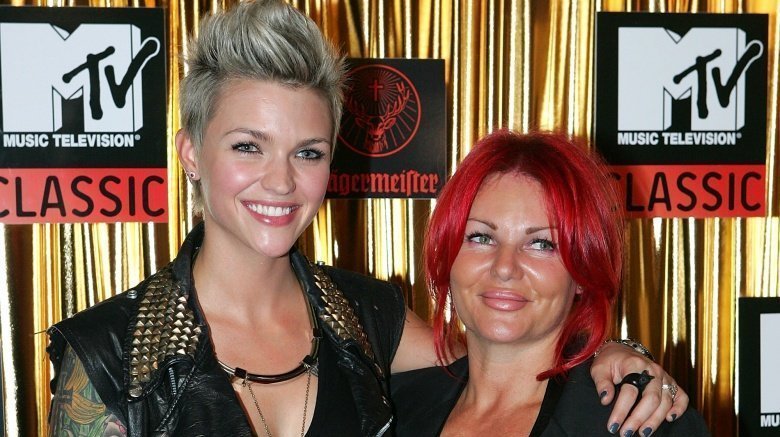 Ruby Rose said she was born into a house plagued by substance and domestic abuse. "I was a surprise and [my parents] probably weren't ready for a baby," she told Porter magazine in 2015. "My mother left my dad after about a year; we had no money and my dad was not really a good person. She got out of there for my safety."
Rose said her mother, Katia Langenheim, stole and pawned a television to pay for plane tickets to get to her sister's house in Queensland, Australia. "[When we] rocked up to the front door, we were malnourished, my mum had two black eyes, and I was like one of those kids in scary movies who are dirty and bite people," she said. "It was just us against the world for a long time." She continued, "[My mother] is the first one to say that she wasn't perfect, but everything she did was to the best of her ability, in the hope that she would raise the best daughter she could."
She was bullied in school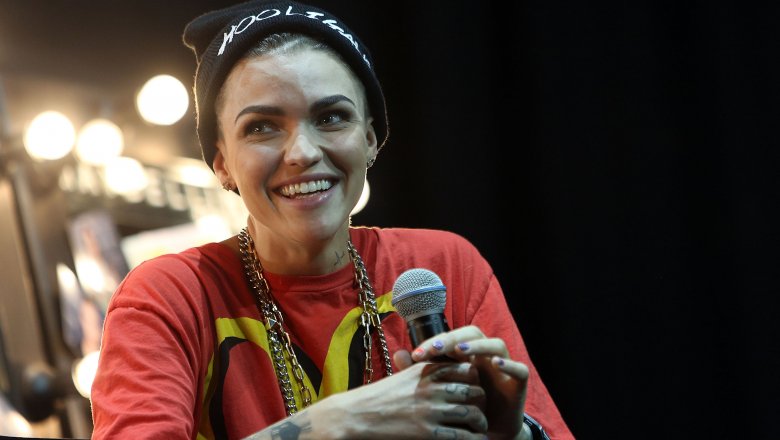 Getty Images
In her interview with Porter magazine, Rose said she was bullied by her classmates from the age of 12 to 17. In one instance, she said five girls and one boy smashed metal chairs over her head as 60 other students cheered them on. The incident landed her in the hospital. Years later, some classmates reached out to Rose asking for forgiveness. "I wrote back and forgave them," she said. "They didn't like the fact I was different. I don't think they had hatred for me, per se; I think it was more that I stuck out like a sore thumb."
She considered transitioning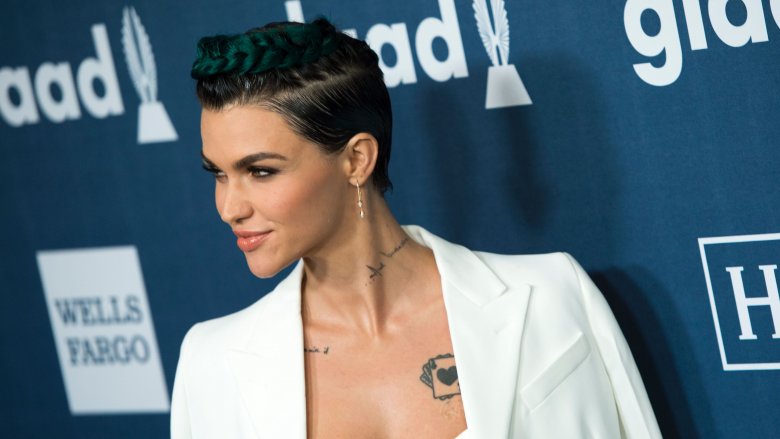 Getty Images
Speaking to the Daily Mail in 2014, Rose revealed that growing up she had aspirations of transitioning into a boy. She even began saving money for surgery. "I started a fund—it's $20,000 to have the surgery—and because we were so poor growing up every time I would find five cents or some spare money I would put it in this fund to have a sex change," she said. "It was in my mind as something I wanted to do and then I just...didn't. I guess I grew out of it." Rose recalled, "I used to wake up wishing I was a boy. I even used to sleep on my front because I didn't want to get boobs ever, which I think worked actually."
She later admitted to The EDIT that she was "glad" she didn't go through with the surgery. "I'm a woman ... I want to have babies one day, so I'm glad I didn't make changes earlier in my life," she said in January 2017.
She's 'gender fluid'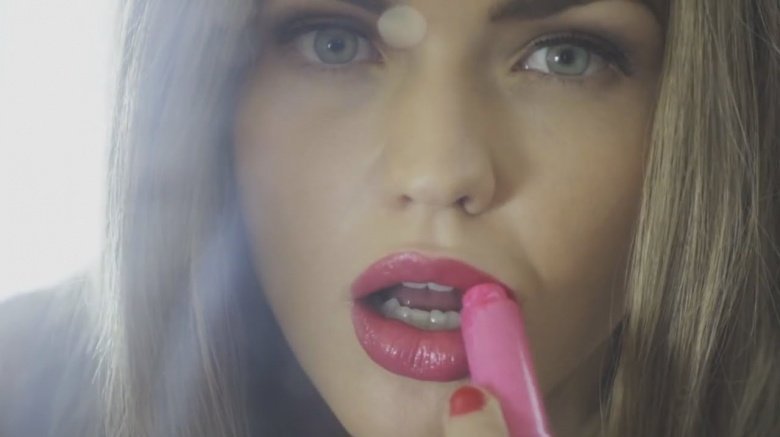 YouTube
In 2014, Rose produced a short film called Break Free that explores gender roles and deviating from the status quo. The actress has described herself as "genderfluid," explaining what that means to her in a 2015 interview for Elle magazine. "Gender fluidity is not really feeling like you're at one end of the spectrum or the other. For the most part, I definitely don't identify as any gender. I'm not a guy; I don't really feel like a woman, but obviously I was born one. So, I'm somewhere in the middle, which — in my perfect imagination — is like having the best of both sexes. I have a lot of characteristics that would normally be present in a guy and then less that would be present in a woman. But then sometimes I'll put on a skirt — like today."
In terms of her sexual orientation, Rose is certainly not shy about discussing her life in the bedroom. "I'm very confident and in tune with my sexuality. I feel very blessed for that, because in different places around the world, people can't be," she told Cosmopolitan in February 2017. "I'm lucky I can explore." She added, "I have a very healthy sex life, and there's something very empowering, strong, and feminist about being open and comfortable in that world."
She struggled with depression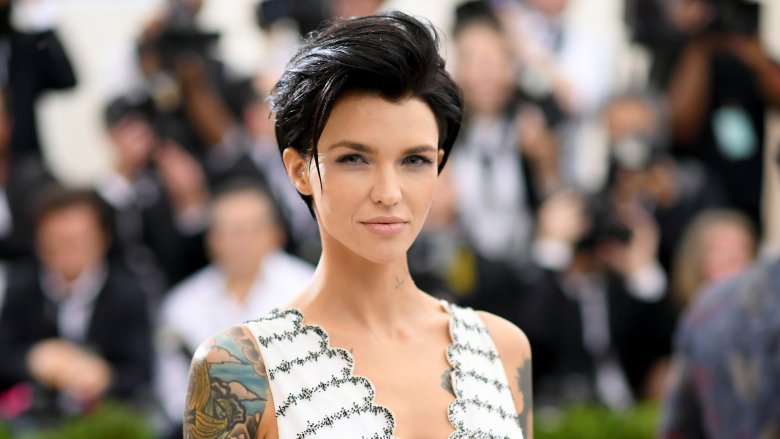 Getty Images
In 2016, Rose opened up on Instagram (via the Daily Mail) about her long battle with depression. In the post, she reflected on a tweet she wrote three years prior as she was being hospitalized to treat her illness. "I had hit a rock bottom," she recalled of her darkest days. "I couldn't find happiness anywhere except my dogs face and even that wasn't enough." Rose said, "I thought I had failed at being a human being ... I didn't know what to do so I left for America to work with trauma therapists and I spent pretty much all the money I had made in my life on an overpriced rehab and a lot of therapy (there are definitely other ways to do it)." 
Rose hoped her public reflection would inspire others to seek help. "...how many others are days, hours, seconds away from realizing their worth.. Their potential.. And once the dark cloud is lifted will be truly happy and free.." On Twitter, she added, "Sending love and light to everyone who feels down right now, in a funk.. Alone.. Not worthy.. We ALL deserve to be here. You are worthy."
If you or anyone you know is having suicidal thoughts, please call the National Suicide Prevention Lifeline at 1-800-273-TALK (8255).
She was broke before Orange is the New Black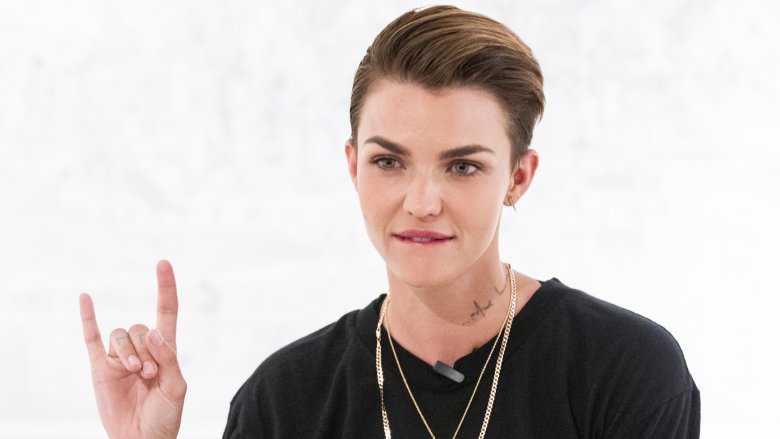 Getty Images
In January 2017, Rose revealed on The Ellen DeGeneres Show that her road to success in Hollywood was filled with one financial hardship after the next. "I started with a blow-up mattress from Target that me and my dog slept on for about a year," Rose said (via USA Today), adding that she was unemployed for two years.
She eventually landed an audition for Orange is the New Black after the show's casting director saw her in Break Free. "Imagine not getting any work for two years and then getting to audition for the greatest show in the world," she said. "I said to everyone on the show, 'Nobody's gonna notice I'm in this, blink and you'll miss it.' And everyone was like, 'No, this is going to change your life' ... I was wrong."
She was engaged to a famous author's granddaughter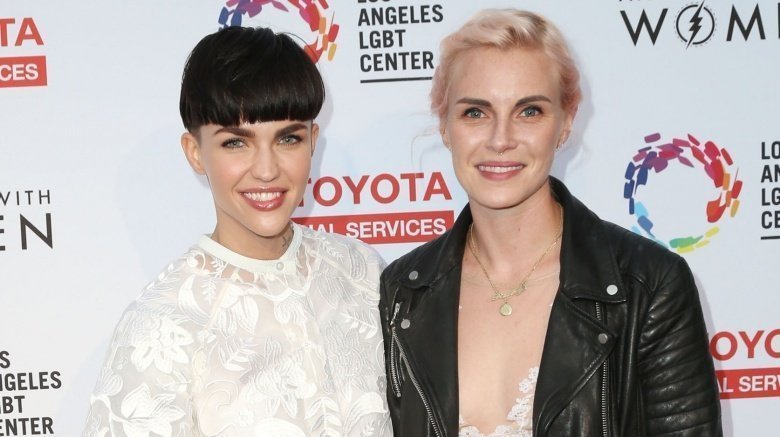 For almost two years, Rose was engaged to designer Phoebe Dahl, the granddaughter of children's author Roald Dahl. Their engagement ended amicably in December 2015 due, in large part, to their hectic travel schedules, reported People. "[Dahl] remains very dear to my heart," Rose tweeted in the wake of their split. "I will forever treasure our time together. I'm a better person because of all we shared." In turn, Dahl tweeted, "[Rose], you have brought me to my best and I will always love you. I can't wait to see what the future brings for us."
She's not sure marriage is for her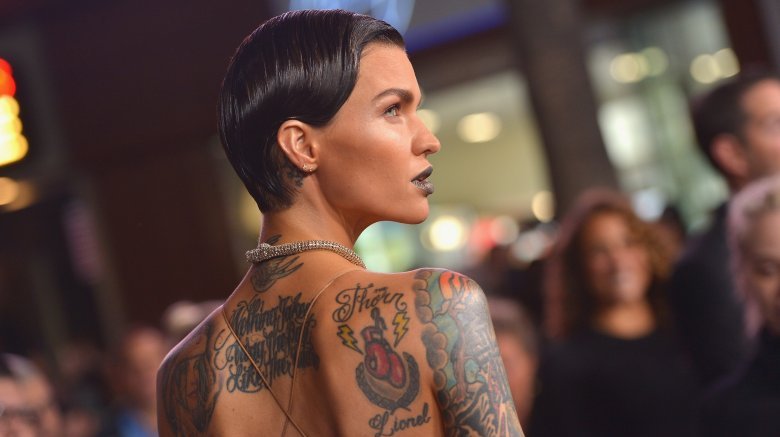 Despite being engaged for two years (or, arguably, because of it), Rose doesn't appear to be in any hurry to get married. "According to the news, I've been engaged five times. For me, marriage is more about equal rights than the act of getting married ... it's important to break down that barrier," she told Cosmopolitan. "I'm more interested in having a loving, healthy, long-term relationship with someone I might want to have kids with someday," Rose said. Cheers to that!
Something transpired with Demi Lovato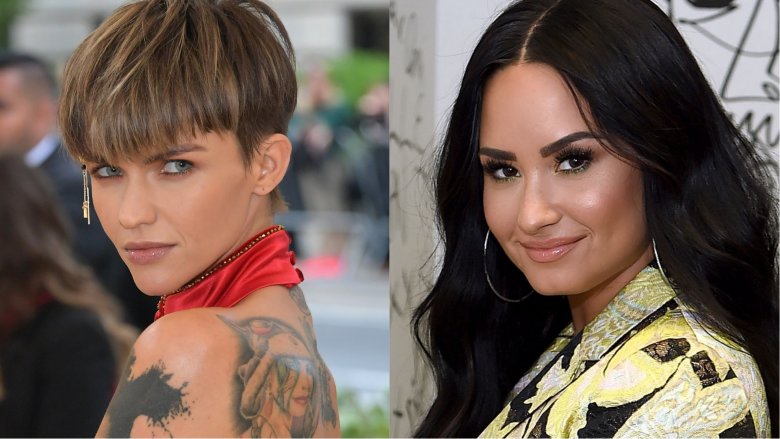 Getty Images
Ruby Rose enjoyed a lengthy on-again, off-again romance with Jess Origliasso, one-half of twin pop duo The Veronicas. They were decidedly on in 2016 while making the music video for "On Your Side." (Rose wrote, directed, and starred in the project.) But by April 2018, the credits were rolling on their love. 
But there's been another rumored romance entwined in Rose's narrative for years. The press has been trying to link the actress to pop star Demi Lovato since 2013, when Rose tweeted that she was "the one person demi has slept with that didn't sell naked photos of her." Some speculated Lovato's "Cool for the Summer" hit was inspired by Rose. Lovato denied it all, telling Complex in 2015: "You can believe what you want, but no, I was not in a relationship with her." 
Define "relationship," because something has transpired between these two, and it took a flirtatious turn in July 2018. According to the Daily Mail, Lovato went on a "liking spree" and "left a trio of heart-eyes emojis" on Rose's social media. In turn, Rose reportedly told Lovato to "Hurry!" (for a visit?) and posted a photo in which Lovato was tagged in a "barely [visible] font size" on Rose's crotch. Okay then.
On a serious note, following Lovato's overdose in July 2018, Rose shared a heartfelt message that said, in part: My whole heart and my whole soul is with @ddlovato ... Addiction is powerful beyond measure, but you can defeat it. I love you."
She's obsessed with sharks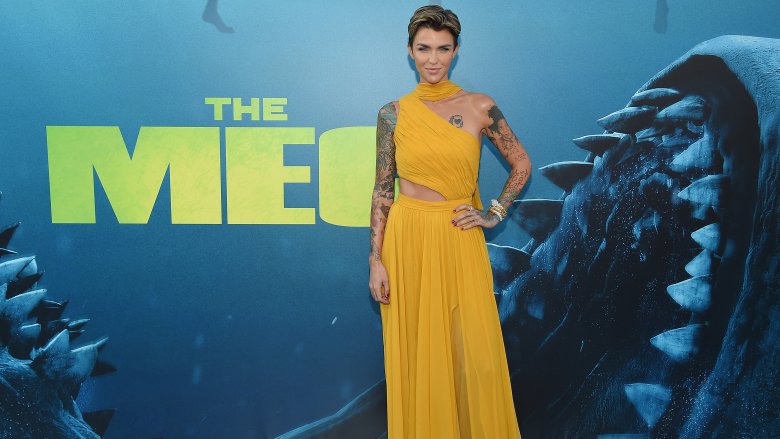 Getty Images
Rose's two-season stint on Orange is the New Black opened a lot of doors. She dipped her toe into the Hollywood pond as Abigail in 2016's Resident Evil: The Final Chapter, but things really got rolling the following year. The actress won roles in two big action movies (xXx: Return of Xander Cage and John Wick: Chapter 2) and she aca-cepted a part in Pitch Perfect 3, playing the lead singer of mean-girl band Evermoist.
2018 has undoubtedly been her biggest year to date. Not only did she realize a childhood dream when she was cast as Batwoman by The CW, but Rose also had her most "enjoyable" movie-making experience to date. Led by British hardman Jason Statham, The Meg movie revolves around the hunt for a megalodon, a presumed-extinct prehistoric shark. According to Rose, she's been obsessed with Earth's biggest predator since childhood, so she jumped at the chance to star in the movie.
"I was always drawing them in school, and when I would do a classroom presentation, it was always about a megalodon," she told Stack. "...Being Australian, I love the water, the marine ecosystem — and sharks." It was a grueling shoot, but Rose would do it all again. "I would go back into that water right now," she said.
She was hounded off social media by toxic fans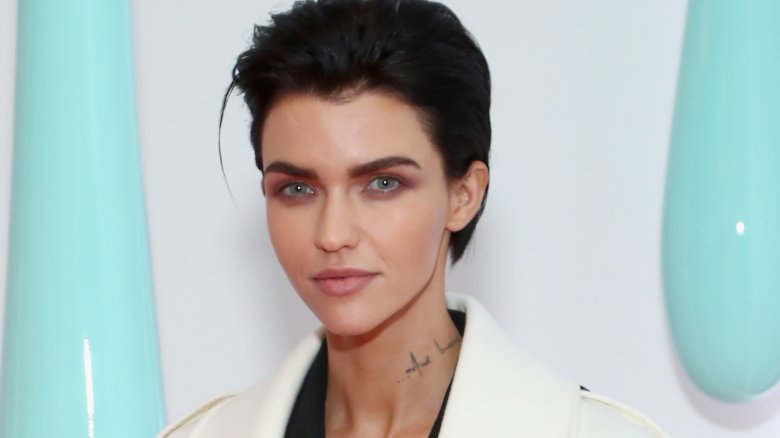 Getty Images
Rose called winning the part of Batwoman in The CW's Arrowverse a childhood dream come true, but it soon became a nightmare for the actress. 
The project marks a historic moment in television: Rose will play the first openly gay superhero to headline a TV series when her standalone Batwoman show airs sometime in the 2019-20 season. "The Bat is out of the bag and I am beyond thrilled and honored," she told her Instagram followers. "This is something I would have died to have seen on TV when I was a young member of the LGBT community who never felt represented." 
Alas, not everyone is as enthusiastic about Rose playing lesbian vigilante Katherine Kane. The actress was viciously trolled online, prompting her to delete her Twitter account and to limit Instagram comments. According to The Hollywood Reporter, some Batwoman fans complained that Rose was a poor fit because Kane is Jewish in the comic and Rose is not in real life. Others argued Rose wasn't gay enough — seriously. 
"Where on earth did 'Ruby is not a lesbian therefore she can't be Batwoman' come from, has to be the funniest most ridiculous thing I've ever read," Rose said in her final tweet. "I came out at 12? And have for the past 5 years had to deal with 'she's too gay' how do y'all flip it like that?"