What Stan Lee's Daughter Joan Celia Lee Is Doing Now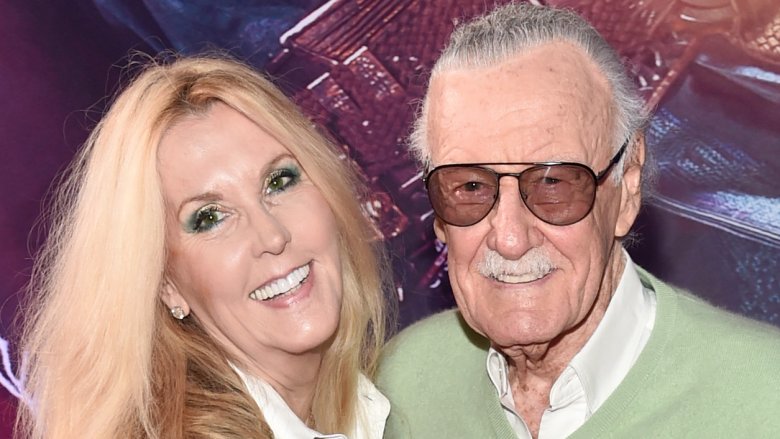 Alberto E. Rodriguez/Getty Images
On Nov. 12, 2018, the world mourned the passing of comic book legend Stan Lee. Known for creating some of the most iconic characters in history, such as Spider-Man, Iron Man, The Mighty Thor, The Incredible Hulk, The Fantastic Four, Daredevil, Black Panther, the X-Men, and countless others, his creations have permeated pop culture for decades while generating billions of dollars for Hollywood.
Keeping his legacy alive, alongside Lee's millions of fans, is his daughter, Joan Celia Lee. She has remained a staunch advocate of her father — even when that means with clashing with fans of Disney's Marvel Cinematic Universe (a.k.a. the MCU).
In June 2019, the comic book icon's daughter sued his former business manager, Max Anderson, while claiming that he'd stolen millions from her father during his life. In court documents obtained by Page Six, the lawsuit alleged that Anderson "slowly took financial advantage of Lee in various commercial transactions, and misappropriated, or outright stole, Lee's personal property every chance they could." Calling Anderson's supposed practices "sinister," Joan Celia Lee claimed that he kept, for example, $700,000 of her famous father's reported $800,000 earnings in appearance fees at 2017's New York Comic Con, instead of his "standard management fee of 10 to 25%."
"Anyone who loved my father and respected his work should see Max Anderson as we do," she released in a statement to the publication. "We believe he is a crook who lied to my father and stole from and manipulated, him every chance he could. We intend to prove this in court."
Meanwhile, fighting the good fight on her father's legacy also sometimes means taking a potentially controversial position on the goings on in the MCU. In August 2019, it was infamously announced that Spider-Man would be leaving the MCU after Disney and Sony Pictures failed to reach a deal. Fans were rightfully devastated over the news that their favorite web-slinger would not be included in the studio's future. Joan Celia Lee, on the other hand, wasn't upset in the slightest, claiming that no single entity can own a monopoly on the beloved character her father created.
"Marvel and Disney seeking total control of my father's creations must be checked and balanced by others who, while still seeking to profit, have genuine respect for Stan Lee and his legacy," she told TMZ. "Whether it's Sony or someone else's, the continued evolution of Stan's characters and his legacy deserves multiple points of view." Joan Celia Lee even took a parting shot at Disney, which she claimed treated her father poorly even though his characters are largely responsible for their decade of historic box office success.
"When my father died, no one from Marvel or Disney reached out to me," she alleged. "From day one, they have commoditized my father's work and never shown him or his legacy any respect or decency. In the end, no one could have treated my father worse than Marvel and Disney's executives."