The Most Awkward Royal Moments Caught On Video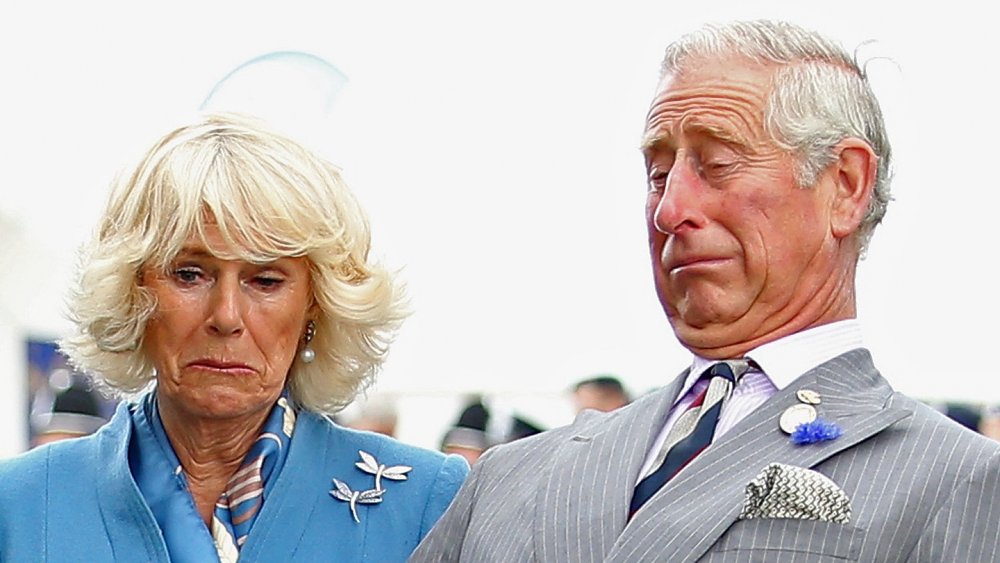 Chris Jackson/Getty Images
It seems like members of the British royal family are set up for a lifetime of awkward moments. Think about it: When your every move is constantly monitored by lip-readers, style experts, "royal watchers," and even psychologists, your prim-and-proper mask is bound to slip every once in a while. Royal problems are real, y'all.
So, what do you do if you're just a regular person with a fancy title, trying to live in the public eye 24/7? You'd actually pull a move out of the reality TV star handbook and try to forget about the cameras and simply live your life. That's probably why we love the House of Windsor so much. Despite their high status, these royal Brits reveal their humanity to us on a daily basis ... and YouTube is all the better for it. 
From making off-color remarks to being playful on camera, the royals have brought a smile to our faces or made us chuckle by always giving us what we expect, but often with a wink. Here are some of the most awkward royal moments caught on video.
Prince Phillip's awkward royal moment during a photocall
At the ripe old age of 94, Prince Philip — husband of Queen Elizabeth II — clearly didn't have much time to waste while posing for a picture at the 75th anniversary event for the Battle of Britain in 2015. During the photocall, things weren't moving quite fast enough, so he did what any other self-respecting elderly royal would: snapped at the photographer to "just take the f**king picture." Judging from the laughter in the background, he probably echoed a lot of others' sentiments.
Frankly, no one could be that surprised at Prince Philip's outburst, since he's become known for his public gaffes. Back in 2010, he had an interesting, albeit slightly inappropriate, exchange with a 24-year-old female Navy sea cadet instructor, who also worked in a bar at the time. She recalled: "I just said that I worked in a club, and then he asked, 'Oh what, a strip club?' Obviously I said no. And then he said, 'Oh, it's a bit too cold today anyway.'"
The Daily Mail reports that other cringe-worthy moments involving the Duke of Edinburgh include the time he asked a member of a Bangladeshi youth club in London, "So, who's on drugs here?" and told a Filipino nurse at the opening of a hospital, "The Philippines must be half-empty — you're all here running the NHS." Obviously, he's like that grandfather whom you absolutely adore, but really wish you could rein in.
Savannah Phillips pushed cousin Prince George down a hill
It seems that a 7-year-old Savannah Phillips, granddaughter of Princess Anne, hadn't quite gotten her media training yet when she sat down with her family, including cousin Prince George, in front of cameras in 2018. While watching a match at the Beaufort Polo Club (which, let's face it, had to be pretty boring for a kid), the sassy little girl decided to have some fun by shoving (an unscathed) Prince George down a hill. After getting scolded by her mother, Autumn, the hilarious clip went viral.
This wasn't the first time little Savannah created a media stir with her antics. She previously got sassy with Prince George at the Trooping the Colour ceremony days earlier, where she put her hand over the then-four-year-old's mouth to keep him from laughing. As she got her little cousin under control, she also smirked directly at the camera, making for an even more meme-worthy photo.
So, where does Savannah Phillips get all this boldness from? Indeed, she's young — but maybe she also knows she doesn't have a royal title hanging over her head. Children of a monarch's daughter aren't entitled to a royal rank, according to protocol. Her father, Peter Phillips, was offered a title anyway but turned it down, meaning that his daughter, Savannah, is even more free to be her brassy self without sullying her royal lineage. 
Prince William busted out some surprising dance moves
If you asked yourself what Prince William could possibly have in common with a rapper, you might have a tough time coming up with an answer — until you see this footage of him busting out some serious hip hop moves at a nightclub. Yep, you read that right.
While in Verbier, Switzerland for a ski trip with friends in 2017, paparazzi cameras caught the prince dancing alone at the back of a nightclub while the rest of the crowd pretty much ignored him, bobbing along to the music unfazed. The most interesting part about the footage was that, surprisingly, Prince William's moves weren't half bad! What he lacked in skill, he definitely made up for in enthusiasm by raising the royal roof. The Duke of Cambridge later laughed about the incident when he and wife Kate Middleton made an appearance on BBC Radio 1. When asked if he's generally able to attend concerts, he responded, "No, and I've got in enough trouble with my dancing recently, so it's kind of best to keep away from that."
While Prince William is known for being an upstanding representative of the monarchy, the public always loves to see him gettin' jiggy with it — like the time when he improvised some dance moves at a Polynesian event in Tuvalu, or when he dusted off his shoulders in a classic move that became nothing short of royal legend.
Prince Harry reprimanded a royal reporter
As one of the queen's grandsons, Prince Harry obviously can't go anywhere without press hounding him, yet he seems to have no problem holding his own. In October 2019, for example, Sky News correspondent Rhiannon Mills decided to throw a question or two at the prince while he got into the car following a meeting at a health center in Malawi. She first asked, "That short conversation, what do you hope to achieve through it?" Seemingly baffled by the intrusion, Prince Harry replied, "What? Ask them." Mills continued, "Is that why it's important for you to come and talk to them?" At that point, the ginger prince had enough, waving his hand and saying, "Rhiannon, don't behave like this."
The reason for Prince Harry's abrupt attitude could have been because Mills had broken protocol. The royals have a well-known policy not to do unscheduled interviews during royal outings, which Mills clearly ignored. 
The Duke of Sussex has definitely proven himself to be more than willing to take on the press when they misbehave. Around this time, he issued a rare statement in defense of his wife, Meghan Markle, who decided to sue the Mail on Sunday over publishing a private handwritten letter she sent her father. While he conceded in his statement that we do need "responsible media," Prince Harry lashed out at the British tabloid press for pushing "relentless propaganda" about his family.
When Prince William awkwardly fell asleep during church
Living the life of a royal 24/7 is probably harder than we think. Not only that, but when you add the responsibilities and stress of having a newborn at home, it's probably tempting to grab some shut-eye whenever — and wherever — you can. Two days after his youngest son, Prince Louis, was born in 2018, Prince William was caught falling asleep during a church service at Westminster Abbey. The clip instantly prompted loads of sympathy for the proud dad, who was likely up all night, judging from the dark circles under his eyes.
Once those long nights started to wind down, however, Prince William was more than happy to pass the baton to younger brother Harry, who welcomed a son of his own with Meghan Markle in May 2019. When asked about the birth of his nephew, Archie, the Duke of Cambridge told BBC News that he and wife Kate were "absolutely thrilled." He went on to quip, "I'm very pleased and glad to welcome my brother to the sleep deprivation society that is parenting."
Princess Charlotte (adorably) snapped at the press
Prince William and Duchess Kate's daughter, Princess Charlotte, issued what may have been her first royal command while walking out of baby brother Louis' christening in July 2018 — and it was absolutely adorable. At just three years old, she surveyed the group of photographers gathered to capture their family as they exited the service, and tersely said, "You're not coming!" as she followed her father into the building where they were to have tea. Way to control the crowd, Charlotte!
This wasn't her first press run-in, to say the least. At the age of two, the young princess had a mini-meltdown on the tarmac in front of cameras as she and her family were boarding a plane to return to London. She was also famously photographed sticking her tongue out while arriving in a car for Prince Harry and Duchess Meghan's wedding in May 2018. Then, of course, there was the time Princess Charlotte stuck her tongue out again at a charity event, throwing mom Kate Middleton into full damage-control mode.
Prince Charles awkwardly fumbled question about being in love
Probably one of the more awkward royal videos ever was the interview with Prince Charles and his then-fiancée, Princess Diana, on the day of their engagement announcement. The conversation, now preserved forever on YouTube, included a question about whether or not they were "in love." The People's Princess shyly looked down and responded, "Of course," while the prince smiled and replied, "Whatever in love means." Sorry ... what?
Years later, Princess Diana recounted the awkward moment in her own words during an interview with Peter Settelen in 1992. Needless to say, she was just as aghast as we'd expect her to be. "I was brought up in the sense that, you know, when you got engaged to someone, you loved them," she told Settelen. "And the most extraordinary thing is we had this ghastly interview the day we announced our engagement. And this ridiculous ITN man said, 'Are you in love?' So I thought, 'Oh, what a thick question.' So I said, 'Yes, of course we are,' in this sort of fat Sloane Ranger that I was. And Charles turned around and said, 'Whatever in love means.'" 
Princess Diana added, "And that threw me completely. I thought, what a strange ... answer. God. Absolutely traumatized me."
Prince Charles called Princess Diana an 'attractive 16-year-old'
Prince Charles grossed pretty much everyone out back in 1981 when he was interviewed with his then-bride-to-be, Princess Diana, on the day of their engagement announcement. When asked what his "instant impression" of his future wife was when they first met, the Prince of Wales answered confidently, "I remember thinking what a very jolly and amusing and attractive 16-year-old she was. I mean, great fun and bouncy and full of life and everything." 
Of course, no one could get past his calling a 16-year-old "attractive," especially given that he was already 29 when he met her. Reports say that Prince Charles actually first dated Diana's older sister Sarah in 1977, and then later courted the future Princess of Wales herself. The couple got married when Charles was 32 and Diana had just turned 20. Regarding their 12-year age difference, Prince Charles told The New York Times in 1981: "Diana will certainly keep me young."
Duchess Fergie was caught on video taking bribes
Times were tough for Duchess of York Sarah Ferguson back in 1996, when she divorced her husband (Prince Andrew) and only got $20,000 per year in support (compared to the millions Princess Diana received from Prince Charles). Later dubbed the "Duchess of Debt" by the British press, Fergie admitted to being $889,000 in the red by 2009, according to ABC News. Queen Elizabeth reportedly stopped paying her bills, apparently making the duchess a bit desperate. Shockingly, she got caught in a sting operation set up by the British tabloid News of the World the following year, during which a hidden camera captured her offering someone the opportunity to meet her ex, Prince Andrew, for $700,000. Ferguson then publicly apologized for her "lapse in judgment."
As if that wasn't painful enough, Ferguson later walked out of a 2018 interview with 60 Minutes Australia after the bribery scandal came up. When asked what she did with the initial $40,000 the undercover journalist gave her during the sting, Fergie attempted to answer, but then started scolding the interviewer: "Don't try and trick me now, because I'm not going to play this game. [Pointing at camera] Delete that bit." After a tense back-and-forth with a few more follow-up questions, Ferguson suddenly said, "I'm going to take five minutes." She got up and left, while the interviewer threw up his hands.
Kate Middleton's royally awkward 'Marilyn Monroe moment'
During a 2016 royal tour in India, Kate Middleton made a different impression than she might have intended. A gust of wind caught her dress when she and Prince William made an appearance at a war memorial, causing it to fly up unexpectedly. Thankfully, nothing was revealed. However, the press dubbed it her "Marilyn Monroe moment" — most likely because the dress was white and footage of the incident showed Middleton trying to keep the skirt down just like Monroe did in the film, The Seven-Year Itch.
The awkward incident even sparked speculation about what the female royals do to stop their dresses from flying up on windy days. Etiquette expert Myka Meier told The Sun: "Often they wear bodysuits and clothes that actually increase static so it's much [harder] for something to fly up ... I know when I went to finishing school we were taught that when you are on the tarmac, if you do not use weights or heavy weighted material, you make sure it will not fly up by wearing undergarments that keep the fabrics connect to your body." What clever royal life hacks!
That time Prince Harry exchanged awkward air kisses
Even though the 2018 launch party for her Together: Our Community Kitchen cookbook included Meghan Markle's first speech as a royal family representative, it was husband Prince Harry who brought the awkwardness. After the duchess and her mom, Doria Ragland, each greeted fellow cookbook collaborator Zahira Ghaswala with kisses on the cheek, it was Prince Harry's turn to say hello. However, neither of the two seemed very comfortable in the moment, with the ginger prince actually moving into a comically defensive stance before deciding to give her a series of exaggerated air kisses. 
Of course, Prince Harry knows a thing or two about etiquette — especially when he knows he's being filmed — so the incident didn't stir up much controversy. In fact, some viewers presumed that the Duke of Sussex must have been particularly aware that, because Ghaswala is Muslim, it would be a violation of Islam etiquette to actually kiss her — hence, the fake air kisses. Regardless, the whole thing ended in laughter for all involved, which is probably the best thing anyone could have hoped for.
Prince Charles had an awkward royal moment with an eagle
Clearly, when you're a member of the British royal family, your responsibilities can sometimes get a little weird. Case in point: During an appearance at the Sandringham Flower Show in 2013, Prince Charles was given the task of holding Zephyr, an enormous bald eagle and mascot of the Army Air Corps, for a photo op. Tons of cameras were rolling to capture the moment, only for the Prince of Wales to be nearly sideswiped by bird's huge wing. Prince Charles quickly moved to avoid contact as the crowd let out a low, "Ooh."
While Prince Charles quickly recovered with a laugh, photos taken at the same event revealed that the bird was pretty unruly beforehand, as well. Indeed, the eagle seemed to have both the Duke of Cornwall and wife Camilla on edge, as both leaned way back and made grimaced expressions while the trainer worked with the bird. Thankfully, they escaped the whole ordeal unscathed. 
Seems like a royal's work is never quite done, doesn't it?