Are Morning Joe Hosts Mika Brzezinski And Joe Scarborough Dating?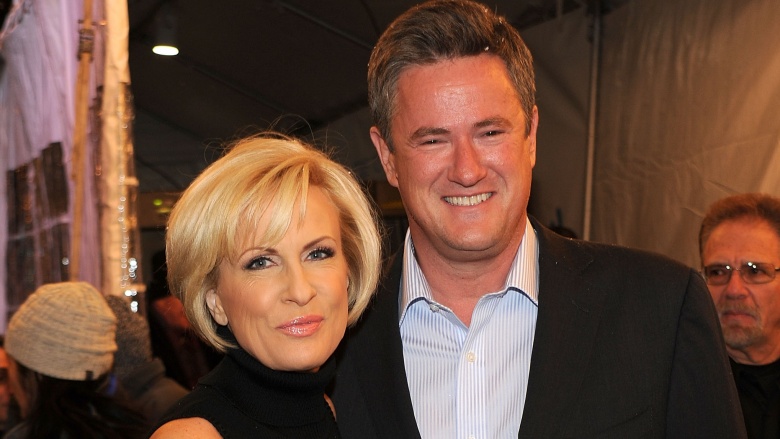 Getty Images
Are Morning Joe co-hosts Mika Brzezinski and Joe Scarborough about to go public as a couple? That's what sources for Page Six are saying after discovering that Brzezinski has "quietly divorced" her husband of 23 years.
"Everybody at 30 Rock knows they are a couple..." a source said of Brzezinski and Scarborough, who are "widely rumored" to be dating. "They are constantly together, they arrive and leave events together, even on weekends. They are each other's publicists and finish each other's sentences. It's the worst-kept secret in TV."
Page Six reported on June 29, 2016 that Brzezinski and her husband, WABC reporter James Hoffer, recently settled their "under-the-radar" divorce. Full details about what went down remain unclear. Scarborough split from his wife of 12 years, Susan Waren, a former aide to then-Florida Governor Jeb Bush, in 2013.
A rep for MSNBC, which airs Morning Joe, declined to comment on the rumored romance to Page Six. "Mika's divorce was finalized in the past year," the rep said. "She's really grateful that it was done amicably and in private. This has, of course, been a painful time for her family. So right now she is focused on her two teenage daughters, and on continuing to heal."
Funny enough, the co-hosts appeared to acknowledge the dating rumors in what Page Six describes as a "flirtatious on-air exchange" on June 30, 2016. "Can I get to the lead stories now?" Brzezinski asked Scarborough. To which he replied, "By the way, there are a lot of lead stories today." As snickering ensued, she added, "I will finish your sentence and start with politics," leading into the next news segment.
Hmm.