David Foster's Kids To Yolanda: 'You're Not Dying. Let's Be Honest'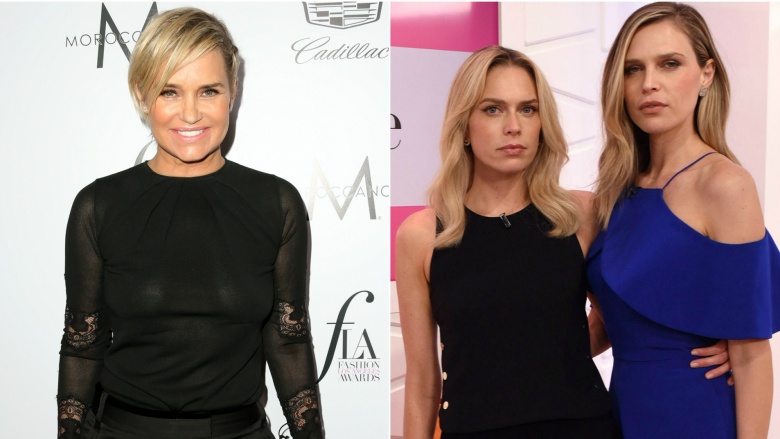 Getty Images
David Foster's daughters had some pretty harsh words to say about Yolanda Hadid's ongoing battle with Lyme disease.
Speaking on SiriusXM's Dirty, Sexy, Funny with Jenny McCarthy show on June 29, 2016, Sara Foster implied that Hadid's struggle with the disease simply isn't as bad as she's claiming on TV. "We don't comment to our friends on Yolanda's health," Sara said of her former stepmom. "That's not for us to comment on; only she knows her journey. But [what] I will say is if you're capable of continuing to be on a reality show, you're not dying. Let's be honest."
"Again, we are not doctors," Erin Foster added (which is always a fun way to begin a sentence). "We have no idea what goes on, and we don't wish anyone ill will of any kind. However, I think that from everyone's experience, if anyone's ever known someone who is very sick, who has cancer, who is dying, who's in the last year of their life, the only thing that person gives a s*** about is getting through the day and being treated normally. No one wants everyone to know how sick they are and everyone to see how much they're struggling, and when that seems to be the focus, making everyone see how sick you are, that's just confusing to someone who's trying to be supportive."
Hadid split from David Foster, a Grammy-winning music producer, in January 2016 after four years of marriage. Her Lyme disease was the subject of much debate on the most recent season of The Real Housewives of Beverly Hills. Co-star Lisa Rinna even suggested Hadid may have Munchausen syndrome, which is characterized by a person faking a disease or ailment for attention or sympathy.
"If I let fear of what others say about me creep into my mind, I probably would not be where I am today," Foster wrote on her blog after the episode aired. "I will move on from the absurd Munchausen comment that is an insult to my integrity and that of my two children who battle this disease on a daily basis." Hadid was referring to her daughter, Bella Hadid, and son Anwar Hadid, who also suffer from chronic Lyme disease.
Unsurprisingly, Foster announced she was leaving the popular Bravo reality series in June 2016.