Kate Middleton And Meghan Markle's Wedding Tiaras Cost An Insane Amount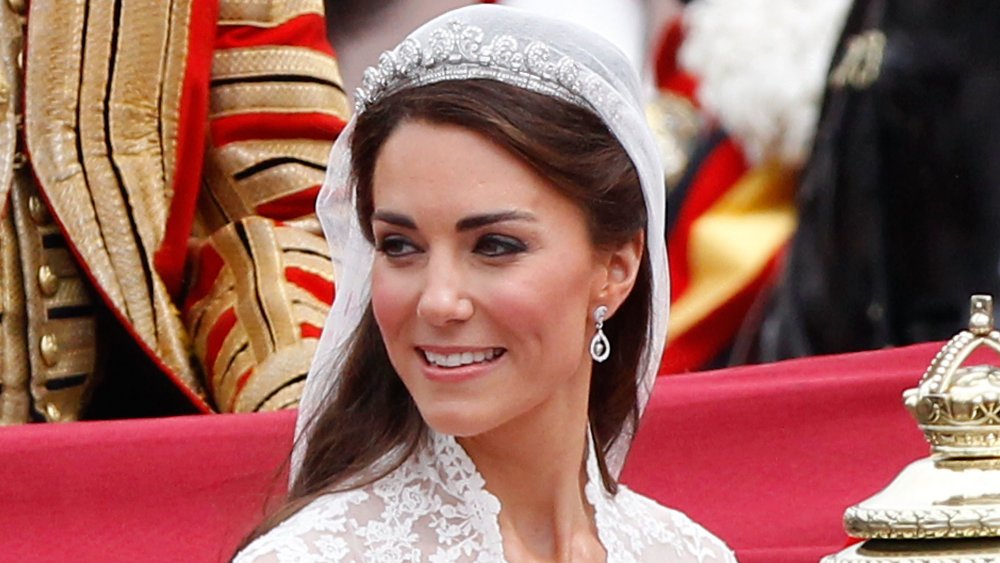 Christopher Furlong/Getty Images
On April 29, 2011, Kate Middleton married Prince William in one of the most anticipated weddings of our generation. In honor of the momentous occasion, Middleton wore a tiara fit for a duchess — a gorgeous Cartier Halo tiara. Considering the fact that it was a temporary gift from the woman who was to become her grandmother-in-law, none other than Queen Elizabeth II, the adornment was both stunning and obviously valuable. 
"This halo scroll tiara was made in platinum by Cartier for the Duke of York to give to his wife just before he became King George VI in 1936," gemologist and jewelry expert Deborah Papas told Express.co.uk. "The Queen Mother gave it to her daughter, at the time, Princess Elizabeth for her 18th Birthday present in 1944."
Papas also provided details about the precious piece, saying that it "has 149 baguette-cut diamonds as well as an astounding 739 brilliant-cut diamonds of varying weights (size), with the largest being at the top in the center." That's right, the tiara reportedly boasts almost 1,000 diamonds! Papas estimates that Kate Middleton's wedding tiara is worth between £750,000 and £1,250,000 — around $960,000 to $1.6 million USD.
Meghan Markle's tiara is likely worth even more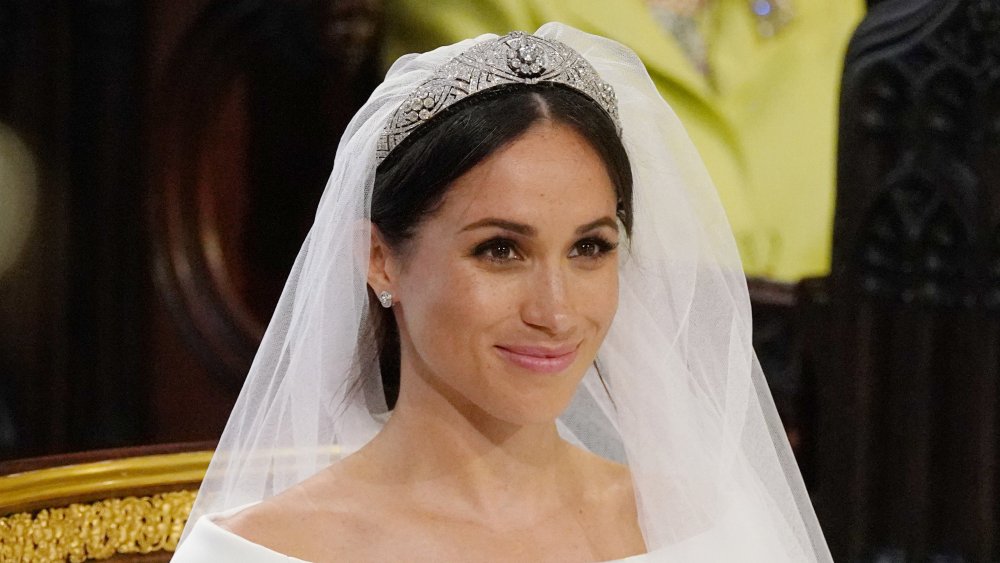 Wpa Pool/Getty Images
Meghan Markle's royal wedding was just as buzz-worthy as Kate Middleton's, but it turns out that the Duchess of Sussex's tiara might have been even more valuable than the one her sister-in-law wore a few years prior.
When the former Suits star married Prince Harry on May 19, 2018, she opted to top off her ensemble with a diamond and platinum bandeau tiara, which was another loan from the Queen. Deborah Papas described the piece for Express.co.uk, explaining that the "stunning bandeau is peppered with diamonds and set in platinum." Along with incorporating other sparkling stones of the same nature, it is "set with a large brilliant-cut (possibly old-cut) diamond estimated to be approximately 10 carats or more and surrounded by nine smaller brilliant-cut diamonds."
Papas also notes that the center section of the art-deco tiara, which was given to Queen Mary in 1893 as a wedding present from the County of Lincoln, can be detached and worn as a pendant or brooch. If you're already beyond impressed, prepare yourself, because while Papas admits that it's "hard to put a value on this little-seen piece," she claims that it could be worth around £2 million or $2.5 million USD.