Whatever Happened To Marcel The Monkey From Friends?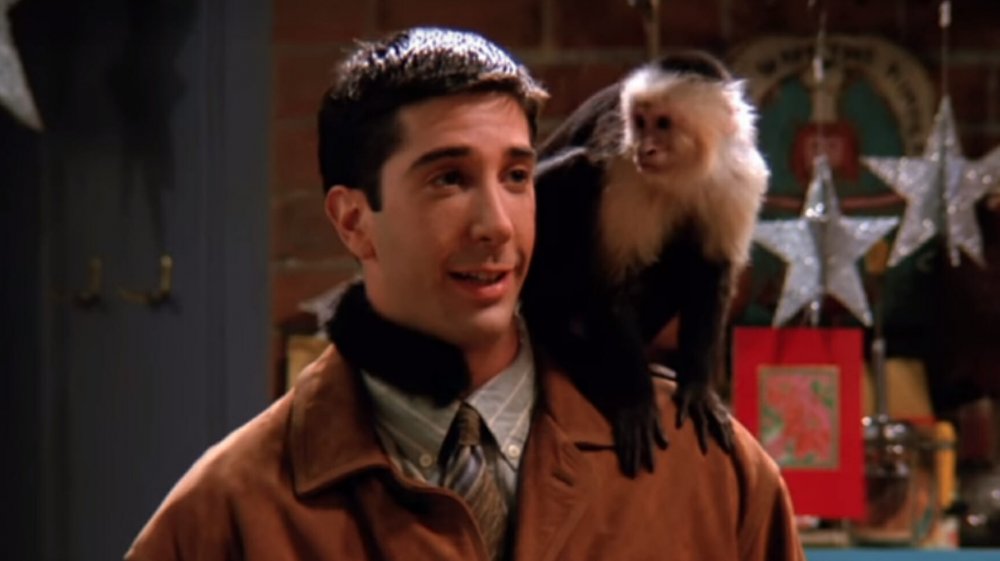 We first met Marcel the Monkey when Ross, played by David Schwimmer, adopted the adorable capuchin on season one of Friends. That was some 25 years ago, but Marcel — who is actually a female caupchin monkey named Katie — is still out there acting. Friends was a big break of sorts for Katie, who became notorious for her antics both on- and off-screen throughout the show. 
After season one, Katie made a few later appearances on Friends, often to the tune of her favorite song, The Lion Sleeps Tonight. Katie became a fan-favorite quickly, but the primate thespian didn't win over the entire cast of Friends quite as easily. 
Matt LeBlanc, who played Joey on the hit show, told Jimmy Kimmel that even though he was fond of Katie, David Schwimmer wasn't always a fan. "I liked the monkey. I like animals," he said, adding, "Schwimmer, not so much."
For his part, Schwimmer once explained that Katie's trainers made it really tough to bond with the monkey in any meaningful way. This seemed to create just a smidge of animosity between Schwimmer and his capuchin costar.
"I hate the monkey," he told Entertainment Weekly in 1995. "I wish it were dead." 
Could he be any more annoyed at that monkey?
Amazingly, Schwimmer's wish for the monkey's demise has yet to come true. In 2019, nearly a quarter of a century later, Marcel is still alive and has managed to keep finding work in Hollywood. 
Marcel the Monkey has rubbed elbows with other celebs
After making it big as Marcel the Monkey on Friends, Katie the star capuchin monkey went on to make cameo appearances in other hit TV shows. According to The Guardian, Katie showed up on at least one episode of 30 Rock, pictured above, sharing the screen with another strong female actor, Tina Fey. Not long after, Katie had a short-lived stint on a now-cancelled sitcom called The Loop. 
Like many famous actresses in Hollywood, Katie has added other skills to her resume in addition to her amazing acting chops. According to The LA Times, Katie now moonlights as a "rally monkey" — basically an unofficial mascot — for the Los Angeles Angels baseball team. 
In her spare time, Katie likes to hobnob with other celebrities too. Katie and Kendall Jenner spent time together in 2015 for a sultry photo shoot for Allure. According to Allure, the two ladies worked well together, with Katie often playing with Jenner's hair during the exclusive shoot. 
In more recent years, Katie has been under the radar, but she's making a comeback. 
Marcel the Monkey is making a comeback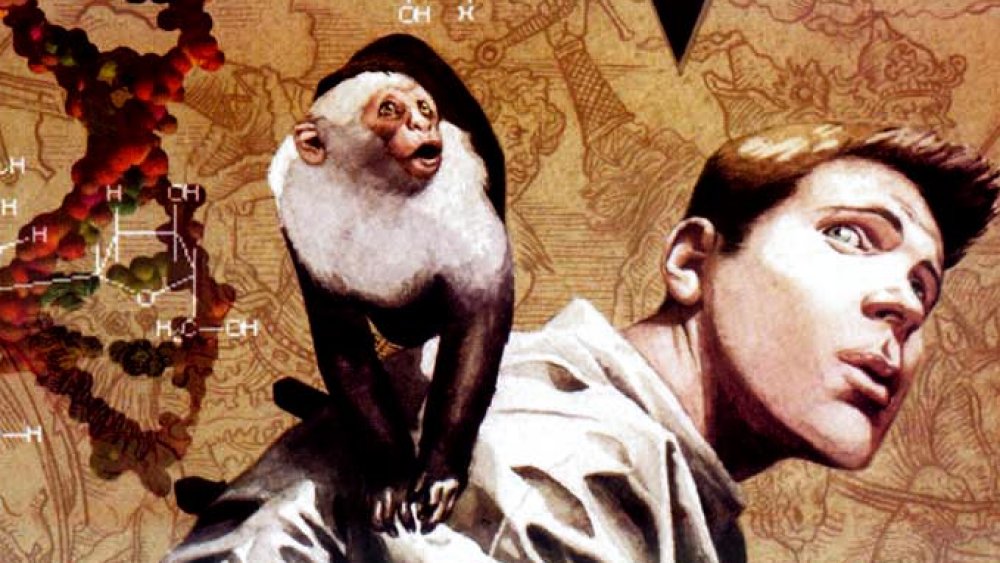 After more than 20 years in semi-retirement with the occasional cameo on select sitcoms, Marcel the Monkey may be getting ready to come back to TV. It turns out Katie the capuchin's famous face was recently recognized in scenes for Y: The Last Man, a series Katie filmed for FX. According to The Hollywood Reporter, FX CEO John Landgraf recognized Marcel (AKA Katie) immediately when reviewing dailies for the graphic novel adaptation. 
Landgraf said, "I recognize Jennifer Aniston, I recognize Courteney Cox and I recognize that monkey!" He then complimented Katie's acting chops, saying, "There's nothing like a really experienced actor who knows how to hit their marks!"
For the show, Katie filmed the role of Ampersand, a male capuchin monkey who, along with the show's protagonist, is the one of two male mammals who survived a plague that wipes out much of the planet's population. For a monkey who's been in Hollywood for a quarter of a century, that seems like a fitting role!