Kaley Cuoco Apologizes For Controversial Instagram Post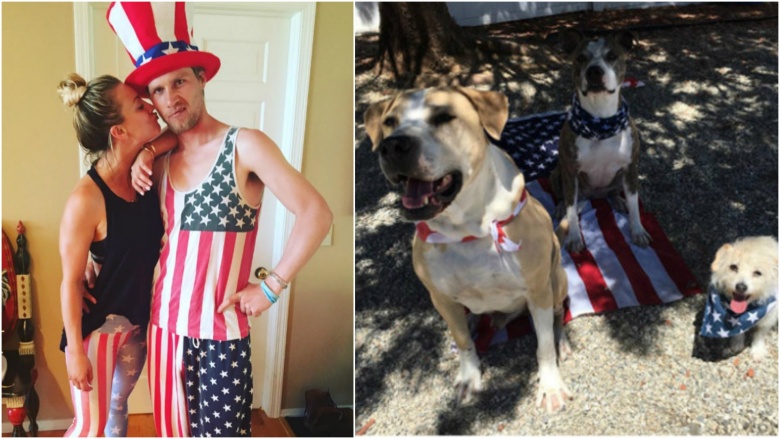 Actress Kaley Cuoco issued an apology after fans expressed outrage over a now-deleted Instagram photo in which two of her dogs were seen sitting on top of an American flag placed on the ground.
The U.S. Flag Code dictates that Old Glory should not touch the ground or be utilized as bedding.
"I would like to comment on a photo I posted yesterday, that has caused lots of controversy," the 30-year-old star of The Big Bang Theory wrote on Instagram July 5, 2016. "First off, please know, I have the utmost respect for my country. I am a proud American in every sense of the word. I understand the American flag stands for our freedom and represents American heroes, past and present."
"Yesterday, I made a mistake by posting the picture that was taken of my sweet dogs posing on an American flag," the note continued. "I sincerely apologize to anyone that has been offended by my previous post. This is no way reflects my feelings toward what the American flag represents. Living in the public eye can be extremely difficult at times. Every mistake and every imperfection is amplified."
"I am not perfect," Cuoco's note concluded. "I am a proud American, today, tomorrow, always." The message was accompanied by a photo of the American flag in the shape of a heart.
The original photo was posted to Cuoco's Instagram account on July 4, 2016. "Thank you @the_pet_handler for taking care of the squad while I'm out of town!" The caption read. "4th of July pups," with a whole lot of exclamation points and emojis.
According to the Page Six, Cuoco's photo was immediately ripped to shreds in the comments section. "Shame on you, Kaley," wrote one Instagram user. "You lost a fan."
"Big fan and I know you didn't mean any disrespect but very disappointed that this pic is still up," added another, according to The Huffington Post.
Controversy aside, Cuoco's 4th of July weekend also included drinking America-themed beer and taking photos in ridiculous red-white-and-blue attire with her new boyfriend, professional equestrian Karl Cook.