The Strange Relationship The Duggars Have With Pets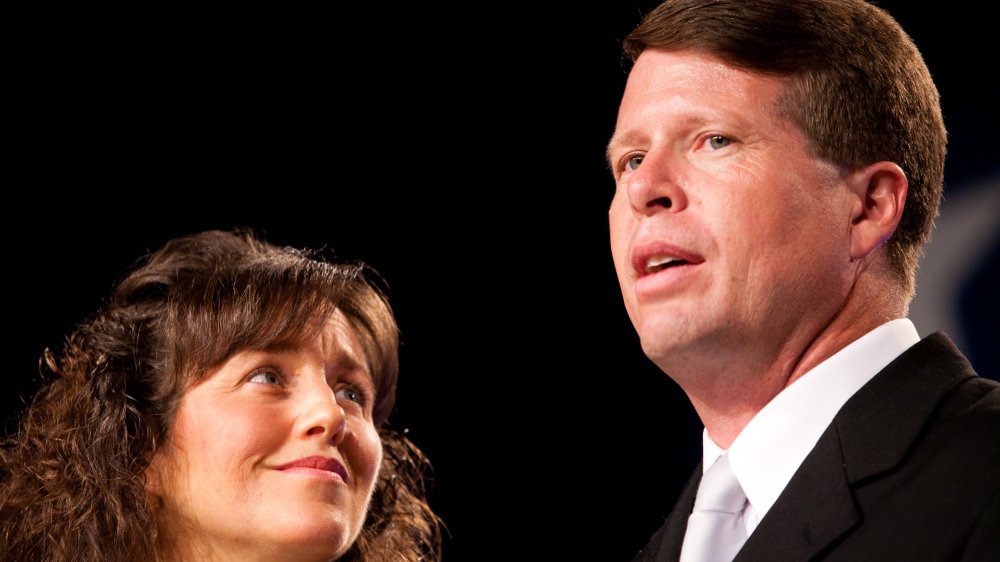 Brendan Hoffman/Getty Images
With 19 children, the Duggars certainly have a really packed household. Their ever-expanding brood and strictly religious lifestyle has raised its share of eyebrows. The family, whom we learned about on 19 Kids & Counting and Counting On, makes no secret of the fact that the family loves, loves, loves to have children. But what about their pets? 
In fact, the Duggars have such strict rules that it makes sense to wonder whether or not pets would even be allowed in their tightly run household. According to Romper, the Duggar children were not allowed to have a TV for years. Once they got one, they were still banned from watching broadcast TV shows. And as it turns out, the Duggars initially didn't allow pets in their home, either. 
Husband and father Jim Bob Duggar explained the rules of the hosue to Huffington Post, saying, "I grew up watching TV, but when we got married a doctor friend of ours encouraged us not to have a pet or a TV the first year of marriage. So we did that. For the first year we lived on love." 
When it comes to pets, though, that love has been in question. That's because, despite the no-pets rule still being in effect, the Duggar family has faced accusations of animal abuse in the past. 
The Duggars were accused of animal abuse
In 2015, long after the Duggar family's initial fame had faded, the clan and members of its extended family made headlines and triggered outrage from animal welfare groups after an incident of alleged abuse to an animal. The shocking accusation came after Derrick Dillard, who married Duggar daughter Jill, posted a video to Twitter and Instagram that appeared to show him trying to run over a cat while riding on a sled, according to Buzzfeed. 
The video shows Dillard using a cookie sheet as a sled and saying, "Move, cat," before sliding directly into the hapless feline. The video, which appears to be filmed by Jill, depicts Jill, Dillard, and their children laughing as Dillard's sled careens into the cat. 
The cat appears to run to safety, but the incident ignited a storm of criticism against the Duggars. 
One Twitter user wrote, "It's disgusting that these people keep reproducing. He clearly tried to hit the cat. That hill is huge; he could have taken a different path. And the laughter in the background is pure evil." 
The Duggar children put their neighbor's dog in a closet
Even before the video surfaced showing Duggar-son-in-law Derrick Dillard apparently trying to sled over a cat, the Duggars have had a strained relationship with pets. In one episode of 19 Kids and Counting, we get a peek into what the Duggars would be like if they had pets after the kids are shown playing with the neighbor's dog, Tilly. 
At first, their interactions seem innocent enough, showing the younger Duggar kids holding and petting Tilly. 
"My Jennifer absolutely loves Tilly," matriarch Michelle Duggar gushes in the clip. 
As the episode continues, however, it becomes clear that the kids aren't used to having a pet around in their home. First, one of the Duggar boys gets visibly grossed out when Tilly licks his face, but goes on to say, "We were dog-sitting [Tilly]. She was a very nice dog." 
The episode then cuts to young Jennifer Duggar putting Tilly in a kitchen cabinet, closing the door, and laughing. 
The commentary from Michelle Duggar that plays over the scene shows Michelle saying, "Tilly is a pretty easy-going dog and that can be a good thing or that can be a bad thing." 
"In one sense, the children kind of over-love on her," Michelle said. 
She added that she tries to teach the children to give the dog breaks, but that she "might forget" if she's "distracted and busy."
Now we're starting to get an idea as to why there's a no-pet rule in the house...