Tom Hiddleston Already Sick Of Taylor Swift's Instagram Photos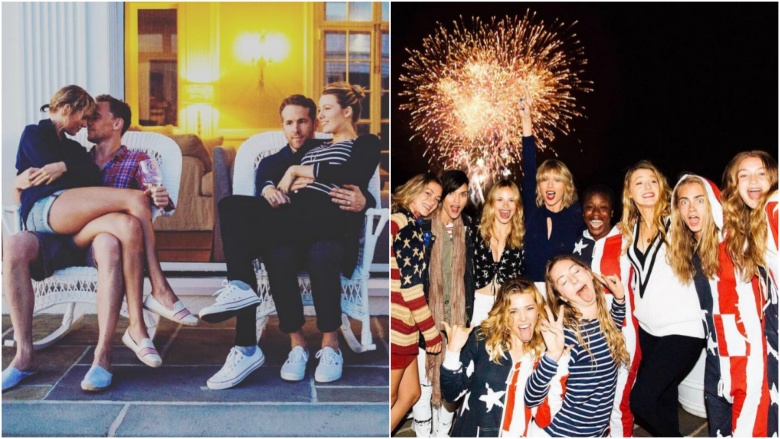 Getty Images
Is actor Tom Hiddleston already sick of the attention he's getting for dating his "clingy girlfriend" Taylor Swift? One hundred percent yes, according to sources for Page Six.
"He seems to get tired of the endless Instagram photo opps after, like, the third hour in the water," a source said, referring to Hiddleston and Swift's squad-filled Fourth of July weekend in Rhode Island. Things got so bad that Hiddleston allegedly snuck off at one point to have a beer with some guys.
Whether true or not, their holiday weekend was still met with a number of eye rolls from those who observed every endless picture posted online. Hiddleston, in particular, received flak for wearing an "I [heart] TS" tank top as the couple frolicked in the water with famous friends Ryan Reynolds and Blake Lively.
"If my boyfriend went swimming in a tank top that said, 'I [heart] AB,' the talk later at home would be all, 'I need u 2 cultivate ur own life.'" said Saturday Night Live star Aidy Bryant on Twitter.
Another photo posted to a friend of Swift's Instagram account became an internet meme, all thanks to Reynolds' "get-me-out-of-here" reaction. Can't say we blame him.
According to New York magazine, Swift hired a professional photographer to capture her vacation's every moment, which explains the many professional-looking pics she posted to her Instagram.
In any event, Swift and Hiddleston—Swiddleton? Hiddleswift?—have been dogged by the media ever since photos of them kissing in Rhode Island were published by The Sun in mid-June. The lovers have already met one another's parents and jetted off to Italy for a romantic vacation.
The couple met at the Met Gala in May 2016, just as Swift's relationship with Scottish DJ Calvin Harris was coming to an end. Harris has since written a cheating song called "Ole" that's allegedly about Swift, according to TMZ.
And the soap opera continues.