All The Times Riley Curry Was The Cutest Thing Ever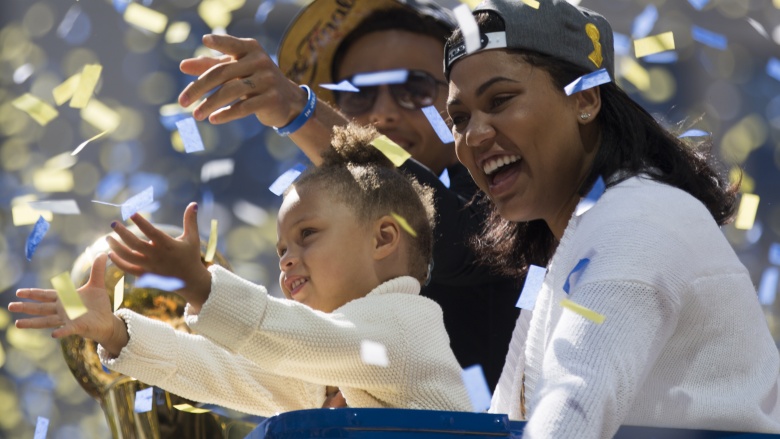 Getty Images
You might not have watched the NBA Finals this year, let alone know anything about basketball, but chances are pretty high that you do know two-year-old Riley Curry. Why? Because she's the cutest thing to ever exist on the planet. EVER.
Her dad is Golden State Warriors point guard Stephen Curry, and while we're impressed by his skills on the court, it's his adorable daughter that we simply can't get enough of. Seriously, Riley has that next level of cuteness that everyone wants their child to have. We just wanted to hit you with cutie-pie overload by rounding up all of her most adorable moments. 
Her First Big Moment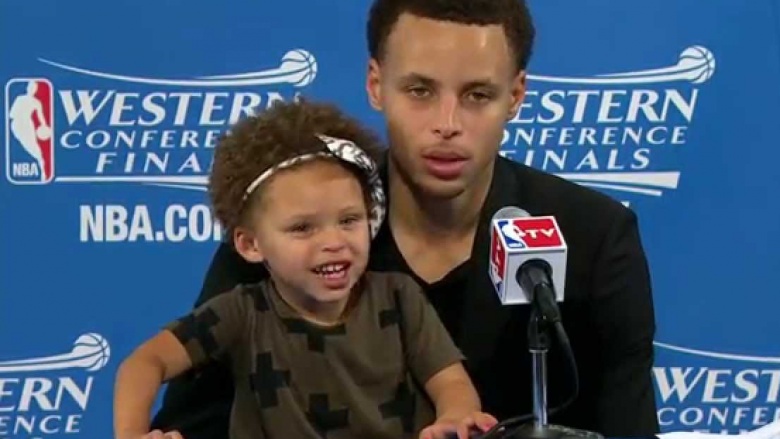 Clearly we have to start with Riley's first big moment in the spotlight. After game 1 of the Western Conference Finals, Steph brought his little pride and joy to the post game conference podium with him. She quickly stole everyone's attention (and hearts) from her very first yawn.
She knew all eyes were on her during the press conference and she wasn't about to pull the shy card...not even close. Little Riley began waving to all her new fans, and when her dad decided to put her down for a minute, she was like, 'oh no you don't' and lifted up the table cover so she could continue to be front and center for all the reporters/world to see. She also proceeded to tell her dad that he was "too loud" and told him to "be quiet."
At The Podium Again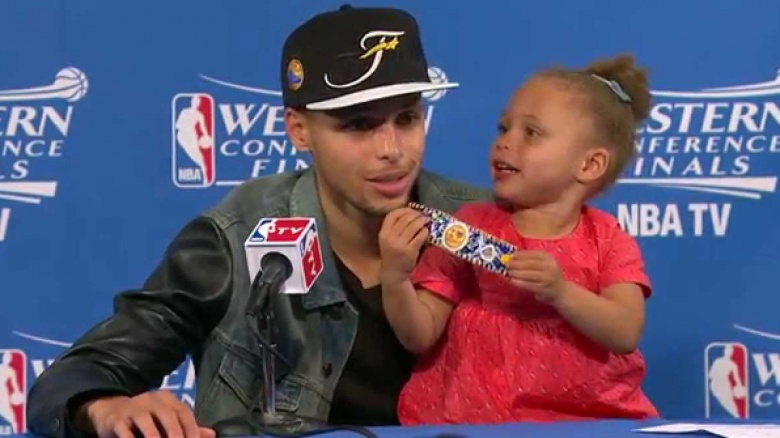 Riley returned to the podium after the Warriors beat the Rockets to win the Western Conference, and you better believe it was a ridiculously memorable moment. She wasn't a rookie anymore, and this time, the two-year-old came prepared. She sang a little bit of Big Sean and Drake's "Blessed," played under a curtain on the right side of the podium (so she could show off her full outfit), and when she was done with her gum she handed it right off to an arena worker.
No PDA For Daddy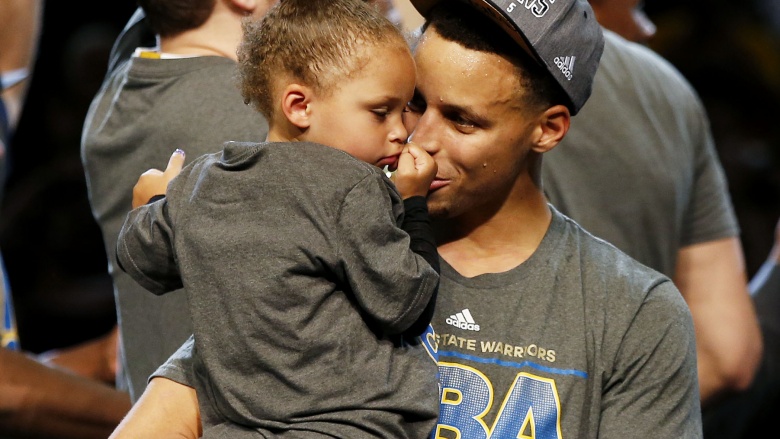 Getty Images
When the Warriors finally got to hold up that trophy, it was no doubt an amazing moment for the players, the organization, and the fans. Riley understood all the excitement, but as the cameras were catching all the players' post-game reactions, we saw Steph go in to kiss his adorable daughter. Riley wasn't having it, however, and backed away from her dad's kiss. Apparently there were no hard feelings though, because shortly after, Riley was front and center with Steph as the team received their trophy. 
The Trophy Shoot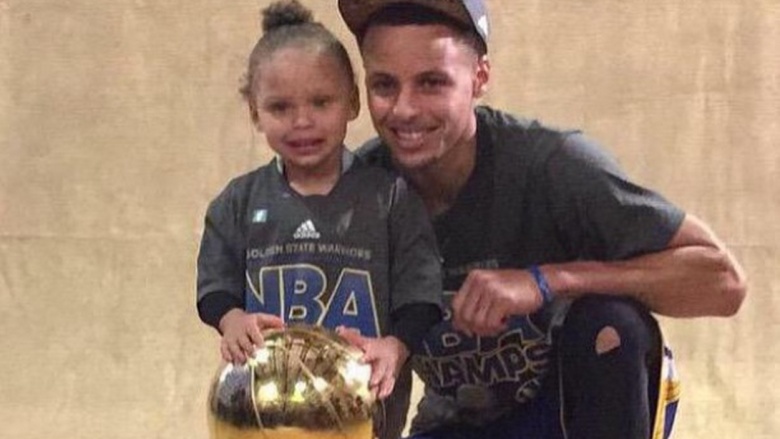 When it came time for her dad to do a photoshoot with the Finals trophy, Riley wasn't just there to watch...she wanted to pose for pictures too! Naturally, when a two-year-old demands to pose with the NBA Finals trophy, the only thing you can do is let it happen.
The Parade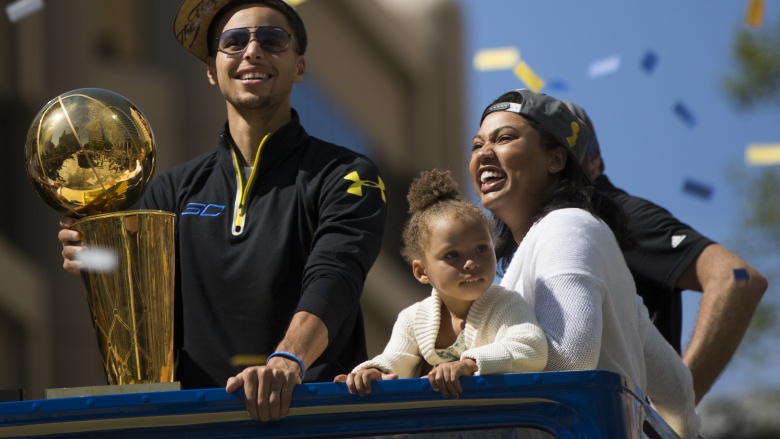 Getty Images
After winning the NBA Finals, the Golden State Warriors came home to a parade fit for kings. But there was one special princess who joined in–Riley. The tiny tot rode the float like it was her job, and while the players were the ones who won the title, Riley was pretty much the MVP of the parade. If we're being honest, she was really the MVP of the whole playoff season. 
That Time She Crashed An Interview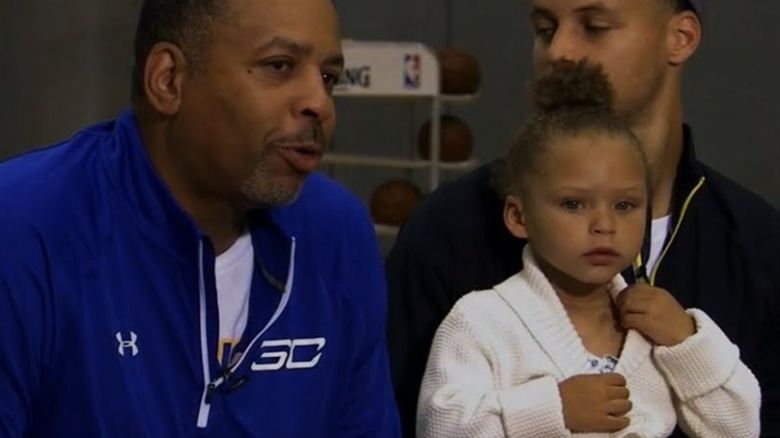 Steph was in the middle of an interview with his dad, Klay Thompson, and Klay's father for ESPN, when Riley decided she wanted to be a part of the interview too. After creeping into the shot, she completely distracted everyone by making her dad focus on something on her sweater. But let's be real, whatever it was, it was probably more important than the question the interviewer was asking anyway.
Born To Be A Star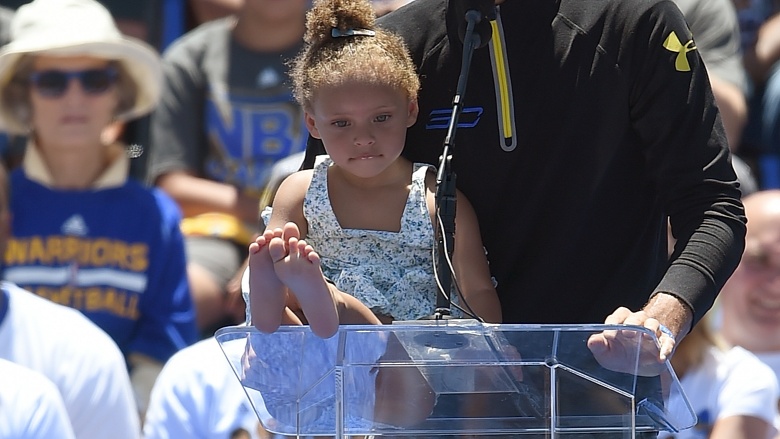 Getty Images
Riley's reaction to her new life as a public figure is probably the best thing of all. "She'll walk by the TV and might see herself and be like, 'Hey, it's Riley!'" Steph told Buzzfeed. "She'll say that and keep moving." Guess when you're born to be a star, you just know from an early age.