Simone Biles, Gabby Douglas To Lead U.S. Gymnastics Team In Rio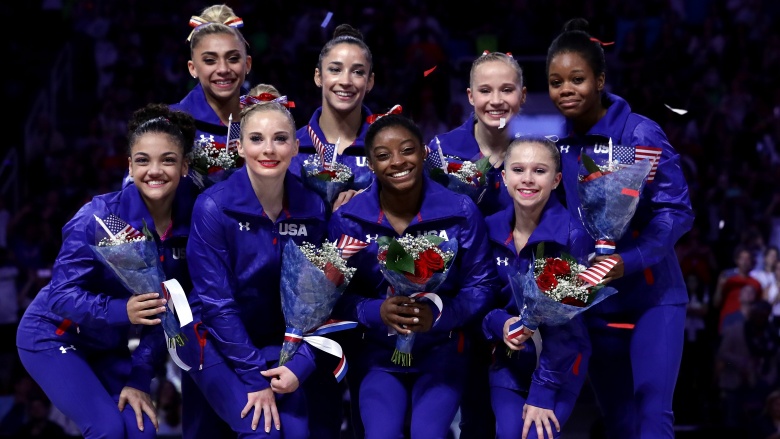 Getty Images
Gymnasts Simone Biles, Gabby Douglas, Aly Raisman, Laurie Hernandez, and Madison Kocian have been selected to represent the United States at the Olympic Games in Rio next month. The team was announced on July 10, 2016 after two nights of competition in San Jose, Calif.
The 18-year-old Biles finished first at the Olympic trials, despite a fall on the balance beam, and received an automatic ticket to the Games. "It's a mix of joy and relief—it's both," she told ESPN. "It's like a tornado of emotions."
The U.S. women's gymnastics team is the heavy favorite heading into Rio after winning gold at the 2012 London Olympics and at the last two World Championships. Biles, in particular, is expected to dominate the individual all-around, having won the title at the last three World Championships and at four U.S. National Championships. She is also the three-time defending world champion on the floor exercise and two-time defending champion on the balance beam.
Douglas is the defending Olympic all-around champion. According to ESPN, the 20-year-old's place on the team was heavily debated after she fell twice on the balance beam during the trials and performed a "lackluster" floor exercise. Douglas also switched primary coaches between the U.S. nationals two weeks ago and the trials, and she decided to reduce the difficulty of her vault at the trials, reported ESPN. Despite her recent struggles, the committee unanimously agreed that her "versatility in all four events and her strength on the uneven bars in particular....made her a valuable asset in Rio," according to ESPN.
Raisman, 22, is the defending Olympic champion on the floor exercise and was also a bronze medalist in the individual balance beam finals at the 2012 Games. She and Douglas are the first two U.S. gymnasts to compete in consecutive Olympic Games since Dominique Dawes and Amy Chow in 2000.
As for the final two gymnasts, 19-year-old Kocian is the defending world champion on the uneven bars, and Hernandez, 16, finished second in the all-around trials, behind Biles. Three alternates: McKayla Skinner, Ragan Smith, and Ashton Locklear will also travel with the team to Rio.
The 2016 Olympic Games kick off Aug. 5, 2016.