Billy Porter's 2020 Golden Globes Outfit Explained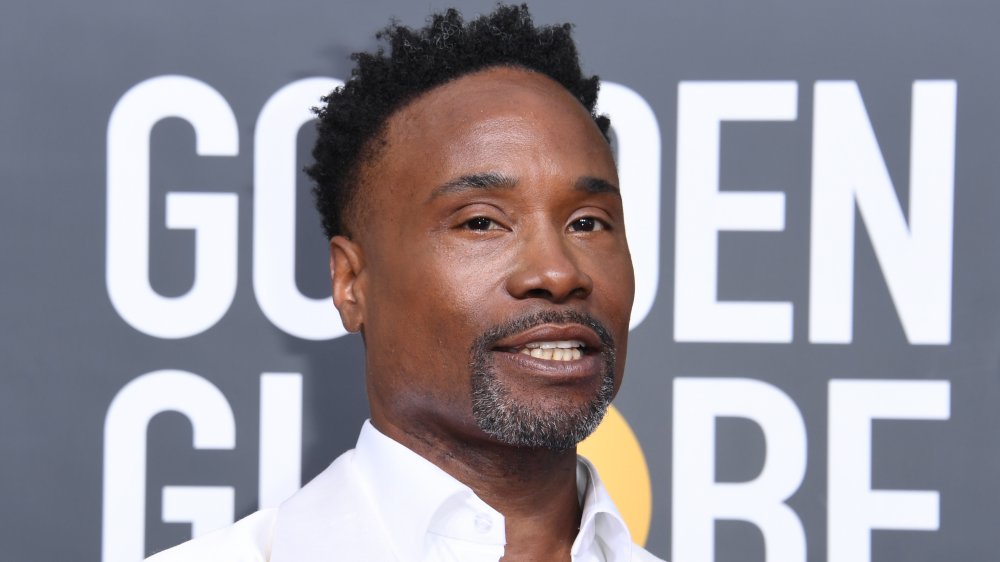 Jon Kopaloff/Getty Images
Singer and actor Billy Porter — who starred in Broadway's Kinky Boots and appeared in Ryan Murphy's American Horror Story, to name a few projects — never disappoints when it comes to showing off his fashion sense on the red carpet. Remember when Porter graced the 2019 Oscars in a velvet tuxedo-gown designed by none other than Project Runway's Christian Siriano. Wait until you see what this consummate entertainer had up his sleeve at the 2020 Golden Globe Awards, held at the Beverly Hilton hotel on Jan. 5.
Porter wowed fans again when he strutted down the red carpet wearing a jaw-dropping creation courtesy of designer Alex Vinash. We won't give away all the details just yet, but the look involves a lot of feathers and definitely bucks the status quo. What's more? The vision behind this fashion win perfectly suits Porter's confident and trailblazing personality. Check it out! 
Billy Porter always dresses to win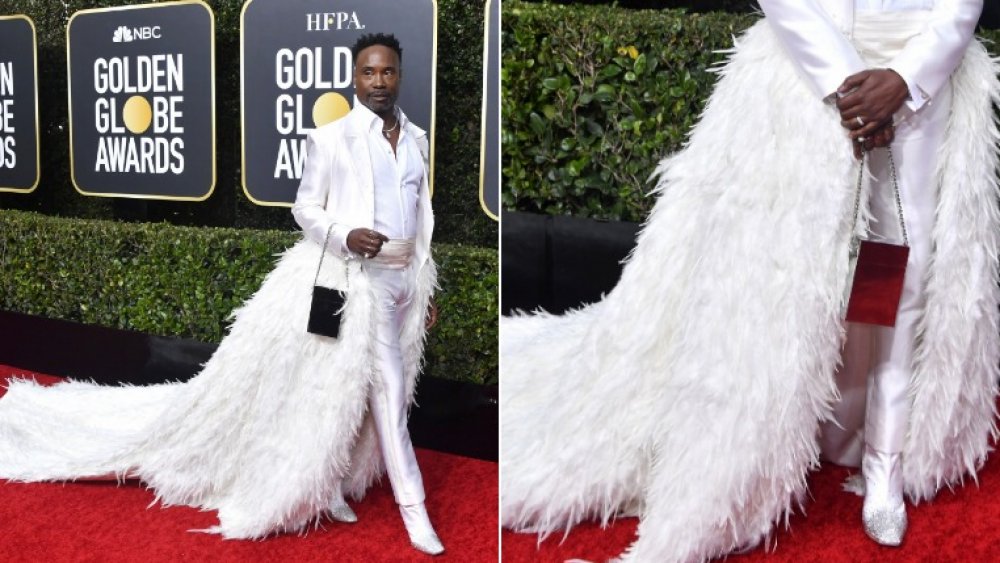 Frazer Harrison, Frazer Harrison/Getty Images
Billy Porter, who received a Golden Globes nomination for his acting work in Fox's Prose, reinvented the classic tuxedo once again when he showed up to the 77th show wearing a white suit adorned with a feathered jacket and train. That train was so magnificent that Porter actually had a team of assistants helping him walk down the red carpet. Talk about a boss move.  
As for the finer details, the custom piece designed by Alex Vinash took three months to create, per his interview with E!'s Ryan Seacrest. And if you're wondering how Porter will comfortably sit during the show,  fear not. The "fragile" feather train, decked out in 4,000 Swarovski crystals, can be zipped off. Phew. That said, the acclaimed vocalist doesn't plan to lounge around in this regalia. "This isn't a sitting outfit, it's a standing outfit," the Pennsylvania native proudly told Seacrest.
To enhance this look, Porter's stylist, Sam Ratelle, paired the outfit with a $2 million, 40-carat diamond pendant necklace by Tiffany & Company, according to The Hollywood Reporter. "It's interesting that people now always expect Billy to be in a dress, so we're having a lot of fun figuring out how we can make menswear absolutely fabulous and just as fantastic and opulent as womenswear," Ratelle told THR. Amen.
Billy Porter's fashion is activism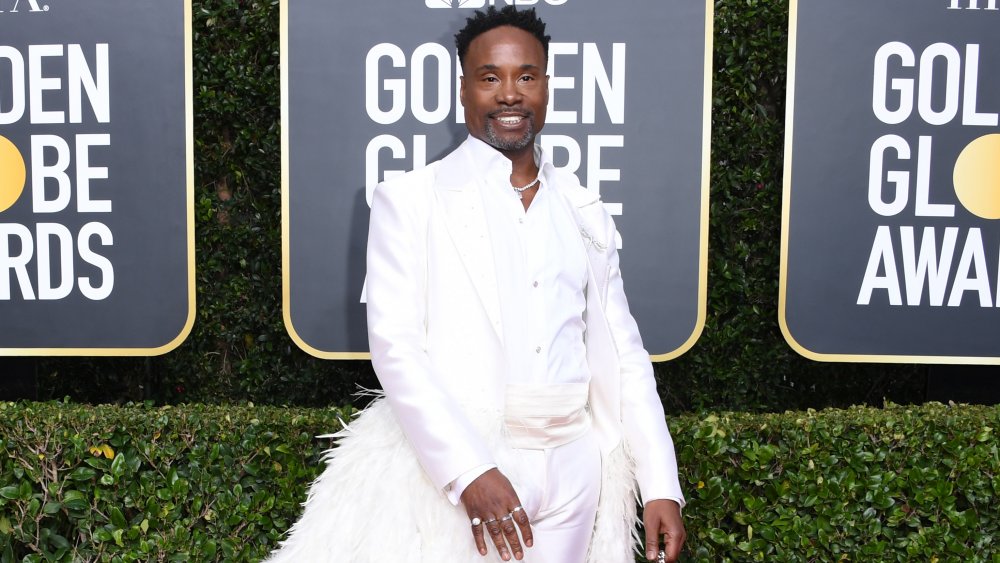 Jon Kopaloff/Getty Images
Billy Porter's headline-making red carpet ensembles are styled because he's thirsty. Nope, this celeb is thirsting for change. "My goal is to be a walking piece of political art every time I show up," he told Vogue in 2019. "To challenge expectations. What is masculinity? What does that mean? Women show up every day in pants, but the minute a man wears a dress, the seas part." 
Porter admitted he was surprised when the pink cape he wore to the 2019 Golden Globes caused a big stir. "I was like, really? Y'all trippin'? I stopped traffic!"
Porter's mission shouldn't surprise those who are familiar with his background. As an openly gay man, Porter is a champion for LGBTQ rights and he's very vocal about American politics. In other words, it's on-brand for the Broadway veteran to make an important statement about masculinity in the fashion world every chance he gets. Cheers to Porter for defying societal expectations and delivering a positive message — all the while looking fabulous.