Irina Shayk's Tears At Wimbledon Are Not Bradley Cooper's Fault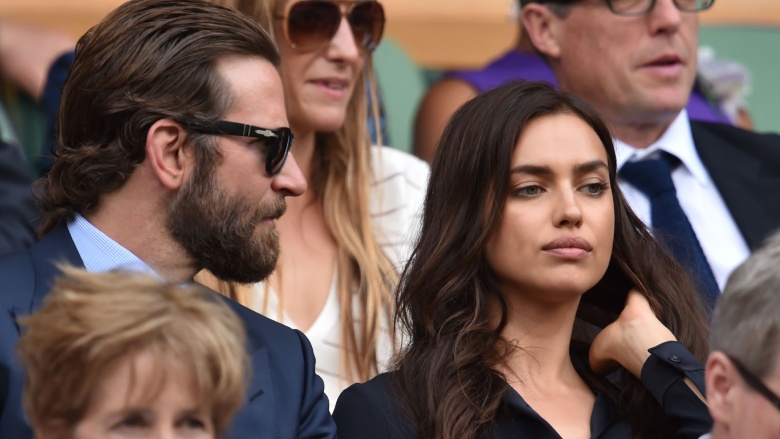 Getty Images
The real drama during the men's championship match at Wimbledon on July 10, 2016 happened in the stands, not on Centre Court.
At one point during the match, in which Andy Murray cruised to victory against Milos Raonic in straight sets, cameras cut to actor Bradley Cooper and his girlfriend, model Irina Shayk, who appeared to be in the midst of a heated fight. Specifically, Shayk was seen wiping something away from her eyes (tears?) while Cooper appeared to look on in anger and disgust.
What really happened? If sources for TMZ are to be believed, Shayk was not wiping away tears from her eyes; rather, she was "simply battling allergies." Cooper, meanwhile, was actually talking to retired tennis player Stefan Edberg, who was seated next to Shayk but not on camera. Way to be sneaky, ESPN!
If it's any consolation, TMZ said the couple "definitely looked happier" as the match continued. Sources for E! News appeared to back up that theory as well. "They were not fighting," a source said. "Everything's fine."
In fact, things appear to be on the upswing for the couple, who has been dating since April 2015. "Things are getting more serious between them," the E! News source said. "They have spoken about having a family soon and building a future together. Irina would like to have kids in the next few years. Being a mother is something that is very important to her...Things are moving in an amazing direction."
Speculation that the couple's relationship may be on the rocks isn't new. They've battled rumors that they were breaking up before.
Cooper, 41, has previously dated a wide range of women, from actress Renée Zellweger to much-younger model Suki Waterhouse. Shayk, 30, was previously linked to soccer star Cristiano Ronaldo.