The Real Meaning Behind Jason Momoa's Tattoos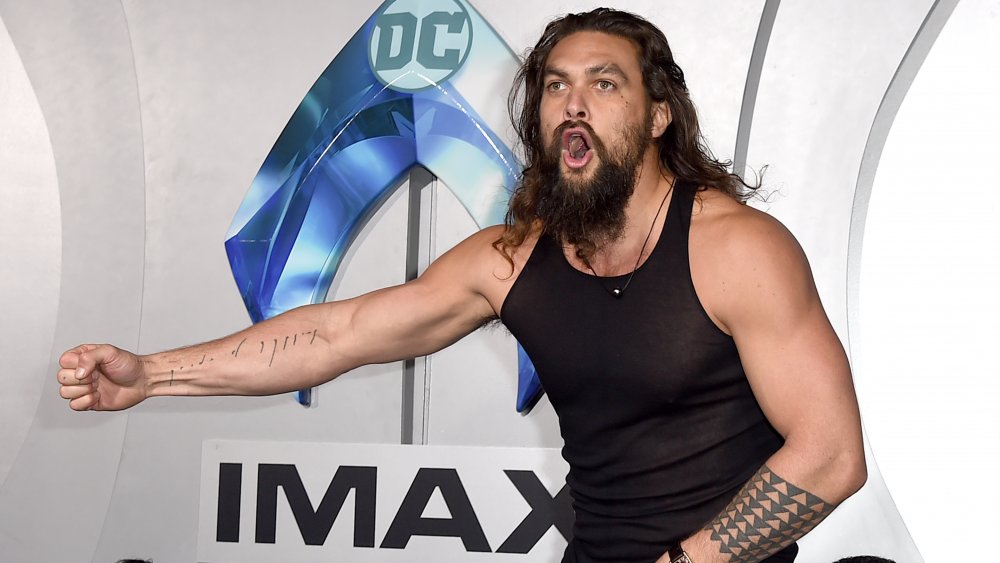 Kevin Winter/Getty Images
Jason Momoa is usually associated with his terrifying albeit too-cool character, Khal Drogo, on HBO's Game of Thrones. In fact, people sometimes have difficulty differentiating the 6'4" actor from the iconic Dothraki leader — so much so that it's cost him work. "I mean, where do you put Drogo," Momoa told Esquire. "No one even knew I spoke English."
The Aquaman star definitely speaks English — considering he grew up between Iowa, where his mom lives, and Hawaii, where his father is from. Growing up in such different landscapes, Momoa developed a love for adventure from an early age. He told Carhartt Handmade Films that his mother fueled his passion for rock-climbing. "I wanted to see the world climbing. I craved the road and the wild. I wanted to get out and explore it all."
Momoa's adventurous nature truly translates into all aspects of his life — even the ink on his body. Considering the actor has spent a significant amount of time shirtless (or at least sleeveless) for his movie roles, it's left many of his fans wondering about the real meaning of the tattoos on his body. 
He loves paying homage to his family and friends
Jason Momoa is, above all, a family man. Married to his childhood crush, Lisa Bonet, the couple shares two adorable children, Lola Iolani Momoa and Nakoa-Wolf Manakauapo Namakaeha Momoa. "With them, my dreams finally came true," the actor gushed to Carhartt Handmade Films. "I'm a father. I found my place, my home." Paying homage to his kids, Momoa has their signatures tattooed on his chest.
He also shares special ink with his wife and step-daughter, Zoe Kravitz. According to Hollywood.com, the trio got forearm tattoos while Momoa was shooting Game of Thrones, and they all read the following: "Etre toujours ivre." While many of us may be scratching our heads as to what that phrase means, the outlet roughly translates it as "Be always drunk." It's, um, cute, right?
Clearly a loyal guy to those closest to him, Momoa also tattooed the name of his best friend, Diablo, on his middle finger after his death.
Jason Momoa: real-life superhero?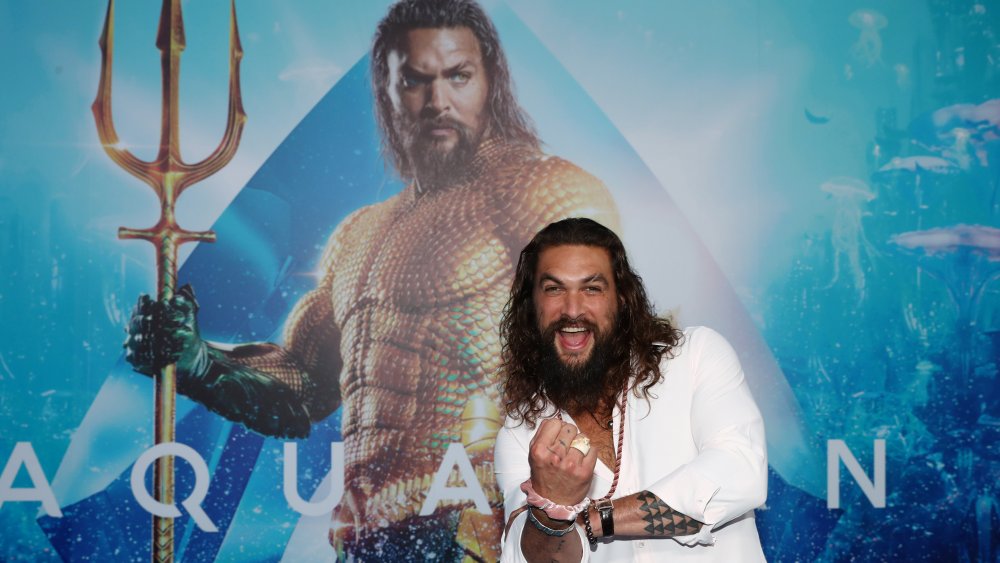 Chris Hyde/Getty Images
Jason Momoa may have been born to play Aquaman in the eponymous DC Comics superhero flick. His most prominent ink is connected to his 2018 role. Well, kind of. According to an interview with Fresh TV, Momoa's tribal shark tooth pattern on his forearm carries significant meaning. "It's an 'aumakua,' my family crest. It's our guardian. It's the shark. It's supposed to take the darkness out of your heart and bring the light in." According to Inked, the tattoo is "meant to protect him when he enters the water."
As Momoa told The Daily Beast, "Aquaman is especially cool because being a Kanaka Maoli — being Hawaiian — our Gods are Kanaloa and Maui, and the Earth is 71 percent water, so I get to represent that."
Momoa also sports some other movie trivia-inducing ink. He has the phrase, "Pride of Gypsies" tattooed on his forearm. No, that's not just the dude's Instagram handle. It's actually the name of the actor's production company. "I'm an actor, I'm a director. I write, and I produce," Momoa told Carhartt Handmade Films. "I'm a craftsman. My craft is storytelling."