The Worst Rap Moment Of Alex Trebek's Career On Jeopardy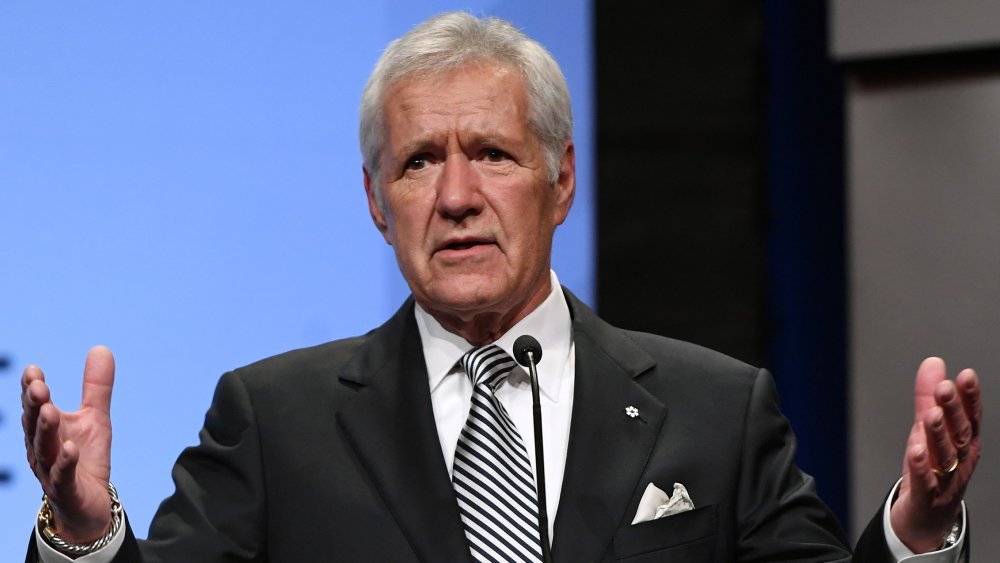 Ethan Miller/Getty Images
Alex Trebek is known for being smooth and sophisticated while in his role as the host of Jeopardy! That's why it tends to be jarring to see him shift slightly out of character, like when he happens to be rude to contestants or (eek!) when he attempts to take on a musical clue. For instance, the seemingly rigid host once rapped lyrics from Drake, Kendrick Lamar, Lil Wayne, Desiigner, and Kanye West songs in what might be the worst rap moment of his career.
Back in February 2019, the game's players were presented with a category called "Let's rap, Kids!" And rapping its exactly what Trebek did while reading out each answer — or at least, that's what he attempted to do. Music fans may (or may not, in this case) recognize lyrics from Drake's "Started From the Bottom" ("Started from the bottom now we're here, started from the bottom, now the whole team here"), as well as Kanye West's "Famous" ("They mad they ain't famous, they mad they're still nameless ... But we still hood famous, yeah we still hood famous"). Trebek tackled each without hesitation and, to be honest, without a lot of skill.
When there were no more clues in the category, Trebek admitted, "I was just getting into this rap thing. I'm not too good at it, but I was getting into it." Thankfully, this wasn't the only time the host got to flex his musical, er, talent.
Alex Trebek has also taken on Rihanna, Beyoncé, and more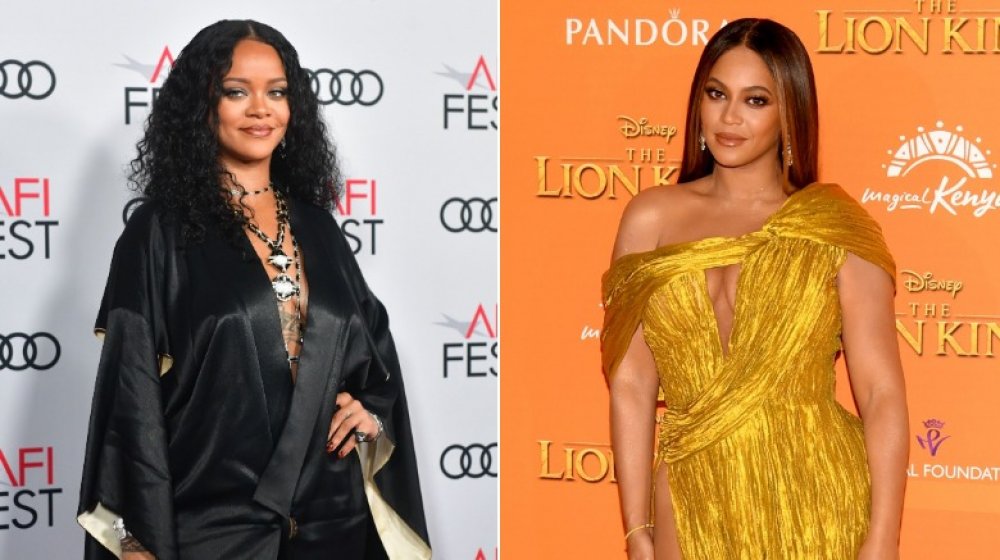 Frederic J. Brown, Gareth Cattermole/Getty Images
You might not think of Alex Trebek as someone who's musically-inclined, but that doesn't stop him from putting his own little spin on each song-related clue while hosting Jeopardy! The famous figure has been heard delivering everything from pop tunes to theme songs — in his own signature stiff way.
The "eh, eh, eh" from Rihanna's "Umbrella" has perhaps never sounded as awkward as when it was delivered from Trebek's mouth, although he thankfully did much better with a tiny taste of Beyoncé's "Drunk in Love," since he didn't really try to sing it at all. And yet, you still have to admire each attempt, which also goes for his delivery of Grandmaster Flash, Dr. Dre, Public Enemy, Notorious B.I.G., and the Beastie Boys songs, not to mention Cypress Hill, Shock G, and MC Hammer.
Trebek even delighted viewers with the Fresh Prince of Bel-Air theme song, and plenty of those watching were surely singing along when the host rapped, "I pulled up to a house about seven or eight and I yelled to the cabbie 'Yo, homes, smell ya later!'" Trebek may not be the Fresh Prince of Jeopardy!, but here's hoping he'll take on some Cardi B, Billie Eilish, or Jay-Z tunes in the future.