Video Shows Scary Aftermath Of The Kobe Bryant Helicopter Crash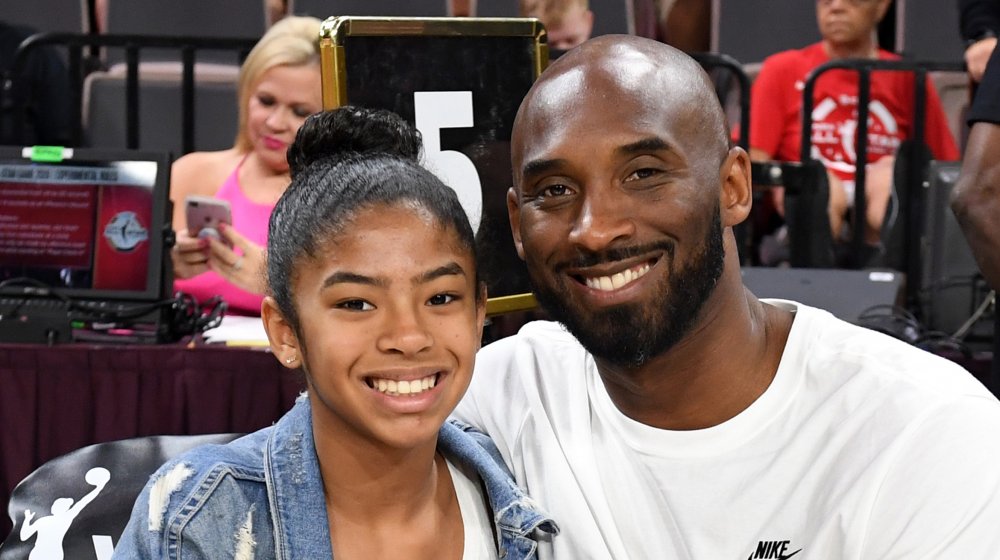 Ethan Miller/Getty Images
Kobe Bryant's tragic death on the morning of Sunday, Jan. 26, 2020 shocked the masses. As Nicki Swift previously reported, the retired NBA player was on board his helicopter flying over Calabasas, California, when the aircraft crashed, killing the 41-year-old sports hero and his daughter, Gianna, who, at 13, was following in her father's basketball footsteps.
What's even more devastating is Bryant's long history of traveling in helicopters, making this tragedy truly a freak accident. Not just a means of luxe transportation for wealthy, it turned out that Bryant took this mode of transportation for health reasons, too. In an interview with GQ in 2010, the Lakers legend detailed his preferred way of travel, with the outlet explaining, "It's a nice dash of glitz ... [but] Bryant says the helicopter is just another tool for maintaining his body," adding that the celeb suffers various physical ailments that make "sit[ting] in a car for two hours" uncomfortable.
As law enforcement officials revealed to TMZ, the weather in Los Angeles was "extremely foggy Sunday morning," to the point that "even LAPD air support was grounded because of it." Flight tracker data showed that the chopper encountered bad weather twice, the second time being fatal. "They turned toward a mountainous area. The pilot suddenly and rapidly climbed from about 1200 feet up to 2000 feet. However, moments later ... they flew into a mountain at 1700 feet."
While the world mourned the sudden passing of a sports icon, a video of the aftermath was also released. Let's find out more.
The accident started a bush fire
Hours after the tragedy that killed Kobe Bryant, his 13-year-old daughter, and seven others, video of the aftermath of the helicopter crash started surfacing online. As the wreckage sat covered by a cloud of white smoke, the collision also ignited a bush fire, as revealed by the Los Angeles Times. "Our firefighters hiked into the accident site with their medical equipment and hose lines to extinguish the stubborn fire as it included the brush fire ... and the helicopter," L.A. County Fire Chief Daryl Osby told the outlet. "The fire also included magnesium, which is very hard for firefighters to extinguish because magnesium reacts with oxygen and water."
As one firefighter told the Denver7 news channel, "The individuals that saw the aircraft said it was coming down at a fairly significant rate of speed and impacted the ground on the hillside," adding that it "started an approximately quarter-acre brush fire."
According to TMZ, once the firefighters successfully made it to the crash site, they determined that "it was clear no one survived." As the FBI began investigating the cause of the crash, the world mourned the loss of the sports icon and his daughter.