Touching Kobe Bryant Memorial Formed Outside The Staples Center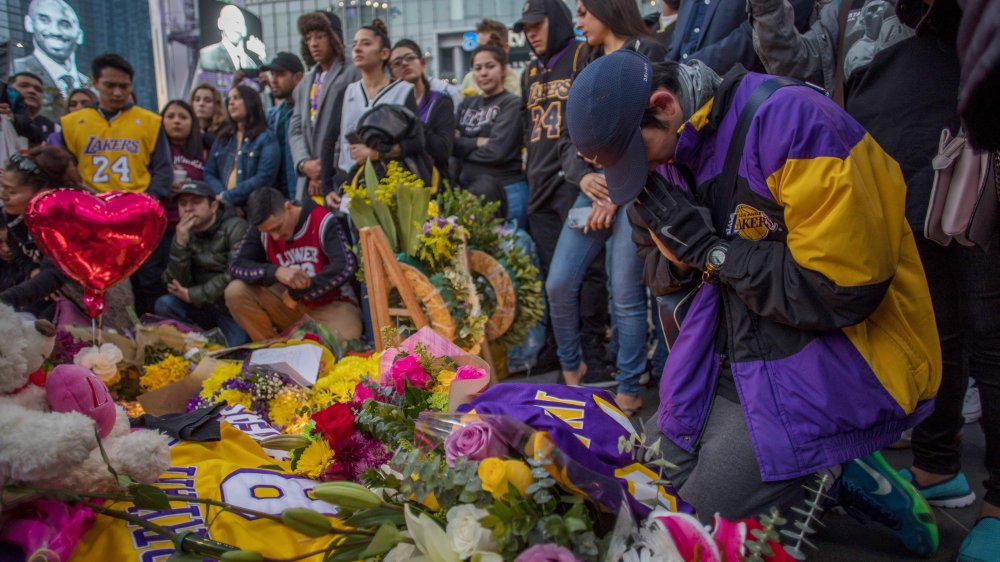 Apu Gomes/Getty Images
With the connectivity of social media, there is almost no time between a tragic event and the visceral public reaction to it. In the case of the shocking death of NBA superstar Kobe Bryant, the internet melted down in real time as headlines detailing the horrific crash that took his life began to roll out. While Bryant's teammates, fans, and fellow celebrities issued statements anguish and condolences, those left grappling with their sadness offline were left searching for a community.
They found it at Bryant's professional home of two decades — the Staples Center in downtown Los Angeles. A crowd of mourners quickly converged on the arena, which is home to The Los Angeles Lakers, to create makeshift memorials and collectively grieve the loss of a sports icon. On such fan, according to Los Angeles Times writer Jack Harris, was Gabriel Paredes, who was driving when he heard the news of Bryant's passing. Paredes immediately drove to a flower shop, purchased a bouquet, and went straight to the Staples Center to place it. "We're in shock," Paredes told Harris, adding, "These are things no one is expecting. I'm shaking."
"Before long, an elaborate memorial had spread across the concrete around Staples," the Los Angeles Times reported, with fans contributing things like "purple candles and a worn basketball ... a poster board with Bryant's picture and a pair of angel wings. A bouquet of white and purple daisies with a ribbon reading 'KOBE WE LOVE YOU R.I.P.,'" and much more. Meanwhile, a "jumbotron" across the street displayed the message: "In Loving Memory of Kobe Bryant 1978-2020." Hundreds of mourners eventually gathered in a scene described by the Los Angeles Times as "surreal," since it played out against the backdrop of another huge media event – The 62nd Grammy Awards.
The tributes to Kobe Bryant continued on the 2020 Grammys red carpet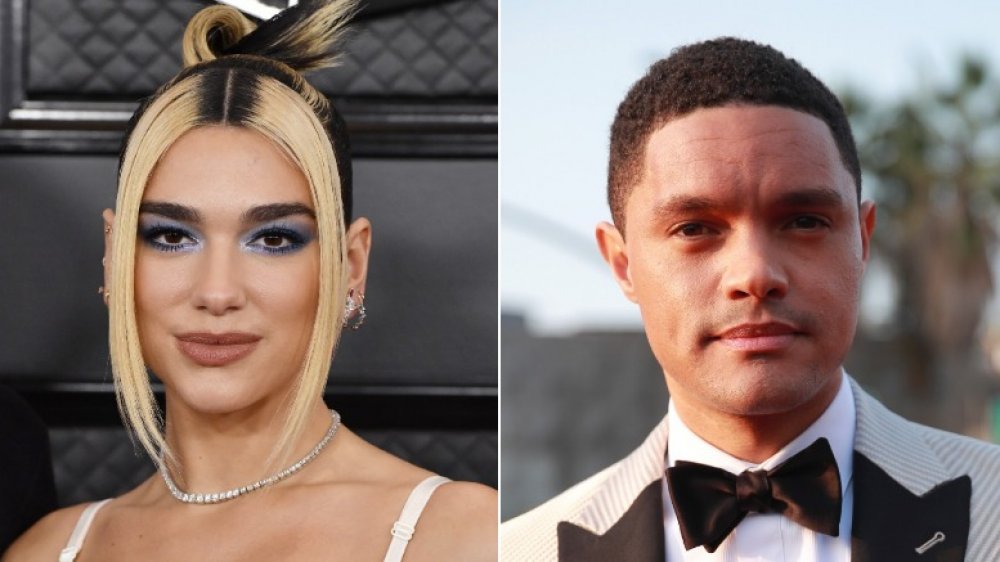 Frazer Harrison, Rich Fury/Getty Images
As the crowd of grieving Kobe Bryant fans grew outside, the heaviest hitters in the music industry arrived to the Staples Center for the 2020 Grammys. The mood was understandably mixed, as the celebrities struggled to reconcile their excitement over an important evening for the industry with the tragic loss of a beloved sports superstar.
Singer Dua Lipa spoke with E! News on the Grammys red carpet, calling the tragedy "incredibly sad." She continued, "It's very difficult just to kind of see everything that's going on online, as well ... I feel like everybody in LA is up on their feet and it's really upsetting."
The Daily Show host Trevor Noah spoke to the same outlet, saying he hadn't "processed" the news of Bryant's death yet. "It's always strange when you feel like you've known somebody because of all the moments and impacts they've had on your life, and I think that's what a lot of people are going through," he said, adding, "You can feel it — everyone's walking in, we're celebrating each other today, but at the same time it feels like now the entire Staples is going to be celebrating somebody who just strove for excellence, who inspired others to be the best they could be."
Similar sentiments were made during the award show, which spared no time in addressing the unimaginable tragedy. 
On the Grammys stage, Kobe Bryant was on everyone's mind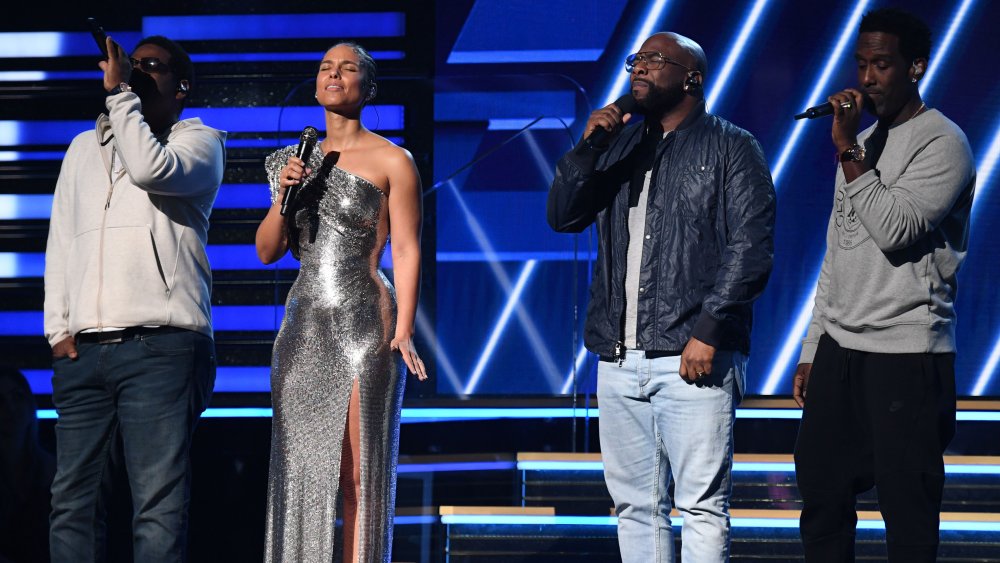 Robyn Beck/Getty Images
The tributes to the late Lakers superstar didn't stop at the Staples Center door. In fact, Bryant's death was addressed immediately in the Grammys broadcast when singer Lizzo declared, "Tonight is for Kobe!" before kicking off the show's opening medley. Immediately afterwards, Grammys host Alicia Keys delivered a heartfelt tribute to the five-time NBA champion.
Calling Bryant a "hero" to the world, Keys said (via the Los Angeles Times), "We're all feeling crazy sadness right now. ... And we're literally standing here, heartbroken, in the house that Kobe Bryant built." She then asked viewers to support the families of all of the crash victims, and said, "We never imagined in a million years we'd have to start the show like this — never, never, never, never, never, never. So we wanted to do something that could describe, a tiny bit, how we all feel right now." Keys then launched into a musical tribute to Bryant alongside Boys II Men.
Later in the show, Bryant was added to a planned tribute for slain rapper Nipsey Hussle, who was gunned down outside his Los Angeles-area clothing store in March 2019. "Rest in peace Kobe Bryant, Gianna – long live Nip!" DJ Khaled declared during the memorial.