The Real Meaning Of Kobe Bryant's Tattoos Explained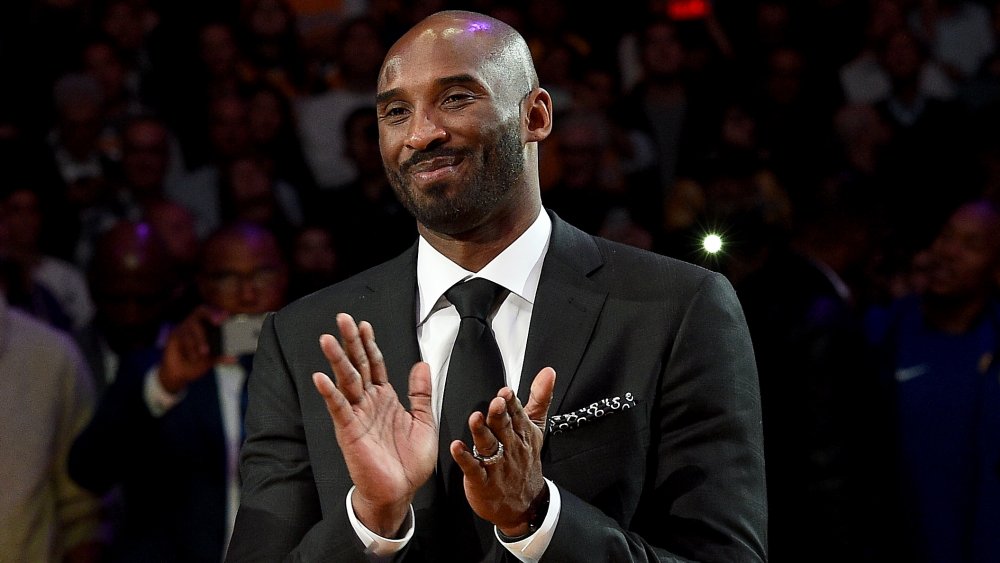 Kevork Djansezian/Getty Images
Following the death of Kobe Bryant on Jan. 26, 2020 in a helicopter crash, which also killed his 13-year-old daughter, Gianna Bryant, and seven others, fans are taking a closer look at the athlete's incredible 41 years on this earth. Some of the questions aim to learn more about the legendary basketball player who racked up countless awards through his 20-season stint in the NBA and longtime career with the Los Angeles Lakers. Bryant was a fascinating person with an interesting day-to-day life off the basketball court, and that extended to his interest in body art.
Kobe commissioned at least seven visible tattoos in his lifetime, even going as far as to share a video of himself getting inked in July 2017. The basketball great seemed to have an open attitude about tats, as evidenced by his tweet from 2013, "Thinking about getting a lil more ink #whynot #justdoit." Given Kobe's apparent love for tattoos, let's take a closer look at the meaning behind his art.
Kobe Bryant's ink is complex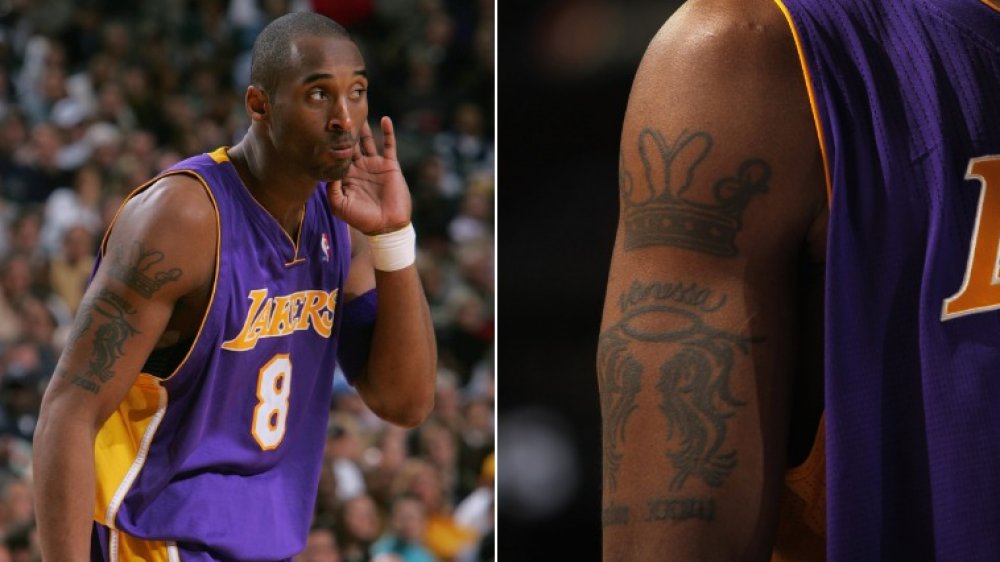 Ronald Martinez, Doug Pensinger/Getty Images
In order to analyze Kobe Bryant's tattoos, we'll need to provide a little background: The pro baller experienced marital strife with his wife, Vanessa Bryant, in 2003. It all started in July of that year when an arrest warrant was issued for Kobe after a hotel employee accused him of raping her. One month later, Kobe was charged with sexual assault. He claimed the incident was "consensual." Cut to September 2004: The judge presiding over the case dismissed the case after Kobe's accuser refused to testify against him in court. "Although this year has been incredibly difficult for me personally, I can only imagine the pain she has had to endure...," Kobe said in a statement, referencing his accuser (via the Daily Beast). They settled out of court in 2005, but the terms were not revealed publicly. 
In the midst of all that controversy, Kobe was reportedly spotted with new ink on his bicep. The tattoo featured a crown decorated with butterflies above Vanessa's name, which was placed above angel wings. Below the wings was Bible verse Psalm 27, which includes the lines, "When the wicked advance against me to devour me, it is my enemies and my foes, who will stumble and fall." Kobe referenced the ink in an interview with the Los Angeles Times, calling his wife an "angel" and revealing that Vanessa's name translates to "butterfly." 
Was Kobe's ink a reference to the scandal against the backdrop of his marriage? Perhaps.
Kobe Bryant loved his kids dearly
Kobe Bryant also had the names of his daughters tattooed on one of his arms. He shared a video on Instagram of him adding the name of this third child, Bianka Bryant, to his arm in July 2017. He also had a tattoo of a diamond added below daughter Natalia's middle name, Diamante, which is the Spanish translation of the jewel. 
It's unclear if Kobe added baby Capri Bryant's name to his body before the helicopter crash, but it's obvious he loved all his kids beyond measure. "All I ever needed to know about Kobe Bryant was this: that throughout our friendship, the most meaningful conversations we had — they were always about family," baseball legend Derek Jeter penned in a tribute shared via The Players' Tribune. "...He cared much more about being a husband to Vanessa and a dad to his girls. He loved his family — he was his family. That's what was important."