The Truth About Dog The Bounty Hunter's Proposal To His Son's Alleged Ex
Just when fans thought Duane "Dog" Chapman's life couldn't be more unpredictable, he seemingly proposed to his rumored girlfriend, a 50-something woman named Moon Angell. If this unique moniker sounds familiar, it's probably due to the drama that erupted between Angell and Duane's daughter, Lyssa Chapman, in mid-January 2020. In a series of tweets, Lyssa said she's upset because she thinks Angell is trying to take the place of Duane's late wife, Beth Chapman, who died in June 2019 after a battle with throat cancer. 
Lyssa is especially furious because the Dog the Bounty Hunter alum's paramour worked as Beth's assistant for years and was a bridesmaid at Duane and Beth's wedding. The cherry on top? "Let's not forget how you came to know my family because you were with my BROTHER," Lyssa railed in a tweet to Angell. "NOW TRYING TO FET WITH MY DAD. BARFFFFFFF." We're not sure what to believe, but it's obvious these two ladies are at odds.
As for this so-called proposal, it went down during a January 2020 taping of the Dr. Oz Show, when a teary-eyed Duane asked Angell to marry him. That moment was shared in a promo clip for the show, but before the self-proclaimed "Irish Viking" could answer, the camera cuts to Dr. Mehmet Oz's shocked face and then switches to another preview. So did this wild dog actually pop the question to his rumored fiancé? And is the reality star truly ready to share a bone with someone new after losing his wife only eight months ago? Here's the truth.
Don't ring those wedding bells just yet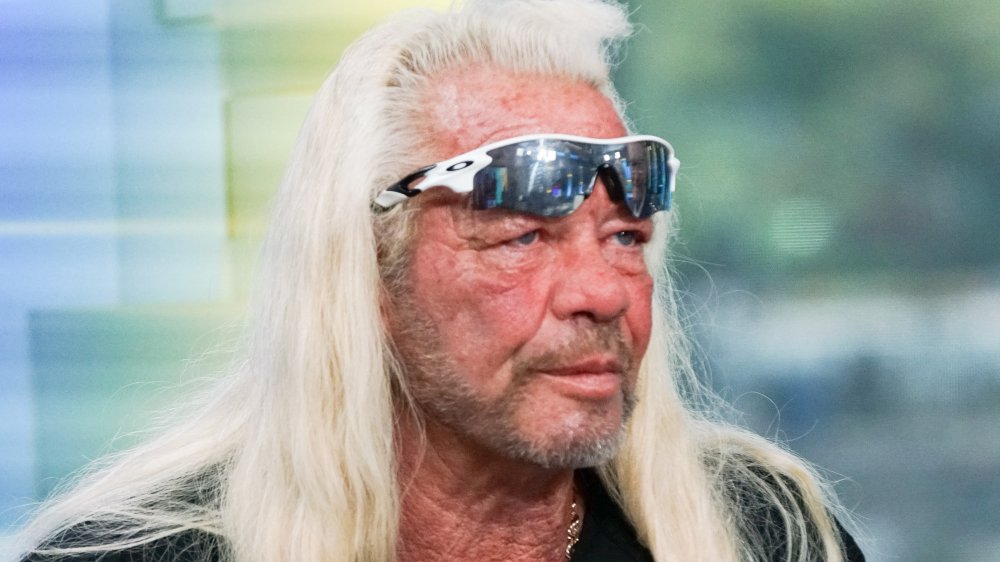 Bennett Raglin/Getty Images
Based on the promo for the Dr. Oz Show episode, which is scheduled to air Feb. 3 2020, it looks like Moon Angell and Duane "Dog" Chapman could be engaged. 
"That was quick," one fan commented on Twitter, while another tweeted, "Wow men just can't stay single after becoming widowed I guess." However, sources told TMZ that Duane was "overly emotional" at the time and "got caught up in the moment," suggesting the gesture may not have been extended with a clear head. The bail bondsman supposedly didn't give Angell a ring, and insiders connected to the family claim the couple isn't currently engaged at this time. However, Duane allegedly did tell his girlfriend he "loved" her and revealed he was "talking to God in the bathroom during a break, and God told him he should propose," per TMZ. Sources at the Dr. Oz Show contradicted this sentiment, telling TMZ it seemed like Duane "meant it." 
It's worth noting that Duane denied he was dating Angell when the controversy involving his daughter, Lyssa Chapman, and his relationship with Angell initially surfaced. "She has just been so good to me," he revealed to Radar Online, referring to their "friendship." Angell was Beth's assistant for more than 20 years, and now she's reportedly been a big part of Duane's recovery. "I'll get really emotional and find myself getting into a dark hole and she will tell me to suck it up," he said.
Who knows, maybe this pair's friendship turned to romance shortly before appearing on the Dr. Oz Show. Trés curious.
Duane Chapman made a promise to Beth Chapman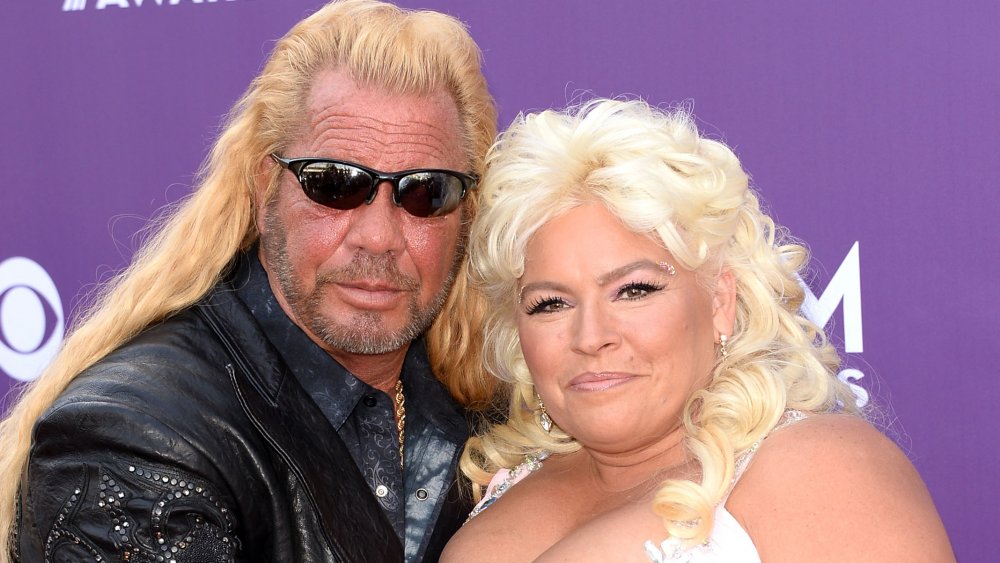 Jason Merritt/Getty Images
As rumors swirl about the state of Duane "Dog" Chapman's love life, some fans are revisiting a promise he made to Beth Chapman before her tragic death in June 2019. "Well, I am a man and I will have a girlfriend probably — but I will never get remarried," he told Hollywood Life in September 2019. "I promised Beth I would never get remarried." Beth apparently made a similar vow to him. "I told her the same thing; if I were to pass away I told her, 'You better not f***ing get married! I don't care what you do and how many boyfriends you got, but please don't ever stand next to someone and say the vows.' So, we both made a deal like that."
Duane also made a haunting statement during that interview. "I hope that she is watching and I definitely feel her sometimes," he said. "I do always think, 'What would Beth say? Or what would she do?'" That's an interesting quote in the context of what's going on right now with Moon Angell, the bounty hunter, and his daughter, Lyssa Chapman. 
Speaking of Chapman, she seemingly tweeted a response to the Dr. Oz Show promo: "I will not tweet. I will not tweet I will not tweet. I will not tweet."