The Real Meaning Behind Angelina Jolie's Most Important Tattoo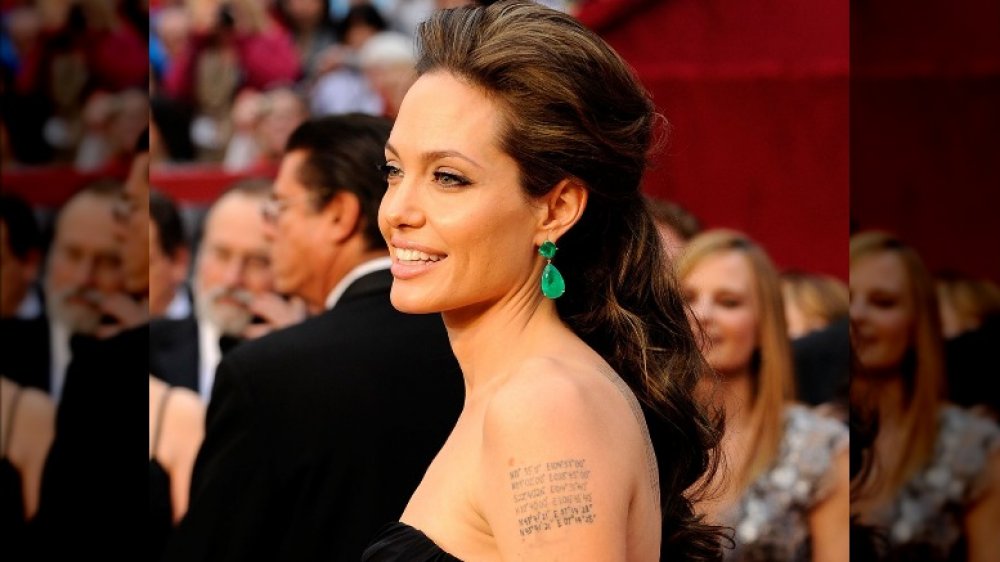 Kevork Djansezian/Getty Images
Angelina Jolie is an award-winning actress, a dedicated mother, and someone who doesn't always play by the rules. To be honest, this is one star with a dark side who is fully capable of scaring us with her wild, scandalous, and sometimes downright questionable ways. However, she's also someone who has embraced body art, which she uses to honor things — and people — who are special to her and to convey powerful messages. For instance, you'll love the real meaning behind her most important tattoo.
"The tattoo on her left arm is one of the most significant because it represents the coordinates of the places of birth of her six children," according to Hola. "Many say that the seventh set of coordinates seems to be the place where her ex-husband, Brad Pitt, was born." Jolie confirmed that while talking to Extra in 2011, saying, "Well if they know that it's latitude and longitude they would have figured out quickly that is was Brad's birthplace. It doesn't take much investigation to figure that one out. It's Shawnee, Oklahoma."
The tattoos are also on the spot where Jolie used to have two other pieces. The area on the star's arm was once inked with the name of another of her ex-husbands, Billy Bob Thornton. Below that was a stylized dragon tattoo. While neither of those designs survived the test of time, Jolie still hasn't lost her love of body art — for a very good reason.
Angelina Jolie gets tattoos because she spends her life "in other skins"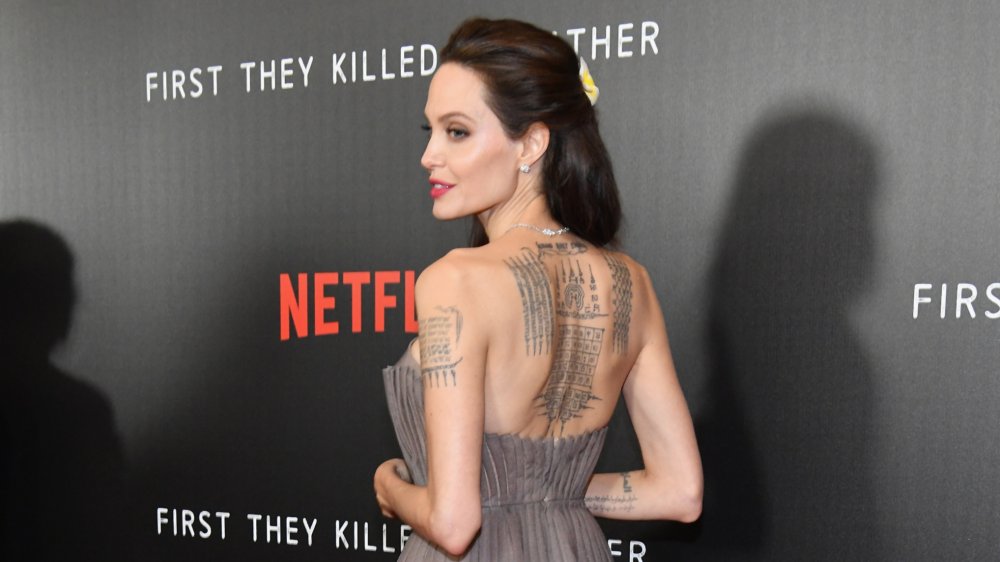 Dia Dipasupil/Getty Images
Angelina Jolie's tattoo dedicated to her children may be her favorite, but she happens to be fond of all of her ink. That may be because she has a meaningful motivation for decorating the skin she's in. "I love them. They're body art," Jolie told Australia's Post-Modern Ink in 2010 (via Marie Claire). "I don't think it's abnormal that someone who spends their life in other skins wants to claim their own by marking things on it that matter to them."
"My most recent is five vertical rows of ancient Cambodian script. It's on my back and looks very sacred," Jolie continued while describing the ink that covers a spot on her upper left side, which has now been joined by many more additions. 
Jolie also opened up about a second dragon tattoo, that is now covered by a giant cross that sits below her waistline, saying, "Getting my dragon was perhaps the biggest surprise. I was in Amsterdam and got a little crazy, dropping my pants at a tattoo parlor and woke up the next morning and saw this really funny dragon. I've always wanted a dragon but this one had a funny blue tongue. To me, a dragon is very much a woman, strong and elegant." Considering "strong and elegant" are words that could be used to describe the star herself, it's not surprising that she would opt for body art that fits that description as well.