Kim K Exposes 'Lying' Taylor Swift On Snapchat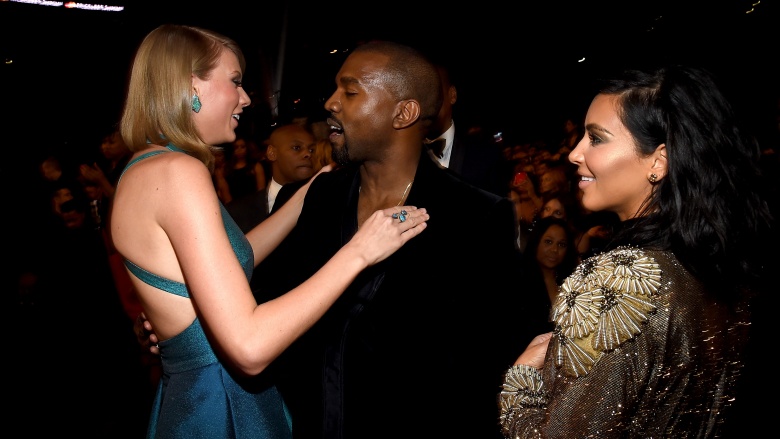 Getty Images
Kim Kardashian just turned up the heat on her feud with Taylor Swift. The reality star posted a series of videos to her Snapchat on July 17, 2016 allegedly depicting the phone conversation that Kardashian's husband, rapper Kanye West, had with Swift about his now-infamous song "Famous."
In the clips, Swift appears overwhelmingly supportive of the song as West goes over certain lyrics, including one of the song's most infamous, "I feel like me and Taylor might still have sex."
"I don't think anybody would listen to that and think, like, oh, that's a real, that's a real diss. Like, she must be crying.," Swift is heard saying (via Us Weekly). "You've got to tell the story the way that it happened to you and the way that you experienced it. You honestly didn't know who I was before that. It doesn't matter that I sold seven million of that album before you did that which is what happened, you didn't know who I was before that. It's fine."
The Snapchats appear to back up some of the comments Kardashian made about Swift in a recent interview with GQ magazine. "It was funny because [on the call with Kanye, Taylor] said, 'When I get on the Grammy red carpet, all the media is going to think that I'm so against this, and I'll just laugh and say, 'The joke's on you, guys. I was in on it the whole time,'" Kardashian said. "And I'm like, wait, but [in] your Grammy speech, you completely dissed my husband just to play the victim again."
She reiterated her stance on an episode of Keeping Up with the Kardashians on July 17, 2016. "I never talk s*** about anyone publicly, especially in interviews. But I was just like, I've so had it," Kardashian said. "I just felt like I wanted to defend [West]...because it's like, she legitimately [said to us], 'As soon as I get on that Grammy red carpet, I'm gonna tell all the press I was in on [the song].'"
Swift fired back on her Instagram, reaffirming her stance that she never approved the song. "Where is the video of Kanye telling me he was going to call me 'that b****' in his song? It doesn't exist because it never happened," she said (via Entertainment Tonight). "You don't get to control someone's emotional response to being called 'that bitch' in front of the entire world." Swift then goes on to accuse Kardashian and West of attacking her character. "Of course I wanted to like the song," she wrote. "I wanted to believe Kanye when he told me that I would love the song. I wanted us to have a friendly relationship. He promised to play the song for me, but he never did. While I wanted to be supportive of Kanye on the phone call, you cannot 'approve' a song you haven't heard. Being falsely painted as a liar when I was never given the full story or played any part of the song is character assassination."
Swift concluded her defense by drudging up the root of her feud with West—that moment when he interrupted her acceptance speech at the MTV Video Music Awards seven years ago. "I would very much like to be excluded from this narrative, one that I never asked to be a part of, since 2009."
News of the phone call between West and Swift dates back to February 2016. Following a backlash over the lyrics, West took to Twitter to allege that he had an "hour long [sic] convo with [Swift] about the line and she thought it was funny and gave her blessings" (via Rolling Stone). Swift's team responded by claiming that she warned West about releasing a song with "such a strong misogynistic message" and that she was never made aware of the lyric "I made that b**** famous."
She then allegedly referred to the controversy while accepting the Grammy Award for album of the year in 2016. "As the first woman to win album of the year at the Grammys twice, I want to say to all the young women out there, there are going to be people along the way who will try to undercut your success or take credit for your accomplishments or your fame," she said. "But if you just focus on the work and you don't let those people sidetrack you, someday, when you get where you are going, you will look around and you will know that it was you and the people who love you who put you there. And that will be the greatest feeling in the world."
Kardashian re-ignited the feud in June 2016 during her GQ cover story. At that time, Swift's spokesperson issued a statement to GQ saying, "Taylor does not hold anything against Kim Kardashian as she recognizes the pressure Kim must be under and that she is only repeating what she has been told by Kanye West. However, that does not change the fact that much of what Kim is saying is incorrect." It's safe to say those feelings are probably rock-hard now.