The Untold Truth Of Mahershala Ali's Wife Amatus Sami-Karim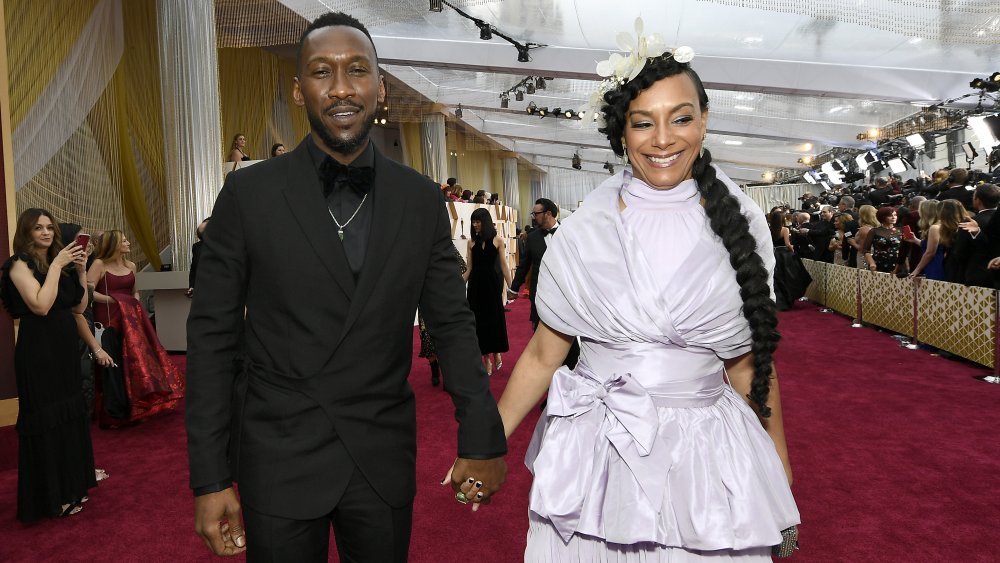 Kevork Djansezian/Getty Images
Mahershala Ali may have gone down in history as the first black man –- and the first Muslim –- to win two best supporting actor Oscars for his roles in Moonlight and Green Book (via Newsweek), but he's not the only star in the family. His wife, the multi-talented Amatus Sami-Karim, has a degree from NYU's Tisch School of the Arts and also studied acting at London's Royal Academy of Dramatic Art (perhaps better known as RADA). 
A profile of Sami-Karim by Bustle reveals that she has acted in the movies Girls Time and Jasmine, and released an EP called Broken Compass. Marie Claire supplies the additional info that she also composed the music for the play Sunset Baby and did the sound design, as well as composing music for the off-Broadway hit "The Homecoming Queen." For her work on the latter, Sami-Karim was nominated for a Drama Desk award.
How Mahershala Ali and Amatus Sami-Karim became a couple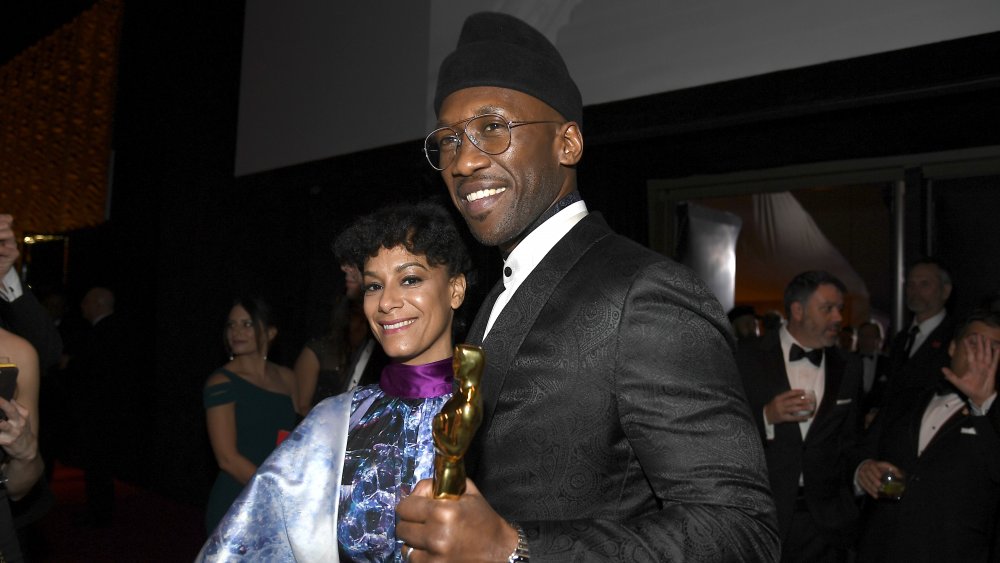 Kevork Djansezian/Getty Images
Mahershala Ali and Amatus Sami-Karim have been married since 2013, but as a couple they go way, way back –- they actually met when both were NYU students. Sami-Karim made quite an impression on her future husband, who later recalled for WYNC's Death, Sex, & Money podcast that he found her "extraordinarily intelligent...about the right things, spiritually grounded, a beautiful person" (via ABC News). In fact, she inspired him to convert to Islam by bringing him to a mosque to attend a prayer service along with her mother. Ali described the experience as transformative, saying "I just had this really strong response where this prayer is resonating in my body, and I'm, like, crying...Long story short, I converted that day."
Mahershala Ali andAmatus Sami-Karim collaborate in art and life  
Together Mahershala Ali and Amatus Sami-Karim have a daughter, Bari Najma Ali, who was actually born the same week Daddy won his first Oscar. In his acceptance speech, Ali thanked his wife "for being such a soldier." While Sami-Karim is an admitted wild feminist (via this very cute Instagram post with baby Bari), she is also super-supportive of her celebrity spouse. In fact, both Ali and Karim worked together on a recent film project, a documentary titled We Are the Dream: The Kids of the Oakland MLK Oratorical Fest for which both served as executive producers (via IMDb).
The documentary collaboration not only showcased the power couple's artistic talents, but also their commitment to social justice. Neither Ali nor Sami-Karim are at all hesitant to speak out in favor of causes they believe in, and, in fact, one of Sami-Karim's latest Instagram pics shows the couple wearing buttons supporting the Reform L.A.Jails campaign.
Yeah, Mahershala Ali's double Oscars are a pretty big deal, as is the fact that he presented the award for best supporting actress at the 2020 Oscars (via Vanity Fair), not to mention his upcoming role as Marvel superhero Blade. What makes him a real winner, however, is the fact that he couldn't have asked for a better life partner than Amatus Sami-Karim. We bet little Bari is going to grow up to be some kind of amazing, as well.