The Truth About Maya Rudolph And Kristen Wiig's Relationship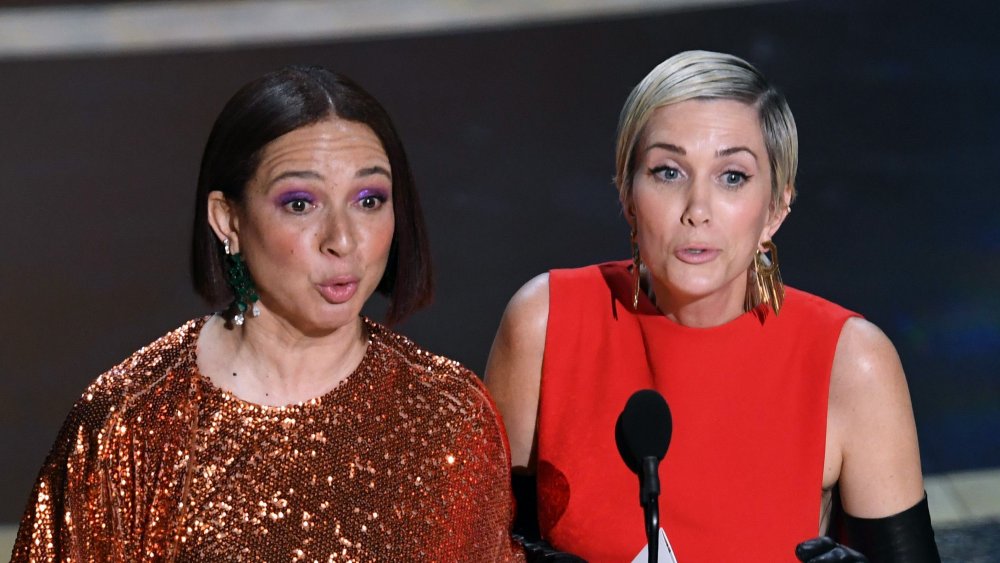 Kevin Winter/Getty Images
Plenty of awesome things (and some not-so-awesome things) happened during the 2020 Oscars, but among the best moments was when funny ladies Maya Rudolph and Kristen Wiig stepped out onto the stage together to present the awards for best production design and best costume design. While they did indeed hand out the statuettes, these comedic masters and real-life friends were also ready to use the opportunity to prove that they can do more than just make people laugh (although that's exactly what they ended up doing).
Fully aware of the fact that there were influential directors in the audience, Rudolph and Wiig started out by showing off their serious side. With rather unimpressed expressions on their faces, Wiig gave the crowd a snarky, "Hi." Rudolph followed with her own, "Hi, how are you?" Although she didn't really sound like she cared. And that was the point. After delivering a few more lines to explain that they were "upset," "P.O.'d," "ticked off," and "steamed," Wiig confessed, "Guys, we're not mad. That was an act." Yes, the duo can definitely "do more than comedy," but their delivery was still making the audience chuckle.
And did we ever get a glimpse at their range — yelling, crying, oh my! It was a rollercoaster of emotions. It was also another example of why fans will always be excited to see these BFFs reunite.
Maya Rudolph and Kristen Wiig have been BFFs for years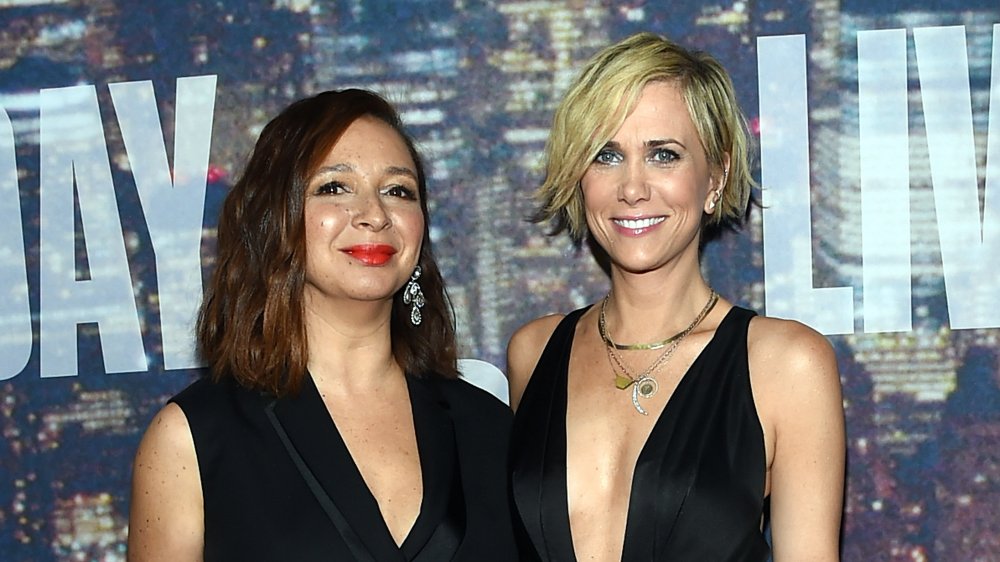 Larry Busacca/Getty Images
Surely Maya Rudolph and Kristen Wiig deserve a spot on the list of Hollywood's most enduring friendships thanks to the fact that they've stuck by each other for years. "[T]he two first met, along with Bridesmaids actresses Wendi McLendon-Covey and Melissa McCarthy ... while attending a wedding shower held at McCarthy's home," according to Vogue (although Rudolph says it was a baby shower — at any rate, it was a party for a mutual friend).
From there, the pair ended up on Saturday Night Live together. Rudolph even told Ellen DeGeneres in 2019 that it was Wiig who made her want to go back to work after taking time off. "I was on maternity leave and I was actually watching [SNL]," she told the host. "It was the Christmas show and she did the 'Two A-holes' sketch with Jason Sudeikis and I remember watching and I thought, 'I want to go back. I want to play with her.'" When Rudolph did head back to work, the ladies hit it off and a Hollywood friendship was born.
Thankfully, their chemistry both off and on screen has resulted in the friends appearing together in 2010's MacGruber and 2011's Friends With Kids, as well as the beloved bestie-centered flick that really cemented Wiig's career, Bridesmaids. "I just love her so much," Rudolph said while talking about her friend to Katie Couric in 2013. "And I know she loves me." And fans love them both!