Why Salma Hayek Dumped Water Over Eminem Backstage At The Oscars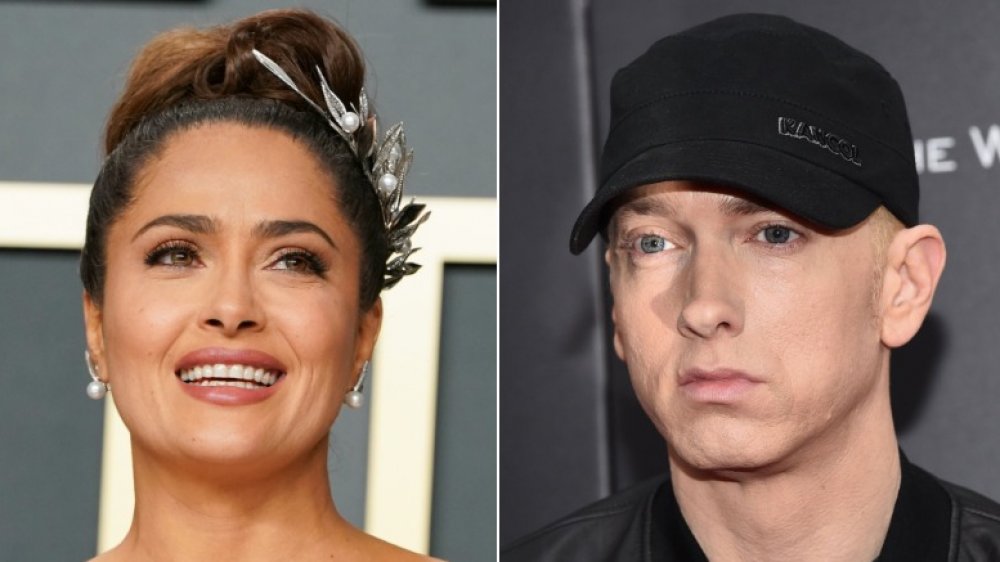 Rachel Luna, Michael Loccisano/Getty Images
There were plenty of big surprises at the 2020 Osars, and one of the most unexpected moments came when Eminem delivered an out-of-the-blue performance. While audiences at home were entertained by what they saw when the rapper stepped out onto the stage, something that may be just as memorable (at least for him) happened when he went backstage: actress Salma Hayek dumped water on him!
Following the prestigious industry event, Hayek took to Instagram to post a few photos of the pair and to also make a confession about what she had done. "In these pictures it might look like @Eminem and I are best friends, but what really happened is as he was walking offstage and I was getting ready to walk onstage, I was so shocked to see him that I spilled water all over him," she wrote.
"If you examine our faces, I look mortified and he looks terrified of me," Hayek continued. "As I was trying to wipe it off I impulsively hugged him and I said 'Nice to meet you Eminem — I'm a HUGE fan!' because I AM! But I was so disappointed that I made such a fool of myself in front of him." 
Thankfully, she also shared something that made her feel much better.
Eminem opened up about his hug from Salma Hayek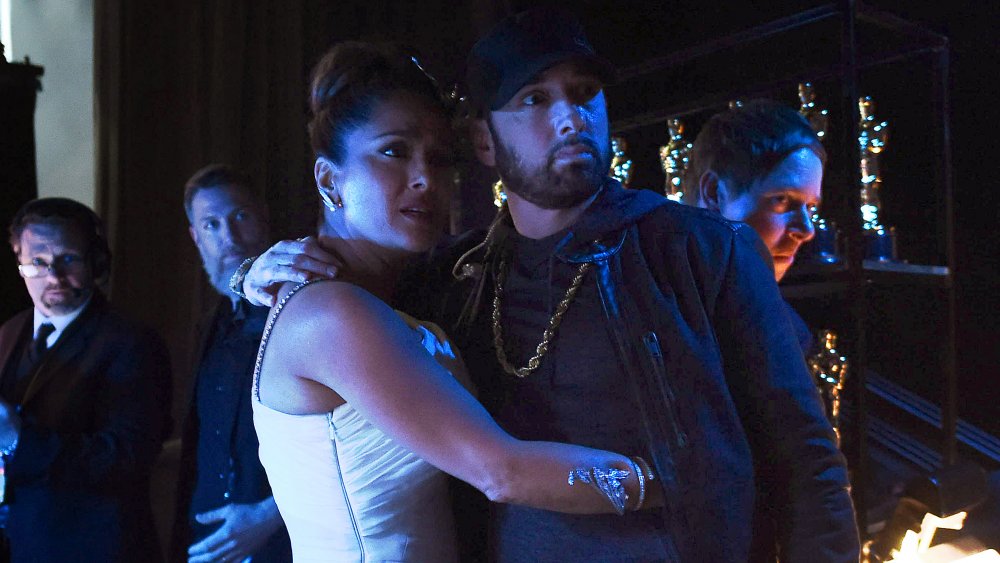 Handout/Getty Images
After opening up about accidentally dumping water on Eminem at the Academy Awards, Salma Hayek told her Instagram followers that she later came across something that may have changed how she feels about the encounter. 
Speaking to Variety following the big night, Eminem was asked if he enjoyed himself. "Absolutely," he said. And why did he have such a good time? "I got to hug Salma Hayek!" It sounds like he's not holding a grudge against her for the water incident.
Hayek's fans were just as charmed by the meeting, leaving comments on her post that showed that her actions only make her fans relate to her and adore her that much more. "omg you spilled water all over him???????? ksdjksjdjd it's the kind of thing that probably would happen to me, lmao i love you so much," one Instagram user wrote. Another one of the actress' followers added, "Salma you are too real, I love you!"
Frankly, some did agree that Eminem appeared to be "terrified," but honestly, wouldn't most of us be a little intimidated if we were suddenly approached (and drenched) by Salma Hayek?