The Strange Story Behind Ellen's $3.6M Home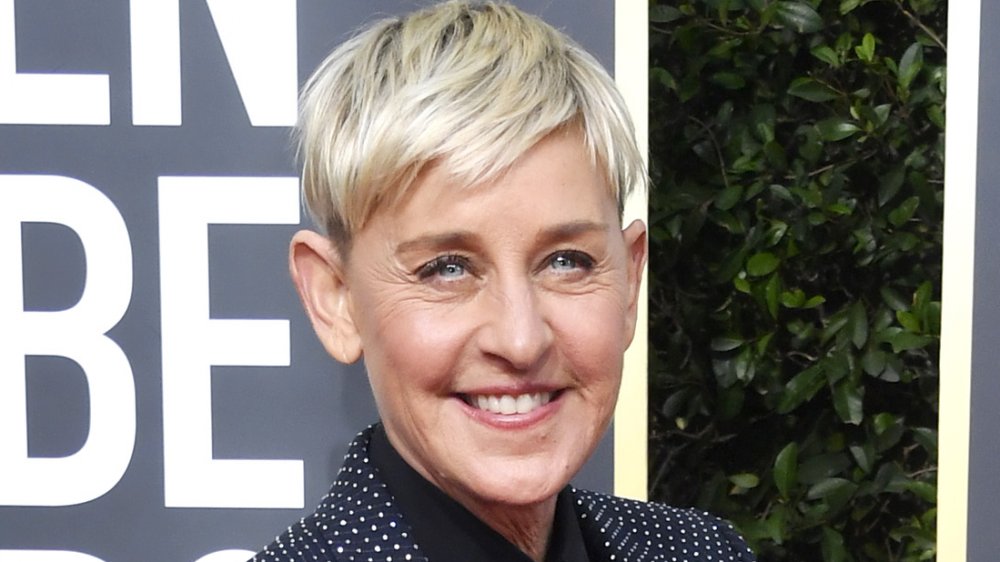 Frazer Harrison/Getty Images
While some celebrities are willing to live in remote locations to snag a house they love, others bring their dream homes to life right where they are. Ellen DeGeneres did the latter when she nabbed two enviable abodes (yes, two!) which were obviously to her liking, but weren't quite where she wanted them to be.
Putting down roots in Montecito, Calif., DeGeneres and her wife, Portia de Rossi, picked up a three-bedroom, two-and-a-half bathroom home for $3.607 million. One thing that makes their house so stunning — and very unique –  is the fact that "the residence is made up of two authentic English Tudor structures that date back to the mid-1700s and were originally built in Surrey, England," according to Architectural Digest. "The twin buildings were dismantled and shipped over to the States, where they were then reassembled on the 1.3-acre parcel [of land]." Casual. 
In order to move between one building to the other, the "sections are linked via an orangery," which is "a glass-enclosed space meant to house weather-sensitive plants and fruit trees." Although that would be enough to sell most people on the unique (albeit, slightly strange) living space, those aren't the only details that make this a dream home.
Ellen's home is a mix of traditional and modern style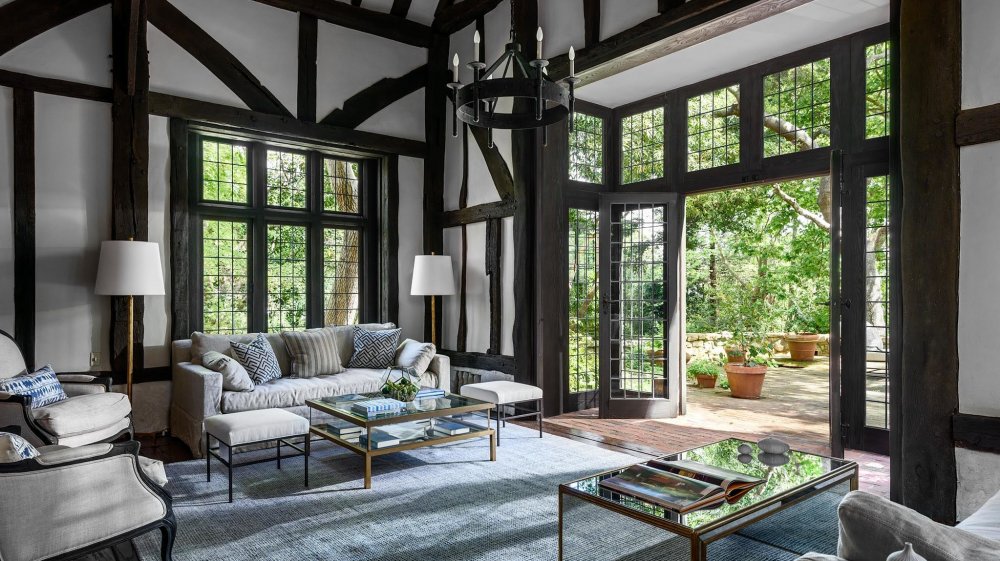 David Palermo
When Ellen DeGeneres bought — and brought over — a new home for herself and Portia de Rossi, the couple not only embraced what the structure already had to offer, but they also added a few touches that allow them to get the most out of contemporary preferences. Basically, the TV host's house is the perfect mix of old-timey style and modern taste.
Architectural Digest notes that the "outside of the home is decidedly traditional, with tall, leaded-glass windows, decorative dark-wood timbering, and a wood-shingled roof." However, once guests to the home walk through "the heavy wooden front door," they'll be greeted with "a more modern take on the architectural style." So what exactly does that include? Apparently "brick and wide-plank hardwood floors and high ceilings." And since the home is actually two houses in one, "[b]oth sides .. have their own living room, each with a large fireplace" while a "set of French doors opens out from the larger of the two living rooms to a brick terrace."
The fabulous home also features a formal dining room that even has "a medieval-style chandelier," a kitchen with "hand-painted tile countertops" alongside modern appliances, and a breakfast room that has a stone fireplace as well as "ample leaded windows that offer up views of the greenery outside." But wait, there's even more!
Ellen's home has a lot of fabulous amenities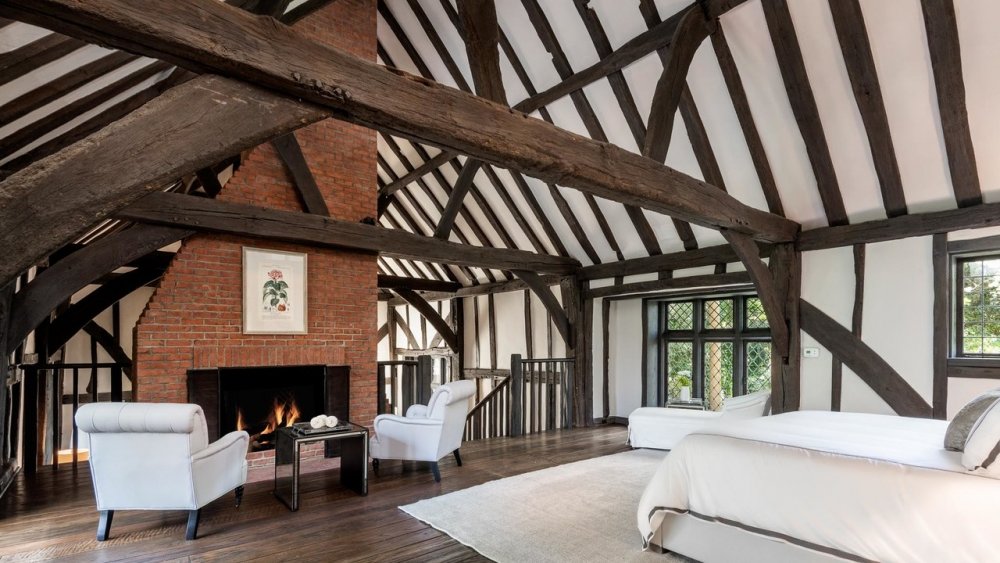 David Palermo
When Ellen DeGeneres and Portia de Rossi say goodbye to their (surely awe-struck) visitors, they can take some time to appreciate one of the many other amazing aspects of their home. Perhaps they'd head to their private gym or in-house workshop, which is separate from their three-car garage — one that has its own bathroom, of course. The couple can even spend a few hours in the "lush shaded gardens on the property [which] were designed by landscape architect Tom Nielsen and include a number of mature trees and wildflowers," according to Architectural Digest.
When the day is done, the pair can retire upstairs where each bedroom "share[s] the same wood-beamed, high-ceilinged aesthetic." As for their master bedroom, it boats "abundant room for a separate sitting area and access to a private balcony through a set of French doors" as well as a master bathroom that "is uniquely outfitted with wooden paneling, wood coffered ceilings, and bright jade-colored tile flooring." What a dreamy place to lay down and dream!