Bachelorette Alum Hospitalized After Arrest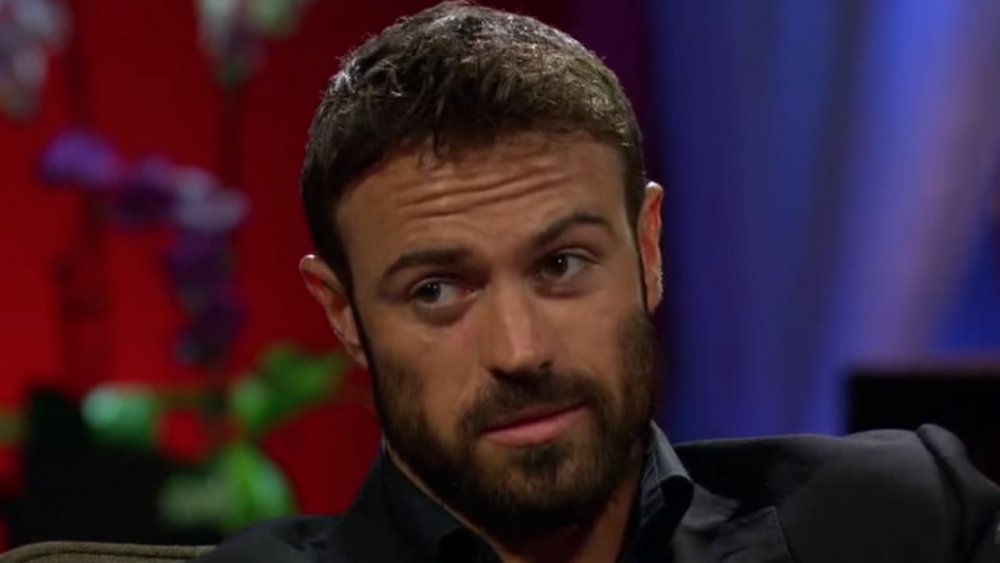 YouTube/ABC News
Former Bachelorette star Chad Johnson was hospitalized on Saturday, Feb. 29, 2020, following his recent arrest for domestic violence, per TMZ. Law enforcement sources reportedly told the outlet that, following a welfare check on Saturday morning, Johnson "taken to a hospital by authorities out of fear he may be a danger to himself."
The welfare check on the former ABC contestant came after Johnson took to Instagram on Friday, Feb. 28, 2020, to share several disturbing posts, which included an image of a rope tied to a door with the caption: "it'll be okay" (via TMZ). Johnson ended up deleting that image only to upload a video of him "seemingly talking to someone from behind a door, with him quickly saying ... 'I have no choice'."
On Saturday afternoon, Johnson posted an update on Instagram, writing, "I'm okay. Things are fine," via an image obtained by E! News. "I love you. You'll be great. Life is going to be okay. Forgive yourself. Let go." While Johnson seemingly assured fans that everything was okay, his estranged girlfriend, Annalise Mishler, painted a very different picture of the situation. "this entire week has been so painful, but today may have been the worst," she wrote in a cryptic tweet Saturday morning. "if you pray, pls pray. or send vibes. not for me but for someone i care about. and if they get better i'll also feel better."
All of this came less than a week after Johnson was arrested for domestic violence and robbery after getting into an altercation with Mishler.
Chad Johnson was out on bail at the time of his hospitalization
On the evening of Feb. 23, 2020, Annalise Mishler took to her Instagram Story to share a series of alarming posts involving Bachelor in Paradise alum Chad Johnson. In the posts, Mishler claimed that Johnson had "got drunk, punched a hole in her wall, banged on her door while trying to get into her apartment, and called her names" (via Cosmopolitan).
According to Page Six, Mishler reportedly called 911, resulting in Johnson being taken into custody. The outlet reports that Johnson was taken to Valley Jail in Van Nuys, Calif., where his bail was set at $100,000. Upon being released from jail on bond, Johnson took to Instagram to share his side of the story. He claimed that while there was a domestic dispute, he did not harm Mishler. "I was taken to jail for that and while she was talking to [the police], she told them about how I had thrown her phone, so that was the robbery issue," Johnson said in an Instagram Story video (via Fox News).
He added: "I can totally understand why Annalise felt threatened whenever I took her phone, but I am a hundred percent confident any type of domestic abuse charges are going to be dropped," Johnson said. "There was never any type of domestic abuse at all, whatsoever." E! News reports that Johnson is due in court on March 17.
If you or someone you know needs help, please call the National Suicide Prevention Lifeline at 1-800-273-TALK (8255).