The Reason Fans Are Worried About Post Malone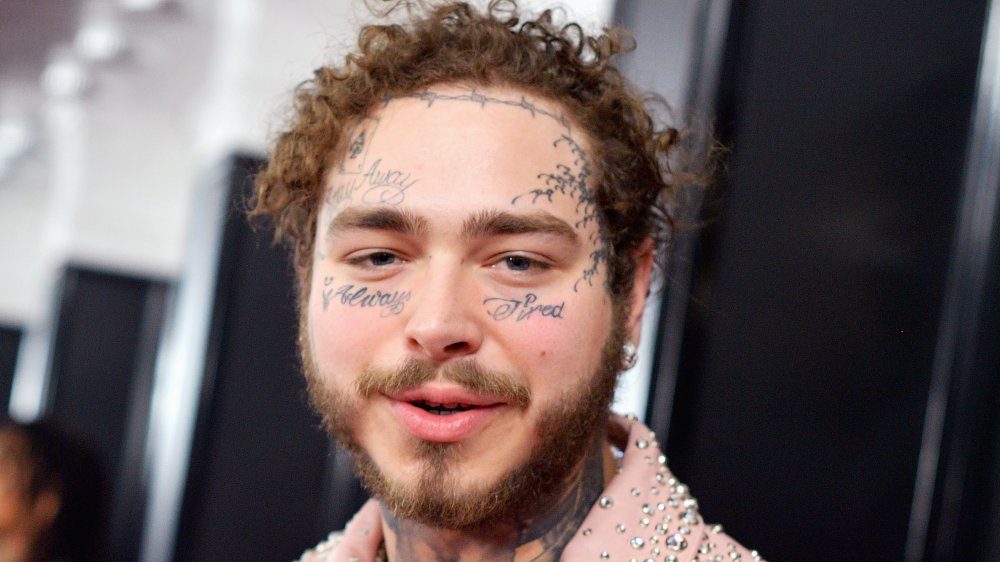 Matt Winkelmeyer/Getty Images
Post Malone (real name Austin Richard Post) is known in the music industry for breaking down genre-based barriers, becoming besties with fellow celebs such as Justin Bieber, and adding to his impressive collection of face tattoos. Since releasing his debut track, "White Iverson" in 2015, Posty has shot to the top of the A-list, boasting more than 20 million Instagram followers, six Grammy nominations, and an unbelievable estimated net worth.
Over the years, the "Circles" crooner has grown his fanbase thanks, in part, to his very candid approach to speaking out about his own insecurities. "I'm a ugly-a** motherfu**er," the rapper bluntly told GQ in March 2020, adding that his face tattoos "maybe come" from a self-conscious place. "I'm going to put something cool on [my face] so I can .... have a modicum of self-confidence when it comes to my appearance."
In February 2020, Malone embarked on the second North American leg of his Runaway Tour. A month earlier, he told Rolling Stone that he was focused on resting. "I needed a little break because I've been partying a little hard, so it feels good to be back home and playing Call of Duty." He continued, "I'm going to take some R&R and get some beauty sleep so my body and voice doesn't suck on tour." As it turns out, although Malone's voice hasn't given up on him during his tour, his supporters have been noticing something even more concerning. Here's the real reason fans are worried about Post Malone.
Fans are mobilizing to try to help Post Malone before it's too late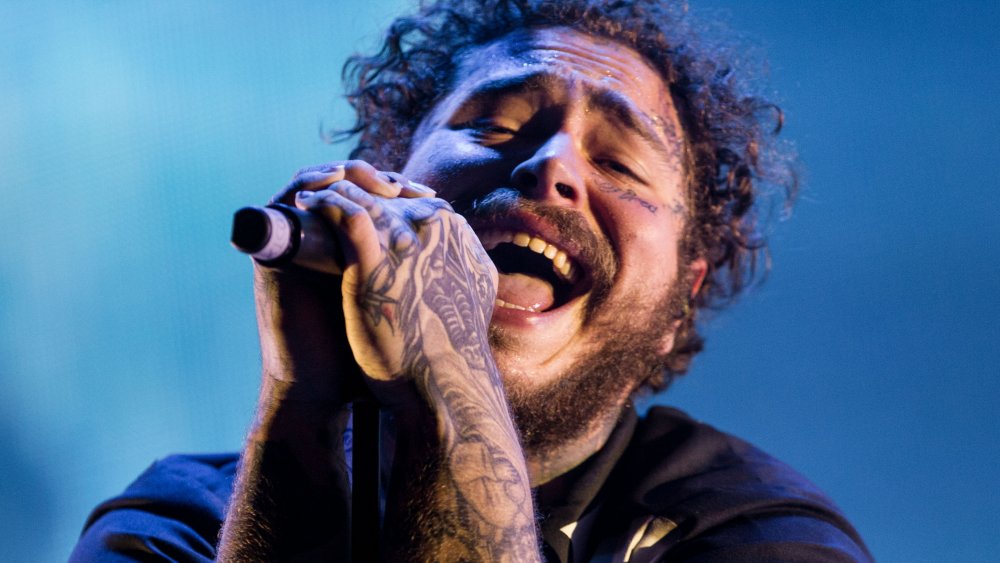 Santiago Bluguermann/Getty Images
Post Malone made headlines on March 6, 2020, after worrisome videos of the singer from his Runaway Tour began to surface. The footage shows Malone engaging in some rather bizarre behavior. One fan posted a compilation video of the "Goodbyes" artist both on stage and interacting with fans during his tour. He "seems to be slurring his words" and even falls on stage while performing. As the user wrote on Twitter, "You can't sit there and tell me that this is normal behavior from Post, it's not and the man needs help before something bad happens to him. Whether it's alcohol or drugs, he's not using them for fun anymore, he's abusing them. it's too much now, people are worried."
The compilation post went viral, and soon enough, fans from all over the globe were showing their concern with the hashtag, #HelpPost. A grassroots movement began via a Change.org petition titled "Help Post Malone and his Addiction." At the time of this writing, the petition already has more than 800 signatures.
The news surrounding Malone's behavior is definitely frightening, especially considering the number of rappers we lost in 2019. What's worse is that Malone is apparently aware of it, too. Speaking to GQ about all his musical peers that have passed away, including Mac Miller, Lil Peep, and Juice WRLD, the "Sunflower" artist revealed, "That could have been me."
Is drinking a problem for Post Malone?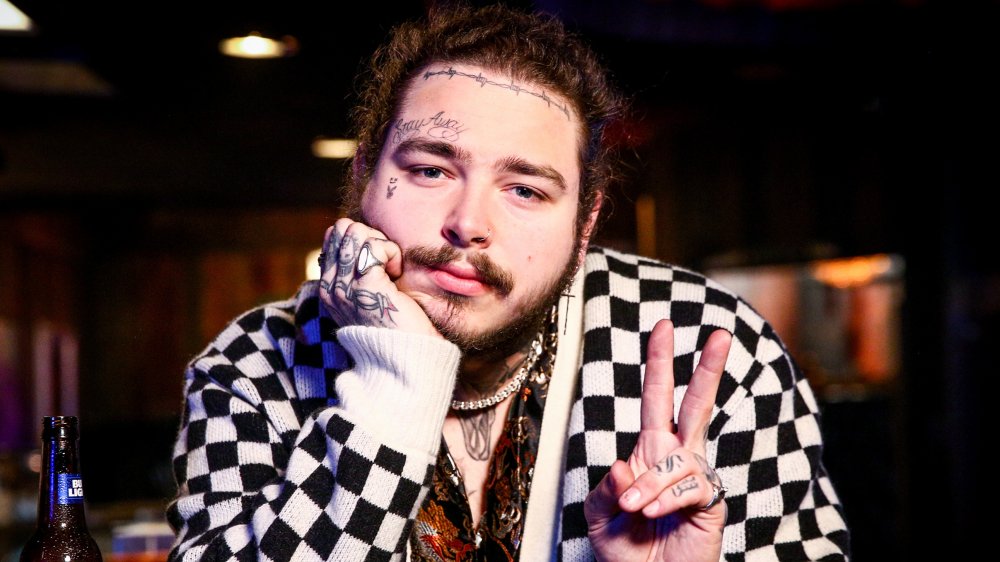 Rich Fury/Getty Images
While it's tough to say what may or may not be influencing Post Malone's behavior, it's no secret that the rapper likes to drink. In fact, in an interview with Noisey, Posty admitted to getting on the sauce in order to make music. "If I make the beat, I usually have some words for it, but if somebody plays me a beat I've never heard before, I usually get ideas for it and then get drunk, go in the booth, and do melodies and mumbles and all that good stuff."
Malone doesn't just save his drinking for songwriting — he's known to drink while on stage, as well. "I can't get on stage if I ain't feeling funky. I'm just nervous," he told Highsnobiety. "It helps me out, it helps me get lit with my fans." When asked if he'd consider changing his ways, the "Congratulations" crooner said, "Maybe. I might get tired of it. It's tough waking up. You know what I mean?"
It's worth noting that Malone hasn't had the easiest life. "When I was young and I came out here [to California], I had a super dark time," the New York-born artist told GQ in 2018. "I was sleeping in a closet, I didn't have any money, and I would just f*****g scrounge in my f*****g friend's center console for quarters." 
At the time of this writing, Malone hasn't spoken out about the compilation video that sparked recent headlines, but we here at Nicki Swift hope his past demons aren't coming back to haunt him.
If you or someone you know is struggling with substance abuse and mental health, please contact SAMHSA's 24-hour National Helpline at 1-800-662-HELP (4357).