The Truth About Jeff Goldblum's Much Younger Wife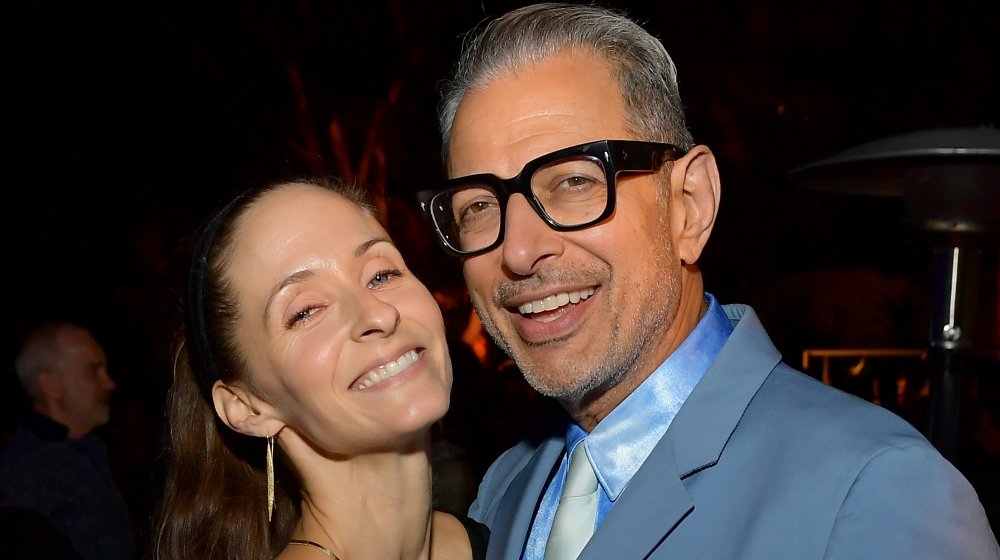 Matt Winkelmeyer/Getty Images
The saying "age is just a number" certainly rings true for Jeff Goldblum and wife Emilie Goldblum (née Livingston), who are 31 years apart. At the time of this writing, Jeff is 67, while Emilie, who celebrated a birthday in January 2020, is 37. The two tied the knot in 2014 and have since welcomed two sons into the world, Charlie Ocean and River Joe. 
According to the Daily Mail, Jeff was previously married to Patricia Gaul in 1980 before saying "I do" to Geena Davis in 1987. While his current marriage might draw some negative attention due to the imposing age gap, Jeff and Emilie were very mindful about their decision to get married. The couple reportedly worked with a therapist before they were married to make sure it was the best decision for both of them. It sounds like the couple's choice to get hitched was anything but impulsive.
With such conscious decision making, it's no wonder that their marriage has seemingly been a success thus far. Emilie is not afraid to gush about her husband on social media and a brief scroll through her Instagram reveals an endless stream of loving and kind words about Jeff. She recently wrote to him: "You bring such joy, happiness and playfulness into our lives every single day without fail! I don't know how you do it or where you find your energy but it's obvious you are a special force in nature and love what you do and love your family deeply!" Awwww.
Jeff Goldblum's wife is an accomplished gymnast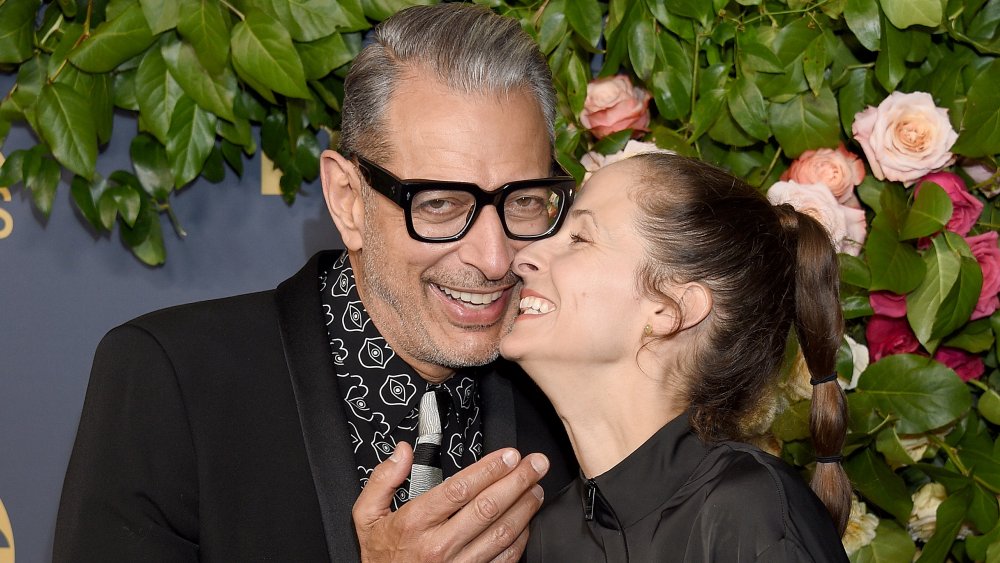 Gregg Deguire/Getty Images
Jeff Goldblum is a very accomplished actor, but his wife, Emilie Goldblum, is quite talented in her own right. At the age of 10, Emilie moved to Russia in order to train with Russian rhythmic gymnasts, according to NewStatesman. Emilie previously competed in the Olympics for rhythmic gymnastics and is a three-time national champion of Canada in rhythmic gymnastics. Jeff chatted with NewStatesman about his wife's workout routine saying, "Her workouts are radical, as you can imagine, and impressive." Like her hubby, Emilie has also taken her talents to the big screen, serving as a body double for Rihanna (casual) in Valerian and Emma Stone in La La Land. 
According to an interview with Wired, Jeff met Emilie at an Equinox gym on Sunset Boulevard. He said, "I saw her from across a crowded room and I marched up to her, entranced, and began some kind of conversation." And it wasn't by chance that the two met at the gym, a place they both frequent to this day. Jeff shared that they both maintain a rigorous workout routine and he explained that together they wake up at 5 a.m. to have parallel workouts.
Despite the routine of their daily schedule and early mornings, Jeff revealed that Emilie still makes him "intoxicated with ecstasy," so that's quite something! Even with their radical age difference, Jeff and Emilie truly seem deeply in love and insanely happy — so more power to them!