Miranda Kerr Engaged To Billionaire Snapchat Founder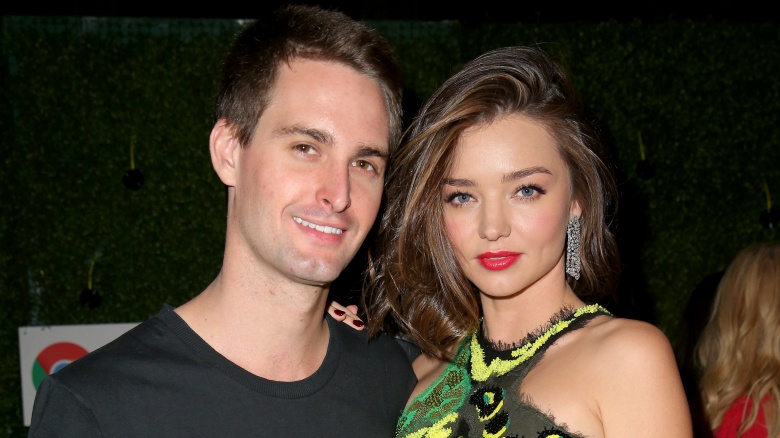 Getty Images
Break out your favorite Snapchat filter, because supermodel Miranda Kerr is engaged to Snapchat CEO and founder Evan Spiegel.
Kerr confirmed the news, perhaps ironically, on Instagram July 20, 2016, alongside a photo of her engagement ring. "I said yes!!!" she wrote. The photo also included a Bitmoji—aka the company Snapchat just acquired—of a couple getting engaged.
Kerr began dating Spiegel, who is worth a jaw-dropping $2.1 billion, in June 2015. "We met actually at a Louis Vuitton dinner in New York a year ago," she told E! Online in November 2015. "We just started out as friends and eventually it developed into more."
"He's just a really kind person and very genuine and very authentic and I really appreciate that about him," Kerr said. "And also he's very intelligent."
"He acts like he's 50. He's not out partying. He goes to work in Venice [Beach]. He comes home. We don't go out," she told Net-A-Porter in January 2016. "[We would rather] be at home and have dinner, go to bed early." Spiegel turned 26 in June 2016.
This will mark the second marriage for the 33-year-old Victoria's Secret Angel. She was previously wed to Lord of the Rings star Orlando Bloom. They split in 2013, but have one son together, Flynn.
Kerr was rumored to have hooked up with pop star Justin Bieber after the Victoria's Secret fashion show in November 2012. Their alleged hookup, which Kerr has since denied, may have been the catalyst for a brawl that took place between Bieber and Bloom in Ibiza in 2014. Fun times.